A Family Lens is Key to Addressing Racial Inequality, Fordham Law Scholar Says in Georgetown Law Return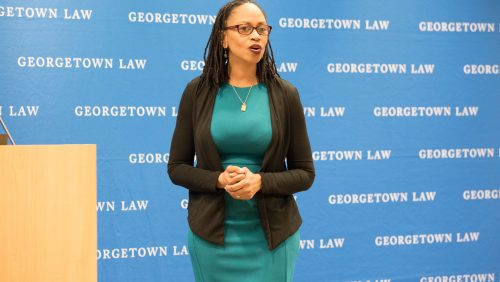 Opening her lecture on "Race, Community and Belonging: A Blueprint for the 21st Century" at Georgetown Law last month, Fordham Law Professor Robin Lenhardt recalled the words of her great great grandfather — a gravedigger in tiny Des Arc, Arkansas — as relayed by her grandmother.
"Who will build my grave?" he would ask himself, as he wandered around town.
"He was really asking something much bigger than, 'Who's gonna bury me?'" said Lenhardt, whose lecture was part of a series being held around the launch of Georgetown University's Institute for Racial Justice. "He really was saying, 'What kind of difference am I, a poor black man in the Jim Crow south, gonna make? Who's going to remember me? And what will my legacy be?'"
Generations later, despite the demise of Jim Crow and "separate but equal," entrenched racial inequality remains — and so obviously so, Lenhardt said, that her then 5-year-old son noticed it on a short car ride between his new hometown of South Warren, N.J. and neighboring Newark, where Lenhardt's family had lived before.
As they crossed the border into Newark one day, "all of a sudden, he starts yelling, 'What just happened?!'" she said. "'All the buildings are different, the streets are different, all the people are black!'"
Family is a major theme informing Lenhardt's scholarship around race and inequality. Now the founding faculty director at Fordham Law's Center on Race, Law and Justice, Lenhardt said the car-ride experience with her son inspired her to develop tools for examining structural inequality meaningfully.
"So much of our discourse around inequality is pinned to a particular area," she said. "We want to talk about mass incarceration. We want to talk about housing. And what I'd like to see us being able to do is to have a more complex understanding of how inequality works. As a family law professor, one of my claims is that, if you look at the family, you get that very rich picture."
Lenhardt said she advocates for "equality innovation" and developing creative methods for advancing change in the same way technology is transformed by innovation. Assessments of inequality already exist, she noted, including paired testing in the housing arena, which investigates whether people are being afforded housing opportunities differently based on race or other characteristics. Similarly, opportunity impact statements can serve in the same vein as environmental impact statements, by assessing the potential inequitable effects of government action or policies.
Lenhardt further proposed adoption of "race audits" to identify sources of structural inequality in communities. In her vision, such assessments would be based on a "community of inquiry" led by leaders in key institutions and groups that uncover root causes of systemic disparities.
"The purpose of this audit is to tell a story about, to use my son's words, 'What just happened?' except the 'what happened?' is not just then," she said. "It's going back in time so we can understand the present and the future, and, to the extent that we're able to do that, we can lay the groundwork for useful, purposeful solutions that make change."
Racial Justice Institute Emerges
Lenhardt's lecture, held in the Gewirz Student Center, served a homecoming for her. She occupied an office in Gewirz while participating in a future law professor fellowship that helped springboard her academic career, she noted. She said she was particularly pleased that Georgetown University has undertaken a "monumental commitment to making a difference on issues of race and inequality," which includes the institution's ongoing effort to confront and redress its historic role in slavery.
"You are really trying to make a difference, not just here on campus or here in D.C., although that is important," she said. "But you're trying to make a big difference across the country in a way that I think is unique, inside and outside of the academy."
The Georgetown Institute for Racial Justice grew out of that commitment, Georgetown Law Dean William Treanor explained before introducing Lenhardt. The institute, which will include senior faculty members appointed by four university schools, including Georgetown Law, will serve as an interdisciplinary research center aimed at studying racial injustice and developing ways to overcome the country's history of slavery, racism, and segregation.
Out of Georgetown's myriad initiatives, "there's really nothing more exciting than the launch of the Racial Justice Institute," Treanor said. "It's the first time in the history of the university in which we had a true, cross-campus initiative and it's very fitting and very appropriate that it's focused on racial justice."