After Olympic Gold in Swimming, Katie Meili (L'20) Is Immersed in the Law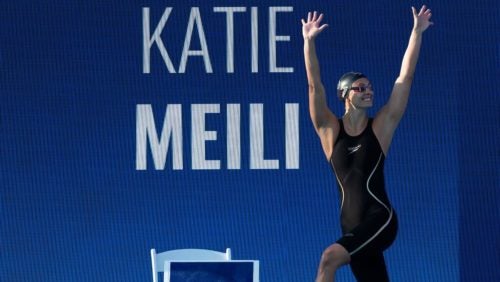 It might be hard to believe, but 3L student Katie Meili (L'20) was once a tag-along sister who followed her older sibling, no matter where she was going.
It was when eight-year-old Meili followed her 13-year-old sister Maureen to the swimming pool that she started something big–Olympic-sized, that is. She started swimming in the Dallas-Fort Worth area, in her hometown of Colleyville; progressed to nearby Nolan Catholic High School; and eventually to a club team, the North Texas Matadors.
"Originally, Maureen and I were gymnasts, but she broke her ankle and the doctor said to swim for therapy," said Meili. "I was her shadow. She was pretty good, too, but didn't take to swimming like I did. I'm 28 and just retired."
Meili's journey led her far beyond North Texas. She found a much bigger stage at New York's Columbia University, swimming all four years and graduating as one of the program's all-time greats. "My coaches were great technically," she said, "but I think the confidence they showed in me is what sparked my improvement to a professional level."
There are professional leagues all around the country, including at her next stop, in Charlotte, N.C. "We made money via sponsorships with Coach David Marsh," she said. "Under him, my times again improved."
Under Marsh's tutelage, Meili reached Olympic medalist levels. "I became one of the top three swimmers in the world in the 100-meter breaststroke," she said, and her possibilities became apparent. "When you're in the top six in the country, you get perks and you get paid an entry-level salary, plus the winnings from major meets."
Meili became a two-time Olympic medalist in the 2016 Summer Games in Rio de Janeiro after winning bronze in the 100-meter breaststroke; and gold as a member of the U.S. 4 x 100-meter medley relay preliminary heats squad. The next year, she won silver in the 100 breast in Budapest at the 2017 World Championships, clocking a time of 1:05.03 ― sixth all-time.
Those astonishing feats were part of the lead-up to her long-term plan. "All the money I made, I saved," she said, "since I was going to law school."
Toward that end, she worked as an intern for Direct Chassis Link, also of Charlotte. But otherwise, it was swimming, swimming, swimming. "In 2015, my coach told me to swim full time or I would not reach my goal," she said. "So I did, 6-8 hours a day. It was insane looking back, but it was absolutely worth it."
She started at Georgetown Law in 2017, and for a while kept her options open, training with the undergrad swim team and juggling schoolwork and elite swim competitions. But as the 2020 Olympics drew nearer, she made her choice, posting the following statement on social media: "It is with a heart full of joy and gratitude that I announce my retirement from competitive swimming. My swimming career has been a dream come true and I am so grateful for the lessons it has taught me, the opportunities it has provided me, and most importantly, the incredible people it has brought into my life. This chapter is closing, but I'm very much looking forward to the challenges and adventures the next one will bring."
Now in her third year at law school, Meili serves as a volunteer assistant coach for the Hoyas' swim team.
As for the future, "I want to do litigation and work toward being a trial attorney," she said, "It's amazing, because when you go to school at Georgetown, it's so easy to become well connected. Working in a place where the laws are made makes for a very enriching experience and will suit me well as I graduate next year and move along in my career."