Alumnae Gather for 2023 Georgetown Law Women's Forum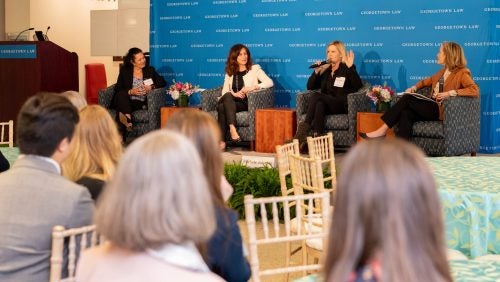 A favorite Georgetown Law alumnae event, the Women's Forum, returned to campus this spring for the first time since 2020.
Some 150 women graduates took part in a series of panels, workshops and networking opportunities. Discussions swung between celebrating the considerable achievements of women at the Law Center and in the legal profession overall, and contemplating the challenges women still face in the workplace, in academia and in society at large.
Three distinguished graduates received Alumnae Awards: the Hon. Pamela K. Chen, L'86, who sits on the United States District Court for the Eastern District of New York, Michele Johnson, L'98, Global Chair of the Litigation & Trial Department at Latham & Watkins and Patricia Mullahy Fugere, C'81, L'84, co-founder and former executive director of the Washington Legal Clinic for the Homeless.
Before the awards luncheon, the day began with a morning mindfulness workshop led by Ananda Leeke, L'91, a former securities lawyer who has become a wellness entrepreneur and artist. Professor Dorothy Brown, L'83, presented a keynote address about how she has blazed new trails in her scholarship by incorporating both taxation and civil rights, followed by a plenary moderated by Professor Hillary Sale in which Johnson, Chief Administrative and Sustainability Officer at Extreme Networks Katy Motiey, C'89, L'92, and President and CEO of the software industry trade group BSA Victoria Espinel, F'89, L'92 shared lessons learned on leadership.
Participants then dispersed among three panel discussions: Well-Being and Mental Health for Lawyers, Navigating Career Transitions and Board Readiness 101.
Next year, the Women's Forum will be a university-wide event. Visit https://womensforum.georgetown.edu/ for the latest (and to view video from the last two Georgetown Women's Forums, which took place virtually).