Alumnus Makes $30 Million Naming Gift for New Flagship Building on Georgetown Law Campus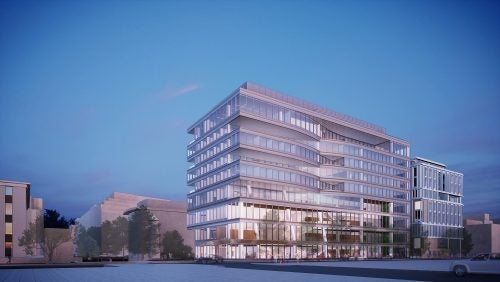 WASHINGTON, D.C. – Georgetown University announced today that Daniel Tsai, L'79, chairman of Taiwan-based Fubon Group, has made a record $30 million gift to Georgetown Law. The gift – the largest ever capital gift in the history of the university – will support the construction, pending zoning approval, of a new 200,000 square foot state-of-the art academic building on the Georgetown Law campus and a new architectural landmark for Washington, D.C.'s Capitol Hill neighborhood.
Tsai, who spent a year at Georgetown Law studying international trade and negotiation, says his time at the Law Center was transformative, sharpening his skills as a business person and expanding his perspective as a global citizen.
"Going to Georgetown Law broadened my views about other cultures, which helped me greatly in my business career," Tsai said. "The biggest thing I learned was to always stay open-minded and to observe and learn new things. I hope that this gift and the educational endeavors it will make possible will provide similar inspiration to Georgetown Law students for generations to come."
Georgetown Law Dean William M. Treanor said the gift would not only re-shape the law campus landscape, it would also strengthen the student experience.
"When Daniel told me he was thinking of making the gift, I was delighted by his remarkable generosity. His historic gift will now enable us to provide a world-class education in an even more inspirational setting," Treanor said. "We are honored that Daniel has chosen to help us grow in our mission."
Georgetown University President John J. DeGioia also thanked Tsai for his generosity.
"Daniel's extraordinary generosity is instrumental to our Law Center's campus expansion and will provide a new space that enables our students, faculty and staff to do their very best work," said DeGioia. "I am certain that his gift, as well as Daniel's continued engagement, will have a lasting impact on our University community for many generations to come."
Tsai's $30 million gift follows a $600,000 gift he made to the Law Center in 2020 to create the D. Tsai Endowed Scholarship Fund, which so far has provided six full tuition scholarships for Master of Laws students. Tsai said he created the fund in order to share the gift his father gave him by encouraging him to leave home for the first time ever to study in the United States.
The new building will be designed by Pei Cobb Freed & Partners, the firm founded by legendary architect I.M. Pei, who famously designed the East Building of the National Gallery of Art and the pyramid entrance to the Louvre in Paris. The highly sustainable design will include green features, such as rooftop solar panels, stormwater capture systems and terrace gardens.
The new building construction project continues to undergo internal and external reviews with the DC Zoning Commission.
Tsai said he was impressed by the plans to create spaces designed to facilitate collaborative work among students and faculty. For example, classroom layouts and furniture will be able to accommodate both lectures and small-group discussions. Georgetown students' thirst for knowledge as well as collaborative spirit made a deep impression on Tsai during his LL.M year.
"At Georgetown, I saw people studying quietly on their own… and studying together in groups at the law library at all hours," Tsai said. "It was their own desire, their own aspiration – they wanted to study for their own good."
"Legal work is about collaboration – it's not about writing a legal opinion on your own, you need to be able to share insights of how the law should be," he said.
The new law building will feature a suite to house the Law Center's highly regarded legal clinics, 16 new classroom spaces equipped with the latest technology and a 75-seat moot courtroom, where students will be able to make practice arguments in a realistic courtroom setting. It will include several different convening and outdoor spaces from which community members and guests will be able to see the U.S. Capitol building.
"I know how important the location of the school is. I went there because that was the capital of the U.S., the greatest location to study law, so near to where the law is made," Tsai said. "Students will be able to step out onto the terraces and balconies and see the inspiring sight of the Capitol so near."
Tsai said he made lifelong friends at the Law Center and he feels strong ties to Georgetown. He remembers fondly getting lost driving a station wagon on the Capital Beltway, trying his first slice of pizza and mistaking olives for "salty grapes" and yogurt for "sour ice cream."
"When I talk to people from Georgetown, I just flash back to my time there, and have an urge to reconnect with old friends. I knew I had to do something to give back."