Appellate Courts Immersion Clinic: Immersed in the Justice of Contract Law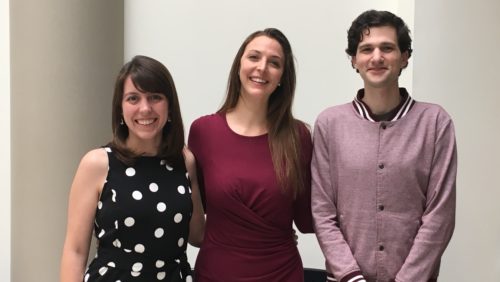 Think of the impact cases that Georgetown Law clinics generally take on, and a state-law contract dispute over a home-mortgage modification might not be the first thing that comes to mind.
"The case was definitely not what I was expecting, but I could not have chosen a better one," said Solomon Miller (L'20), a student in Professor Brian Wolfman's Appellate Courts Immersion Clinic last semester. "It involves fundamental principles of economic justice and injustice. If the goal is to use the law to effect change, this case provides a great opportunity to do it."
Miller, Nicole Ratelle (L'19) and Jessica R. Rodgers (L'19) spent the spring semester working full-time as student-lawyers under the supervision of Wolfman and the clinic's teaching fellow, Bradley Girard (L'14, LL.M.'20).
They represented an Indiana man, Anthony G. Taylor, in the U.S. Court of Appeals for the Seventh Circuit.
"We look for cases with complex and important issues, where we can offer serious help to the litigants on the losing side of a power imbalance," Girard said. "This case fits that model: it's him versus the largest bank in the country."
Taylor is one of 4 million homeowners that an independent Inspector General found were harmed rather than helped by the U.S. Treasury's Home Affordable Mortgage Program, a $75 billion slice of the Troubled Asset Relief Program. Created in the wake of the 2008 financial crisis, TARP was a bank bailout. The banks, in turn, were supposed to use HAMP to help borrowers modify their mortgage payment terms.
But Taylor's mortgage servicer, J.P. Morgan Chase Bank, rejected 84 percent of homeowners who sought HAMP modifications, according to a 2015 federal oversight report.
"They took the bailout money but didn't modify the mortgages. That's at the core of Mr. Taylor's lawsuit," Wolfman alleges. "For him, it's not just about his own contract and fraud claims, but exposing the banks' systemic failures."
Offer, acceptance, formation
Back in September 2009, Taylor thought they had a deal. Chase had phoned him and offered a modification. He accepted.
Taylor returned the paperwork the bank sent him, and from that point forward, he sent in the modified payment amount. The bank said that it never received his paperwork — twice — but he re-sent it and confirmed receipt each time. And each time he called, he was assured he was already in the program, the clinic's brief asserts.
All that changed in May 2010, when Chase told him that he was ineligible for HAMP modification because his mortgage payment was less than 31 percent of his gross income. (In fact, it was more than 60 percent, Taylor's lawsuit says.) Taylor lived under the threat of immediate foreclosure for the next five years.
While he did not lose his home, "he shares the pain of all the borrowers who had relief dangled in front of them and then yanked away," Rodgers said.
Taylor filed a pro se lawsuit for breach of contract, fraud and intentional infliction of emotional distress. The lower court granted Chase's motion for judgment on the pleadings in 2017, saying there was no contract because Chase never formally accepted Taylor's application.
His pro se appeal was fully briefed last September, when the Seventh Circuit decided to request another round of briefs — from Girard, Wolfman and the students, as pro bono counsel for Taylor.
'Why the law matters'
The students are "the first-line researchers and drafters of the briefs," Wolfman said. They discussed the case with Taylor, researched the issues, drew up outlines numbering "in the double digits" and drafted the opening brief — which was revised "16 times," Miller said. There was also a clinic "workshop" feedback session with other clinic students put together by Wolfman and Girard, which Taylor joined by webcast.
Wolfman and Girard called the process collaborative. Rodgers called it "being forged by fire."
"It's been a profound experience," she said. "I've learned more about drafting in a few months, this last semester, than the rest of law school combined … I can't think of a better way to close out my time here."
It's also been a good refresher course in the law of contracts. The team developed "a back-to-basics approach, focusing on offer, acceptance and formation," Ratelle said. They argue that an enforceable oral contract was formed during Chase's telephone call to Taylor, and that nothing in the paperwork modified it. They also want the court to revive his fraud and emotional-distress claims.
Ratelle took Georgetown Law's alternative curriculum, Section 3, where "we didn't have 'Contracts' and 'Torts' – we had 'Bargain, Exchange, and Liability,' she said.
"I'm passionate about contract law now," she said. "It's not something you normally think about in terms of public interest or civil rights, but this case is a good example of why the law matters and what the law can do."
The clinic's opening brief was filed with the Seventh Circuit on March 7; the reply brief was filed May 13.