Appellate Courts Immersion Clinic Wins Convention Against Torture Case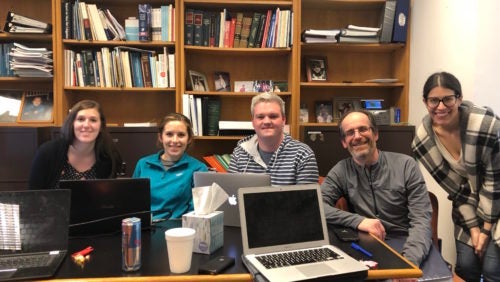 Mrs. Doe's journey isn't over yet, but she is much closer to home, thanks to three Georgetown Law students – now alumni – who took Professor Brian Wolfman's Appellate Courts Immersion Clinic last spring.
Daniel Duhaime, Alexandra Keck and MJ Kirsch (all L'19) were on the legal team that represented Mrs. Doe in her Convention Against Torture Case before a federal court of appeals.
In August, the court rebuked the Board of Immigration Appeals for second-guessing an Immigration Judge's 2017 determination that Mrs. Doe was likely to face government-imposed or -sanctioned torture in her native country.
The BIA must review the IJ's ruling for clear error and cannot weigh the evidence for itself, the unanimous three-judge panel held.
While Wolfman argued the case in July, "the students won it on our client's behalf," he said. "They did a brilliant job on a tight deadline — going through a large record, researching a complex area of the law, preparing two briefs before graduation and helping me get ready for oral argument while they were studying for the bar exam."
The court stopped short of entering judgment on the merits for Mrs. Doe, and instead remanded the case to the BIA. However, the students are optimistic.
"The court said the IJ's determinations were reasonable, and it said that if the IJ's determinations are reasonable, the BIA can't substitute its own conclusions," said Duhaime, now with Sullivan & Cromwell. "The BIA just needs to connect those dots."
Beyond the jurisdictional bar
 The appellate court asked Wolfman to take the case in early 2019, more than a year after Mrs. Doe had filed a brief on her own challenging the BIA's decision.
Mrs. Doe had arrived in the U.S. in the late 1980s from a nation where corruption is exacerbated by gangs who often operate as a shadow government. Several of her family members were in gangs; some who weren't had been attacked or killed.
She was about 12. At age 17, a "junior gang member" herself, she committed aggravated robbery with an unloaded weapon. She served six years in prison and was then deported, but soon returned to the U.S.
"She turned her life around here," Wolfman said. "She married a legal resident here, had two children here, started her own business."
Due to her robbery conviction, though, the federal court's jurisdiction to review the BIA's ruling against her was limited: it could consider only constitutional questions or errors of law.
"The biggest hurdle was getting over that jurisdictional bar – just getting into court," said Kirsch, now with Gibson, Dunn & Crutcher. "We all did a lot of work on that. We meshed as a team."
The students tackled the 900-page record and researched hundreds of cases. Wolfman also brought in Genevieve Mesch (L'19), who had taken the clinic the prior year, to serve as a sounding board and mentor.
It was Kirsch who found a pivotal precedent – a case the same appellate court had decided in 2009. While it was not a torture case, it was important because the court had held that applying the wrong standard of review is an error of law. "Where there are two permissible views of the evidence, the factfinder's choice between them cannot be clearly erroneous," the court had said.
"When MJ shared that with us, it was a 'Eureka' moment," Duhaime recalled. "I said, 'that quote is going in the brief'."
It also became the heart of the opinion in Mrs. Doe's favor – and not just on jurisdiction. The court concluded that the IJ's ruling for Mrs. Doe was "one permissible view of the evidence" and that the BIA had erred "in imposing its own view on de novo review."
Wolfman and the students called Mrs. Doe to give her the news.
"She was very excited, even though she knows she still has to go back to the BIA and make her arguments again," said Keck, who has joined Wilson Sonsini Goodrich & Rosati.
"It's made me aware of the power of good advocacy," she added. "This was my first client, and her life was on the line. It made me want to seek more public interest work in the future."