Blume Professor Jane Aiken: "The Problem of Justice"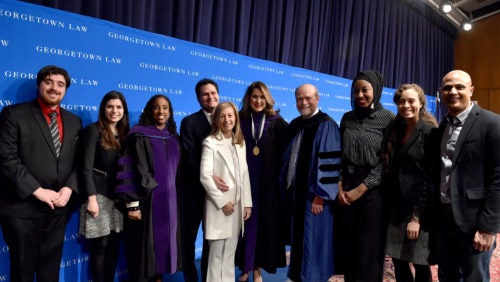 On February 12, Professor Jane Aiken (LL.M.'85) was installed as the inaugural Blume Professor, a chair made possible through the extraordinary generosity of Bruce (L'80) and Ann Blume (Parents '08, '20). The Blumes recently committed $10 million to establish the Blume Public Leadership Institute at Georgetown Law.
"This is a great day," said Dean William M. Treanor, who praised the Blumes' leadership and philanthropy as well as Aiken's commitment to justice. "When we talk about the Law Center, we focus on academic excellence, educating the next generation of leaders, and we focus on our justice mission: 'Law is but the means, justice is the end.' When I think about Georgetown Law, those are the three defining traits. Today is a celebration of those traits."
Aiken is the "clear choice" to be the inaugural Blume Professor, the dean said. "Her commitment to justice is the overarching, governing principle of her career."
After coming to Georgetown Law from Washington University in St. Louis in 2007, Aiken founded the Community Justice Project clinic to enable students to represent clients in cases involving questions of justice. She has taught Evidence, Torts, Motherhood and the Law and the Law of Extradition for the Week One program. Aiken has also been active in the law school's administration, serving as Associate Dean for Experiential Education and later Vice Dean. She chairs the University Task Force on Gender Equity.
"Jane doesn't just write about justice," said Associate Dean Kristin Henning (LL.M.'97), who noted Aiken's work with incarcerated women and others in need of assistance. "She lives it, she teaches it and she insists upon it in the academy… Jane's scholarship forces us to think about how we cultivate a generation of law students who are 'justice-ready'… she has been at the core of designing what justice looks like at Georgetown."
In her address, Aiken described her recent visit to the U.S.-Mexico border through the Ignatian Colleagues Program. Excerpts follow the full video, below.
Georgetown Law Professor Jane Aiken was installed as first Blume Professor on February 12th. Watch Professor Aiken will deliver her inaugural address titled "The Problem of Justice."

Posted by Georgetown Law on Tuesday, February 12, 2019
The Problem of Justice
I call this talk today "the Problem of Justice." But I considered another name: "Are you numb yet?" It's really hard not to be numb; we've got a lot going on in this world. [But] law professors cannot be afford to be numb. […]
I went to the border [between Arizona and Mexico] a few weeks ago, [and] one of the first things I saw was something called "Operation Streamline"— in 2005, President George W. Bush started it. Basically, it is a decision that when someone comes into the country illegally, they should be prosecuted and sentenced for the crime of unlawful entry. […] So I go to Tucson to a federal court… The door opens to the side, and in shuffle seven men and women in arm shackles and leg shackles, to stand in front of the bench. […] The prosecutor and the judge have this moment where they call [the] name, and then get the plea, and then sentence them — in about a minute and a half per person. They shuffle out, and the next seven come in, in arm shackles and leg shackles, and the same thing happens. I watched 75 people in 80 minutes be sentenced to prison.
I was stunned. I looked around, thinking, does everybody here have the same sense of horror that I have? […] I thought, is this what we call justice? Is this what we call due process? How can it be that in this country we do this? […]
The next day, I went across the border into Nogales, Mexico, where people who had been deported were sent… I was stunned at how many families I saw, and I talked to them. Many of them had asylum claims, but they hadn't been able to get heard on their asylum claims, because we now have a policy that we stop people on the [Mexico side] before they can come in for their asylum claims. These are people who are fleeing persecution, and they are coming to our borders for help.
I went to a women's shelter and I met this one 18-year-old girl, and I heard her story. She and her family, with two other siblings, were coming up after having been persecuted in Southern Mexico. They got to the border, and they were put in detention because they asserted an asylum claim. The only hitch is that she had turned 18 a week before they got there. So they sent her family to a family shelter, and they sent her to an adult shelter. It was the first time she had ever been away from her family. Eighteen years old, three months in detention. What happens? Her family goes and seeks asylum, and an ability to seek permanent status in the U.S. is granted. She has an attorney, same facts — denied. Dropped in Nogales. Eighteen years old, a fear of persecution in Mexico. The same facts as her parents, and she doesn't know what she's going to do. Again, I thought — there were lawyers, same facts. Is justice that random? […]
How do we teach students to see out of their own eyes, just like I saw out of my own eyes? How do I teach them that their vision is partial? […] I have written a few articles about this. I believe that we as law professors need to provoke critical consciousness. I think we need to have our students start recognizing that they operate with assumptions, that many of those assumptions are shaped by their privilege, that those privileges make them immune to things. I also think it is really important to teach our students that because they are limited, they may well be reinforcing oppressive structures — because they haven't expanded their vision, because they haven't examined their assumptions, because they operate from privilege that allows them to be immune to certain things.
I want my students to be outraged. I want them to have strategies for uncovering lies. I want them to have a sense that they can make a difference. I want them to be able to have a sense of how to manage when they are feeling overwhelmed. I've written about this, and the border experience really reminded me how important this is. […]
[When I was there,] I felt shame. I felt, these people are doing this in my name. And I felt responsible. I asked myself, why did I think it was going to be different? I realized that I had way too much faith in law. I noted that the effect of my assumptions was that I wasn't doing anything about this. I wasn't saying anything to people about it. I wasn't thinking about ways in which I could be more active in this area. I thought about who benefits from my lack of knowledge about this. And what I really thought about was that the private prison industry benefits a lot from this…I reminded myself that my own privilege as a law professor had limited my views, and that I need to be more vigilant about asking myself the questions that I want to ask my students…I want to transfer that [self-examination] to my students and have an impact. […]
I am so excited about what's happening at Georgetown, being at a place that focuses on justice… [The generous gift of the Blumes] moves us forward enormously to think hard as an institution about what it means to have public interest leadership and to bring people here who have made those commitments…[To the Blumes:] I can't thank you enough, because it is so helpful for me in these times that you have made that kind of commitment, and I really appreciate it. […]
The problem of justice is not just a problem for our students to solve. It is a problem for us as law professors. We really do need to take seriously the importance of training our students in these days to figure out ways to get past these silos, to break through these schemas, and to think about how they find facts, how they distinguish facts from lies… Because I was moved by my experiences, I would love to see them moved by their own experiences. The border was my disorienting moment, and I would really like to take that and be a better teacher and a better lawyer. I want to help my students to engage in these kinds of disorienting moments. They need to ask the question, who benefits from the way things are playing out. We need to prepare our students to name the harms that they are seeing — that abandoning our neighbors to the south is not something that we should be doing, that we shouldn't be separating children and families. We need to confront the private prison industry.
These are just examples from what I've just recently seen. But these are transferable — we can take another experience and come to the same kinds of conclusions. We can teach them to facilitate conversations… what I hope we can do is focus on our skill set, and transfer the insights [to students], teach them how to speak out, teach them not to be satisfied with random justice… What I hope is that we will no longer talk about the problem of justice but celebrate a world in which we respect the dignity and rights of all people.