Color of Surveillance: Government Monitoring of American Immigrants Combines Lessons of History, Technology of Today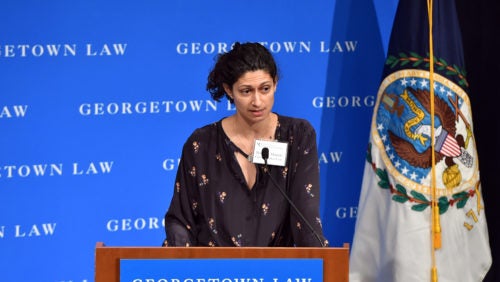 Laura Moy — deputy director of Georgetown Law's Center on Privacy & Technology — began a landmark conference at Georgetown Law on U.S. government surveillance of immigrants by reading from the Ninth Circuit's recent decision striking down the revised travel ban. While immigrant surveillance in the United States is a timely topic, its history begins a century or more ago.
Moy told the story of her own great-grandfather, who arrived in Chicago from China in the 1870s. Not long afterwards, there was a law forbidding Chinese immigrants to the United States, which meant that Moy's family was subjected to "lengthy and intrusive" investigations.
"Disproportionate, specific surveillance became a part of life…" she said. "The things we are hearing today about efforts to exclude vast numbers of people from our shores…are echoes of what we've been hearing throughout history in the United States."
Indian, Japanese and Mexican immigrants were similarly subjected to disproportionate monitoring in our nation's history. But if the racial and ethnic bias behind government surveillance is not new, the intensity following the attacks of 9-11, new technology and a new political landscape has changed the nature of the story — as Alvaro Bedoya, executive director of the Center on Privacy, pointed out.
"We did not get here overnight," he said as he introduced the day-long conference on June 22. But it has been decades, he said, since we have seen open xenophobia combined with unchecked surveillance power. "At the heart of the technological transformation of immigration enforcement are biometrics, precise digitized measurements of immigrants' bodies: their faces, their fingers, their DNA…," Bedoya said. "If we normalize scanning and tracking immigrants bodies…it is only a matter of time before everybody is scanned."
Bad science
Justifications for surveillance have typically included erroneous notions that 1) immigrants are dangerous and 2) that they are different.
Georgetown Law Professor Sherally Munshi described the 1923 Supreme Court case of U.S. v. Thind, which disqualified people from naturalization on racial grounds. Adjunct Professor Arjun Sethi noted how even programs today are based on bad science.
"In many cases, they don't just lead to profiling of Muslim Americans in immigrant communities, they lead to bullying in our schools…" Sethi said. "They are entirely incommensurate with the threat posed…if you look at basic statistics in the United States, you are far more likely to be harmed or injured by a white supremacist than you are by a Muslim immigrant or refugee."
Lawyer Hassan Shibley described the ordeals that his Muslim-American family has had in crossing the U.S.-Canadian border — detained for hours, held in handcuffs — while a white man who committed a murder was not stopped.
"You are treated like a criminal, [which] could reinforce the message of extremists," he said. "Thank God it pushed me to create one of the largest civil rights organizations in the state of Florida… So thank you, Customs, for inspiring me to do that."
Mistakes of the past
Other highlights included a talk by Open Society Foundations' Nkecki Taifa, who described how civil rights activist Marcus Garvey was surveilled, convicted of mail fraud in the United States, and deported back to his birthplace, Jamaica, in the 1920s. Visiting Professor Justin Hansford (L'07) and others have argued for a posthumous pardon. "Marcus Garvey was targeted because of his race, because of his political beliefs, he received an unfair trial, and he was unceremoniously deported," Taifa said. "It is time to exonerate [him]."
Georgetown Law Professor Paul Ohm led University of Wisconsin scholar Margot Anderson in a discussion of the roundup of more than 100,000 Japanese Americans in internment camps during World War II. "[It] looked all too similar to the programs of the fascist regimes the U.S. was fighting…," Anderson said. The official U.S. war propaganda logic was that "this was not forced labor, this was not extermination, nor deportation. The Achilles heel of the argument was that the authorities recognized that not all Japanese Americans were security threats."
A better future?
In a keynote address, Vanita Gupta, president and CEO of the Leadership Conference on Civil and Human Rights and former head of the Department of Justice's Civil Rights Division, praised the role of Bedoya's Center for Privacy & Technology in engaging the civil rights community on the appropriate use of facial recognition technologies. Gupta also addressed other challenges to come.
"The chilling effect of asking about citizenship and immigration status or legal status in the 2020 census could keep a lot of people from responding, which would really be jeopardizing the accuracy of the census…" she said.
"We know that technology is going to continue to revolutionize our lives, but we need to make sure that it does so without being used to target or harm the most vulnerable among us…" Gupta said. "It is vitally important that new technologies be designed and used in ways that respect the values of equal opportunity and equal justice…it is going to take all of us working together to ensure that we do not repeat the mistakes of the past."