Commencement 2018: A Brilliant Future for Georgetown Law Graduates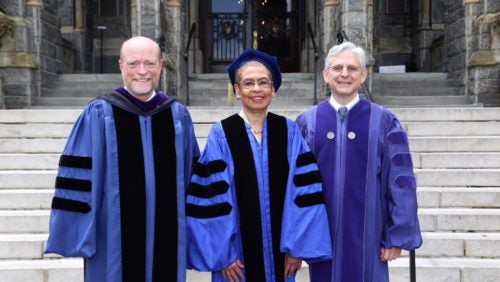 The rain clouds parted, the mood was jubilant and Georgetown Law's 146th Commencement went ahead on Healy Lawn according to plan — to the delight of the 654 J.D., 601 LL.M., and 7 S.J.D. students who received their diplomas on Sunday, May 20. 
D.C. Delegate Eleanor Holmes Norton (D-D.C.) and Judge Merrick B. Garland of the U.S. Court of Appeals for the District of Columbia Circuit each received honorary degrees from the Law Center. Holmes Norton, who is also a Georgetown Law professor, retires this year from the faculty after 36 years. She has received honorary degrees from more than 50 universities (including Georgetown University in the 1970s) and now, Georgetown Law.
"Today, Georgetown University recognizes a person who has dedicated her life's work to the enduring struggle for universal human and civil rights," said Georgetown Law Professor Peter Edelman, who introduced Norton. "As a lawyer, teacher and public servant — and my friend for decades — Eleanor Holmes Norton has demonstrated an unparalleled persistence and fierce willingness to stand up for what is right, not only breaking barriers for women in the workplace, but also the district she loves and represents."
Throughout her career, Norton has played a key role in the national conversation around sexual harassment and equality in the workplace. A member of Congress for 14 terms, she has worked tirelessly to raise the national consciousness on these and other issues.
Georgetown Law Professor Neal Katyal, who introduced Garland, said that the judge represents "the pinnacle of the legal profession."
"The federal courts have had legendary judges grace the bench since our Founding, but none has served with more wisdom, grace, brilliance, and commitment to legal principle than Chief Judge Garland," Katyal said. "He is a model for every judge in this country. Like Judge Friendly and Judge Learned Hand before him, there is no doubt that Merrick Garland will be remembered as one of the finest judges in history to have served on any court in our nation."
Inspiring
In a 20-minute Commencement address, Norton told the graduates to never forget that they are lawyers first — even if they enter into public service, teaching or another career apart from the traditional practice of law.
"Georgetown's newly minted lawyers, Class of 2018…[are entering] a profession that must always be on the front lines to preserve the oldest and most precious gifts from the Founders of our nation: a written Constitution to guarantee the rule of law and the rights of the people…" Norton said.
And graduates will find that a Georgetown Law degree "will carry assumptions about your potential to be leaders in your own communities," she said.
Students younger than the graduates, she reminded the audience, are leading the way on the issue of gun violence. "Parkland, Florida, students summoned a new generation that is moving the vexing gun issue forward…[they] have learned from prior generations that citizen action and leadership are necessary to move immovable issues, the way my generation of African Americans did when I was in the civil rights movement," she said.
Change that requires legislative solutions will not occur easily. "Change will only occur if we make the highest, best and most peaceful use of the First Amendment…yet there is recent disquieting evidence of intolerance of speech on college campuses," Norton said. "The First Amendment as a tool to bring change is far easier to understand…when all sides are heard. That is where young lawyers can come in: Trusted members of their own generation speaking in their own terms, speaking in their own language, offering reasons why hearing the other side of arguments is critical to our society…the Class of 2018 knows that lawyers sharpen their own cases best when they have heard the other side."
The frequently quoted line of Shakespeare, "let's kill all the lawyers," Norton said, is "only noting the reality that lawyers not only survive, they lead…to the Georgetown Law Class of 2018, I say, please lead us."
Tradition
Georgetown University President John J. DeGioia thanked the honorary degree recipients for their contributions. To the graduates, he noted that the call shared by members of the Georgetown community is one that unites us.
"Our lives here in this community are shaped by an extraordinary tradition of learning, a tradition of engagement, a tradition of service, a tradition deeply rooted in our Catholic and Jesuit identity — a tradition that calls on all of us to recognize the dignity of each person and to work for a more equitable and just society," DeGioia said.
Georgetown Law Dean William M. Treanor noted how the graduates' experience has been shaped by current events: "This group has been together through one of the most politically charged and divisive moments in the history of our nation and our world. The hope of all of us is that you not be discouraged by this, but you be motivated by it…that you follow the examples of Congresswoman Norton and Judge Garland to use your law degree to advance justice. I hope you never lose the passion and energy that brought you to Georgetown."
"It has been a great privilege to know you, to teach you, and to learn from you," Treanor continued. "We salute you."
With that passion and energy, many students in the Class of 2018 are already making the world a better place — including K'Sean Henderson (C'12, L'18), Jennifer Ong (L'18) and Ethan Womble (L'18), recipients of the Dean's Achievement Award. The award is given to graduates who have shown outstanding leadership and made invaluable contributions to Georgetown Law. Among their many achievements: Henderson served as the 2017-2018 president of the Georgetown Black Law Students Association (and also encouraged numerous prospective students to come to Georgetown Law as an enthusiastic champion for the Admissions Office); Ong served as editor in chief of the Georgetown Law Journal, publishing a superb Volume 106 and hosting a symposium on customary international law with Supreme Court Justice Samuel Alito; and Womble led the Georgetown student chapter of the Federalist Society, which hosted the organization's national conference with Justice Clarence Thomas in March.
Fantastic Day
While the day had a Washington, D.C., flavor, many graduates and their families came to Georgetown Law from countries around the world. Karan Rukhana (LL.M.'18), who received a general studies LL.M., hails from Mumbai, India; he intends to go into international arbitration, first in New York, then in London. "It was a spectacular experience, especially for international law," he said.
Andrea Agatha Jacobs (LL.M.'18), who hails from Antigua and Barbuda, received an Environmental and Energy LL.M. She wants to ensure that car companies stay within the rules of the Environmental Protection Agency; and to be an advocate for climate change. She's headed for a United Nations Fellowship in Nairobi and then in Switzerland. "It's a fantastic day for me," she said. "I will remember it."