Commencement 2018: Four Generations of Hoya Lawyers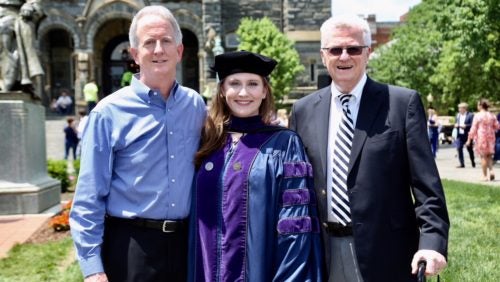 While some members of the 2018 graduating class are the first in their families to graduate from Georgetown Law, Erin Steele (L'18) happens to be the seventh — and the first woman.
Steele (L'18), who will work at McDermott Will and Emery in Washington, D.C., joins her father Charles M. Steele (L'84), her grandfather Charles J. Steele (C'52, L'54, LL.M.'56), and her late great-grandfather John J. Carmody (L'1923) as a Hoya Lawyer.
Her uncle John J. Steele (L'85), her great-uncle John J. Carmody Jr. (L'61), and a cousin, George T. Marcou Jr. (L'84), also attended Georgetown Law.
"I'm really honored to be graduating from Georgetown; I've always looked up to these guys," Erin said, as she stood with her father and grandfather before the Georgetown Law Commencement ceremony on May 20. "To be able to follow in their footsteps at such a great school is unique."
Charles J., Erin's grandfather, a former antitrust and health care litigator, traveled a mere two blocks to attend the ceremony from his home in Georgetown. Charles J. still recalls a criminal law class with the legendary Edward Bennett Williams, for whom the law library is named. He was also the second winner of Georgetown Law's Beaudry moot court competition in 1953.
"I'm proud of [Erin] for many reasons, and this is now one of them," her grandfather said.
Charles M., her father, spent a career in the federal government, serving in senior positions in the Justice and Treasury Departments as well as the FBI. Erin's late great-grandfather, John J. Carmody, also had a long and distinguished career in Washington. A general business law practitioner and a co-founder of the firm Whiteford, Hart, Carmody, and Wilson, Carmody also served as president of the D.C. Bar.
"Georgetown prepared all of us for success, and we look forward to watching Erin carve her own path," Charles M. said.