Commencement 2021: Georgetown Law Celebrates "The Class of Resilience"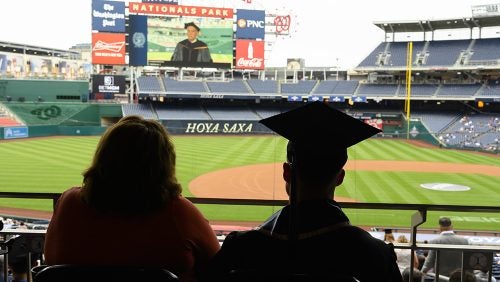 A steady rain was falling, yet it didn't wash away the smiles on the faces of graduating Georgetown Law students and their guests as they arrived at Nationals Park, home stadium of Washington's baseball team.
Earlier in the spring, COVID-19 restrictions made it impossible to envision any kind of in-person commencement. But during the last few weeks of the semester, as vaccination rates rose, coronavirus cases fell and the city loosened limits on outdoor events, Georgetown University pulled together a plan to gather at Washington's baseball stadium to honor its 2021 graduates.
Georgetown Law added opportunities to come to the law campus to reunite with classmates and professors. And because so many students weren't able to make it to D.C. to take part, the Law Center prepared a virtual recognition ceremony with congratulatory video remarks from professors, students — and even Chief Justice of the United States John G. Roberts, Jr.
So on the evening of Monday, May 24, as Dean William M. Treanor appeared on the Jumbotron to invite the Georgetown Law degree candidates to stand, a cheer went up from the drizzle-soaked crowd. After the many challenges of the past year-plus, there was much to celebrate.
Priya Datta (L'21) said it felt "surreal" to graduate in a major league ballpark.
"I'm really thankful that we got to have something in person and I really appreciate that," she said. "[Georgetown did] something so special for us. It was really festive, and it was nice to be in the celebratory spirit."
Her parents had traveled from Ohio to be there, and her father, Asim Datta, could hardly find the words to express his feelings about his daughter's achievements.
"It's the end of a long dream," he said.
CELEBRATION DAYS
Over the preceding weekend, Georgetown Law held two "Celebration Days" on the Law Center's campus. Fortunately, unlike Monday's rainy weather, the weekend was warm and sunny — and there was even a breeze to help make wearing velvet-trimmed regalia more tolerable. An upbeat playlist was in the air as students posed for photos next to giant letters spelling out "HOYA LAWYAS" and introduced parents and classmates to each other, then lined up to the tune of "Pomp and Circumstance."
The Law Center had set up a small stage under a tent on the Eleanor Holmes Norton Green, and students were able to sign up for time slots to have their names read off as they walked across. Although the formal commencement ceremony wasn't until Monday, they still got to have that graduation experience.
"This is a very emotional moment," said Treanor to the assembled students and guests. "This has been a time of isolation and challenge — but today is a day of triumph and celebration!"
The students echoed the dean's sentiments of appreciation and joy.
"It just really came together perfectly," said Ted Hasen (L'21).
"In some ways this was better [than a traditional ceremony] — smaller and more intimate. I'm very, very grateful," said Melissa Lewis (L'21), who added that this was only the third time she'd been on campus all year.
"After a tumultuous 15 months, the community was able to gather and celebrate. It's an overwhelming feeling of gratitude," said Spencer Gomes (L'21).
Family and friends were equally thankful for the chance to participate in the festivities. Michelle Johnson-Lewis had come from New Jersey with custom-made face masks for herself, her husband, Earl Lewis, and son, Jarrett Lewis (L'21). In glittery white letters on a navy background, they read "Proud Mom," "Proud Dad" and "Hoya Lawya."
"We are so excited. Filled with emotion. Beyond proud," said Johnson-Lewis. "My only child, beginning his life as an attorney!"
The campus gatherings continued Monday morning at the annual Georgetown Black Law Students Association (BLSA) Family Celebration. More than 70 graduating students heard remarks from Treanor, outgoing BLSA President Maxine Walters (L'21), former Assistant Dean and Professor Everett Bellamy and Dean of Students Mitchell Bailin — and took many more photos.
A VIRTUAL END TO A VIRTUAL SCHOOL YEAR
The day after the Nationals Park commencement, the Law Center premiered an online tribute honoring all 956 of its graduates: 675 Juris Doctors, 275 Masters of Laws and 4 Doctors of Juridical Science. The video opened with a montage of students — most on campus or standing before Washington landmarks, but in a nod to the distance learning arrangements that had dominated the last three semesters, a few were in settings far away, such as beside the Eiffel Tower, and on a Florida beach.
In his remarks, Dean Treanor commended the graduates for making it through not only the rigors of law school, but also a global pandemic, a divisive presidential election and much more.
"You will always be known at Georgetown University Law Center as the class of perseverance and of resilience," said Treanor, adding, "I hope you never lose the passion and energy you have here today."
Chief Justice Roberts, in a message recorded at the Supreme Court, then offered warm congratulations to the class, telling them that while legal work can be tedious and uncertain at times, it can also be inspiring.
"The craft, the call you have chosen is infused with a higher purpose," he said.
Outgoing Student Bar Association president Olivia Hinerfeld (L'21) addressed her classmates, enumerating the many ways they had risen to the challenges of the past year and encouraging them to continue to show up for each other and for the world.
"The class of 2021 has grit," she said. "It's been a long journey to get to this day. If you feel anything like me, you're probably exhausted too. But this is not the moment to tune out or shut down. The fault lines in our systems have never been more apparent and the world needs you now more than ever. Today is a day for celebration, but tomorrow it is time to dig in."
THE NEXT STEP
During these few days of reconnection and celebration, the Class of 2021 was already looking forward to post-graduation life: bar exam prep, associateships, clerkships and other plans and projects.
"I am so excited. It's a little bit overwhelming at the same time, because it's something you look forward to for so long," said Barnett Harris (L'21), reflecting on his journey from orientation to graduation. "But I'm excited to start the next chapter of my life. I'm excited for what my classmates will do in the world."
For Anaïs Leray (LL.M.'21), commencement was an especially precious chance to see classmates in person, given that she attended classes remotely during her entire year at Georgetown Law — first from her homeland of Guadeloupe, and then moving to D.C. for the spring semester. Still, she was full of enthusiasm about the classes she'd taken and the people she'd met through online activities. She was eager to offer advice to the students who'll begin their degrees this fall.
"Georgetown is such a good school," she said. "It's going to be tough. It's going to be challenging, but at the end it's all worth it. And you're going to have an amazing time."