Community Justice Project Clinic Case Featured on "Final Appeal"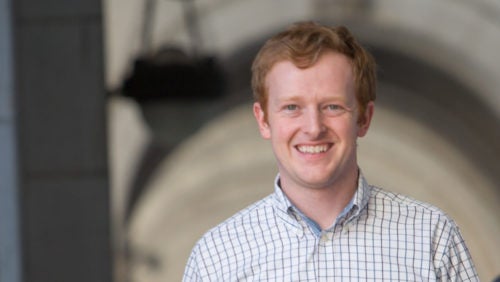 Brian Reichart (L'12) hasn't given up on the client he volunteered to represent in Georgetown Law's Community Justice Project Clinic.
In fall of 2010, Reichart's clinic project was to draft a clemency request to the Missouri governor to free Patty Prewitt, a grandmother in her 60s who had already served 24 years of a life sentence for the murder of her husband. Reichart and Professor Jane Aiken, director of the clinic at the time, believed that Prewitt was innocent. By the end of that fall semester, they had filed the clemency request with then-governor Jay Nixon.
Seven years later, they are still waiting for action on that same petition, since amended, that Reichart drafted as a 3E. Some things haven't changed since 2010: Prewitt remains in prison. And some things have: Eric Greitens took over from Nixon as governor in January of last year.
But in 2016, Reichart spoke on Prewitt's case at an annual Innocence Network Conference in San Antonio. In the audience was a television producer, who was intrigued by the story. "Final Appeal," the new wrongful convictions series on Oxygen, premieres on January 7 — with Reichart and Aiken interviewed in the first two-hour episode, about Patty Prewitt.
Why does Reichart, now an attorney with the Massachusetts Law Reform Institute, persist with his 2010 clinic project? When he went into private practice at O'Melveny & Myers after graduating from Georgetown Law, Reichart even took the case to the firm as a pro bono project.
"I remember Patty discussing how some students, interns from a local legal organization in Missouri, were going to interview her, and she said, 'No, this happens all the time…I'm forced to relive the murder, and the students disappear and I never hear from them again.' And that stuck with me," Reichart explains. "I told Patty that as long as she thought I could be helpful, I would continue to be her advocate."
Life without parole
Jane Aiken hasn't given up on Patty Prewitt either. Now vice dean at Georgetown Law, Aiken first met the Missouri inmate in 2004, when she was invited to see a production of Shakespeare sponsored by a prison drama project. Aiken was a law professor at Washington University at St. Louis at the time; Prewitt had already served 20 years for the 1984 murder of her husband.
"She insisted she was innocent, and I always thought she was innocent," Aiken said. "From reading the trial transcript, it was clear that the prosecutor tried to move the jury by painting Patty as a promiscuous woman and a bad mother. My thought about her was that she got life without parole for adultery."
As Reichart and Aiken explained to those documenting the story on "Final Appeal," Prewitt had been unfaithful to her husband for a period of time during their 14-year marriage, which became the centerpiece of the prosecution's case.
"Once they got that into their heads, all [the investigator] needed to do was to find evidence to fit it…," Aiken asserted. "The investigative team delivered [the theory] to a prosecutor, and they didn't have any evidence; they had one boot print and that's it. And her adultery from five years prior…. So what did the prosecutor do? He filled in the gaps with, she's lustful, she's a bad mother, where were your children when you were having all this sex?"
Prewitt claimed that she awoke to a loud noise one night in her Missouri home and was sexually assaulted by an intruder who later fled the scene. When she checked on her husband, he was dead from a gunshot wound.
The fact that the couple had been separated and that Prewitt's husband was also having relationships was never introduced, Aiken said. "She didn't have a clue that they were going to use [the adultery against her] in this way. And so the prosecutor fills in the gaps with enough negative things about her, in a small town that the jury could overlook the gaps, and that's how she got convicted."
After arriving at Georgetown Law in 2007, Aiken would introduce Prewitt's case as part of an experiential learning course on Motherhood and Criminality and later, in the Community Justice Project clinic. "It was one of our first cases," Aiken says. "Brian was one of our first students."
Innocence claim
Reichart, then an evening student, and his clinic partner drafted and filed a clemency request with the Missouri governor on Prewitt's behalf. They spearheaded a media campaign, researching the economic and social costs of keeping a then 61-year-old in prison until she was 86 — and portraying Prewitt as a model prisoner: in prison, she has furthered her education, taught fitness certification to others, participated in drama and writing initiatives (one of her plays was performed at the Kennedy Center) and served as a mentor to generations of incarcerated women.
They raised an innocence claim, in the second part of the petition. But to prove innocence in Missouri, DNA evidence from the scene would have to show that someone else committed the murder. With the "tunnel vision" focus on Prewitt, no DNA was taken — or so the students were told.
"There was not a serious effort to investigate anyone other than Patty: fingerprints were not taken from the crime scene, hair samples were not taken from the crime scene. Instead, the lead investigator collected murder mystery novels from the Prewitt home and gathered the husband's life insurance policy in the crucial hours after the murder," Reichart said. "Investigators had a single-minded focus on Patty that not only made her arrest a fait accompli but also impeded [anyone] from gathering evidence and following leads that would support Patty's account."
Aiken and Reichart met with Governor Nixon's staff repeatedly over the years, beginning in late 2010. Based on these meetings, there was hope that the governor would grant Patty clemency before he left office.
"Governor Nixon didn't act at all, and he had six years," Reichart said. "During this time, he rejected many petitions and granted a few. He just sat on Patty's petition, and that was really disappointing."
Uncovered
In 2015, Reichart would leave O'Melveny and accept a fellowship with the same Georgetown Law Community Justice Project clinic he served as a student. He took Prewitt's case back to the clinic with him.
"It was the highlight of my law school experience," Reichart says of the clinic. "I always looked on it with tremendous fondness, and I stayed in touch with Jane over the years as a result of working on Patty's case. I had such a wonderful experience as a student that I wanted to continue to be involved with it."
While helping Georgetown Law clinic students with advocacy and litigation matters including unemployment insurance appeals, Reichart got a call from someone who was cleaning out a bookshelf of a deceased relative, possibly a typist, and found a 500-page manuscript written by the prosecutor in the Prewitt case. The prosecutor had always believed in her guilt, but in the manuscript, he commented on the shoddiness of the investigation.
"The prosecutor himself acknowledged that a suspect with the motive, means and opportunity to commit the crime was not thoroughly investigated," Reichart said. "He wrote that that the lead investigator ordered his team to dig up dirt on Patty's past relationships. At trial, the prosecutor made a series of calculated attempts to [depict] Patty as a bad mother and bad wife."
Aiken said the investigators ignored a claim that there was a car parked nearby the Prewitt home that night. "When the defense asserted that they didn't reveal all the evidence, the prosecutors said they didn't know about it, but it's on an investigative list," Aiken said. "That came out from Brian's work."
The "Final Appeal" documentary, pumping resources in the case, would uncover additional evidence, including photos taken near the pond where the murder weapon was found. Other evidence that could be critical will be revealed on the show.
Luck of the draw
In Patty Prewitt's case, absent a grant of clemency, the grandmother of 10 is not eligible for parole until 2036. But there is hope. In August, Governor Greitens granted a stay of execution to Marcellus Williams, a man sentenced to death for murdering a reporter, based on new DNA evidence. And "Final Appeal," of course, could change everything.
"I called the governor's office before Thanksgiving and said, there's going to be a documentary on January 7," Aiken said. "It's an incredible story…these documentaries have a huge impact and they go viral fast." She told him: "There's still time to be a hero."
Which raises the question: if the documentary on Prewitt's story is as powerful as it is shaping up to be, Aiken wonders, what does this mean about our legal system? Why couldn't a court hear this and do something about it? Why couldn't a governor hear this and do something about it?
"I'm teaching people to be lawyers," Aiken says. "And what I'm learning is that a documentary may be the best way to get justice — not through the law. It's luck that we're involved, it's luck that a documentary got interested in it, it's luck that they put resources into it. What does that mean? If this kind of injustice can only be corrected by something that is dependent on luck, it's tragic."
Reichart says that he has talked to people in television before — but the lack of news and video footage from the 1980s deterred them from running with Patty's story. "I didn't think it would go anywhere," he said of the show. "Out of the blue, three months after the Innocence Network Conference, I get a phone call from [one of the producers]."
Nevertheless, with dedicated law students, and lawyers who stay with their clients, sometimes justice does happen for those who are innocent. Since connecting with his client in the Georgetown Law clinic seven years ago, Reichart reaches out to her monthly, has gone to Missouri more than a dozen times. Like Aiken all those years ago, he has attended her prison performing arts performances. One day, possibly, he'll walk her out of jail.
"This is about a student who got put on fire by a case he was handling and he could not shake it. He held onto it to a point where this may change her life," Aiken said. "It's a wonderful story about what it means to be a clinic student. If she gets out of prison, it will be because Brian Reichart made it happen."