Criminal Defense & Prisoner Advocacy Clinic Advocates for Maryland Woman Seeking Release from Prison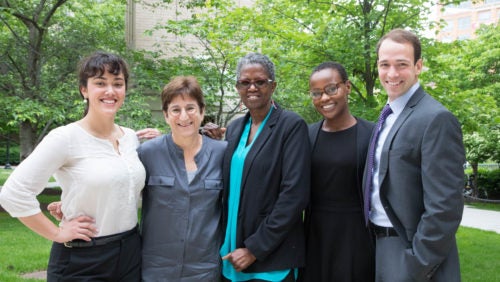 Fransharon Jackson has done what's been asked of her since she was sentenced in 1998 to life in prison.
Jackson, an inmate at the Maryland House of Correction for Women in Jessup, Md., and a client of Georgetown Law's Criminal Defense and Prisoner Advocacy Clinic (CDPAC), has become a skillful seamstress. She's also active in her church and directs the choir, and works with inmates who suffer from mental health issues.
All told, she's been a model inmate.
After appearing before the Maryland Parole Commission (MPC), Jackson was cleared to take a "risk assessment"— the final step needed before referral for release to the office of Maryland Governor Larry Hogan. There are about 80 prisoners waiting to take this psychological exam; Jackson waited for 16 months.
That's because a lone state doctor has been administering the exam, thus putting a release of Jackson and other prisoners on hold.
But on May 1, the test took place over the course of one day. Jackson's completed evaluation now goes to back to the MPC — thanks to a lot of hard work on the part of the Georgetown Law clinic students and even the Office of Communications, which assisted in getting media involved.
"Journalists can be better at getting people out of prison than lawyers," said Professor Abbe Smith, who directs CDPAC. "I couldn't be happier with this collaboration."
What Happened
Jackson's saga began in 1997. A 22-year-old with an abusive boyfriend named Corey Williams, she lived in the Baltimore suburb of Dundalk. Jackson and Williams agreed to set up Claude Bowlin, a 73-year-old widower who had supported her financially, with the plan for Jackson to provide sex to Bowlin in his home while Williams stole electronics.
Williams bludgeoned Bowlin to death with a ceramic coffee mug. That made Jackson an accomplice, and she was convicted of felony murder. "The law of felony murder," said Smith, "is particularly harsh. If you participate, you're culpable, but she had no intention of anyone dying."
Last year, the Georgetown Law clinic submitted a parole petition on behalf of Jackson "that was very strong…," Smith said, "but Maryland law is so archaic (Maryland is one of three states, along with California and Oklahoma, that require a governor to sign off after a parole commission's approval) that it can take years for its lone mental health professional to execute the exam. It's really the land of the absurd."
Eboni Blenman, a teaching fellow with CDPAC, agreed. "[The client] spends so much time preparing for the parole board and feels like [she] worked to get that favorable recommendation…and [the] release is still delayed," said Blenman. "It's cruel.
"When you talk to Ms. Jackson, she thinks about [the crime] every day and she's remorseful," Blenman said, noting that it took a previous CDPAC client in Maryland who was approved for parole more than a year to get out of jail. "She's remarkable in what's she's done to earn a second chance."
In many states, like New York, Blenman said, the risk assessment comes before meeting with the parole board. When an inmate has the parole board recommendation, they can be released in a few months.
Education
This year's clinic students worked "to find possible avenues to give the public and the Maryland governor's office an idea of who she is," said student Christopher Herr (L'19). "To accomplish that end, we created a 6-minute podcast, then set about getting the media involved. We contacted all of the local papers and electronic outlets, and Ann Marimow of the Washington Post came through."
Calling Jackson's story one of redemption "doesn't do the trick," said Herr. "She's the kind of person who has spent so much time in prison, and has had so much involvement with the church and its choir there, that it has shaped her being. She's had to redefine herself and find a reason to get up every day. She is working very hard to be the best possible version of herself that she can be, by herself and for herself."
"To me [Jackson's dilemma] is a complete waste of a human life," said Gabriella Ferrara (L'19). "She's not just a model citizen, she's a model person. She's smart, she's a leader and she has much to offer the world. We're really waiting on the state to hire another psychologist to this risk assessment. Mrs. Jackson's legal team last academic year even proposed setting up a crowdfunding campaign to raise funds to secure a psychologist, but the commission rejected this proposal.
"The best thing we can do," she said, "is try to educate people and act as amplifiers of her story in our efforts to get her out."
Moral Cost
David Blumberg, chairman of the MPC, said the commission has "been trying to hire a board-licensed psychologist with two years' correctional experience for the state for several years.
"We've had no applicants for the adult program since it pays just $70,000 per year," he said, "but recently, we found a qualified candidate and we're optimistic about hiring that person."
Blumberg recalled when he started as MPC chairman in 2004, "the wait was more than three years. We worked diligently to get the wait period down to 10 months by 2015," he said, "but then we had to rehear more than 300 cases of juvenile lifers due to various Supreme Court rulings."
Herr pointed out the financial repercussions of such cases. "For the state to be saying that it doesn't have the money to hire one more risk assessment psychologist to handle the overload of cases seems shortsighted," he said. "That means the state is unwilling to spend a comparatively small amount of money to save itself a great deal of money in the long term."
Smith concurred. "It costs taxpayers, true, but the moral cost is greater," she said. "In New York, we had a case where a woman got out of prison in a month. [Maryland Governor] Larry Hogan could really step up …and not let her needlessly languish in prison, and do the right thing. Keeping her incarcerated doesn't make sense ― financially or morally."
In the aftermath of the test, as the 3L students prepared for Commencement, Herr reflected on how the Georgetown Law clinic experience is a wholly unique part of the legal education. "It's a dramatic shift from reading and discussing case law to arguing it on behalf of clients in DC Superior Court," he said, adding that working with a prisoner makes students consider a world they might never have interacted with.
"What does it mean to be working with and representing clients serving long term prison sentences?" he said. "It humanizes them. It is easy for many communities, particularly legal ones, to get on board with reducing sentences for menial drug offenders. That is not who we're talking about…Ms. Jackson is proof that singular actions need not define our entire lives. She teaches us that we are more than the sum of our worst choices. Ms. Jackson's story is a way for us to hear that larger message."
"We had to think creatively about ways to share her story," Ferrara said. "We reached out to reporters, grassroots organizations in Maryland — we even made an audio pitch out of one of our phone conversations with her to send out to newspapers. When we finally got in touch with Ann Marimow of The Washington Post, it was a big break for us. We're confident that her writing moved things along and enabled Ms. Jackson to have her risk assessment on May 1. Now, we're just waiting on final approval from Governor Hogan. Let me be clear: this was a small victory in the overall fight to get Ms. Jackson through this unnecessarily long process and back into the community. But it was a victory, nonetheless."