D.C. Mayor Muriel Bowser Delivers the 2019-2020 Hart Lecture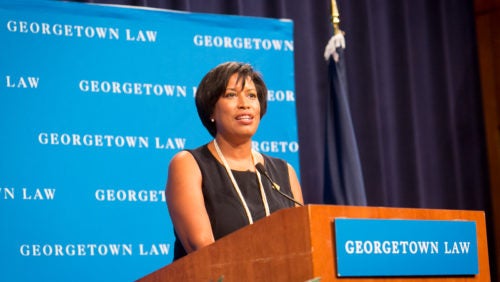 "I am here to make the case for D.C. statehood," said Washington, D.C., Mayor Muriel Bowser, as she delivered the 2019-2020 Philip A. Hart Memorial Lecture at Georgetown Law on September 4. "To underscore the great injustice of disenfranchising more than 700,000 Washingtonians, taxpaying Americans, and to shed light on the fact that the injustices don't end there — that our lack of statehood has far-reaching consequences on the day-to-day lives of the people I represent."
Bowser, a lifelong Washingtonian and the first woman to achieve a second term as mayor, gave the 30-minute address before a crowd in Hart Auditorium — then sat down with Dean William M. Treanor for a 30-minute question-and-answer session.
The fight for statehood, the mayor noted, dates back to 1801, when Congress created D.C. out of the lands of Maryland and Virginia. Today, D.C. operates as a state, a city and a county, the mayor said — with a $16.5 billion budget; treatment as a state in more than 500 federal laws; its own school system; SNAP and Medicaid programs; and much more.
D.C. residents not only welcome these responsibilities, they support the bills introduced by Congresswoman Eleanor Holmes Norton (D-D.C.) — a longtime Georgetown Law professor — that would allow for even more, such as the authority to deploy our National Guard for local matters as well as the ability to grant clemency to offenders convicted under our national laws.
"Instead of asking 'why statehood?' I urge your consideration of a series of questions," Bowser said. Should the residents of the District of Columbia enjoy all the rights and privileges embodied in the Constitution? Is the current framework of limited Home Rule unfair and unjust? Also, could we do more to protect our public safety if D.C. were a state? Does the denial of D.C. statehood harm the entire region? And can Congress alone grant D.C. statehood to provide our more than 700,000 residents full representation in Congress? I suggest to you that the answer to all of these questions is a resounding yes."
The question-and-answer session that followed, based on presubmitted questions by students and faculty, covered topics including housing affordability, obstacles to statehood and predictions following the 2020 presidential elections. The mayor rejected the idea proposed by some that D.C. could become part of Maryland. "I don't want to be in Maryland; I'm from D.C.," she said — though she joked that she would definitely run for governor of Maryland if given the opportunity. "We celebrate our identity and we would find it very difficult to merge that."
Associate Dean John Mikhail introduced the Hart Lecture, established at Georgetown Law by the family and friends of the late Philip A. Hart (C'34, H'70), a distinguished U.S. Senator from Michigan and Georgetown alumnus. A prominent scholar or professional is invited to deliver the lecture each year to promote continued dialogue on topics that were of special interest to Sen. Hart.
Dean Treanor thanked Beverly Perry (L'81), who serves as senior adviser to Mayor Bowser and was awarded Georgetown Law's Paul R. Dean Alumni Award in 2016. A Beverly Perry Fellowship, a partnership with the District of Columbia, honors Perry's legacy of service by bringing recent Georgetown graduates into the D.C. government.
He also noted Mayor Bowser's participation in a ceremony in April dedicating Georgetown Law's Tower Green to Congresswoman Eleanor Holmes Norton, a longtime member of the Georgetown Law faculty. "It is a connection that we are so proud of," the dean said.