David Hyman Installed as the Scott K. Ginsburg Professor of Health Law & Policy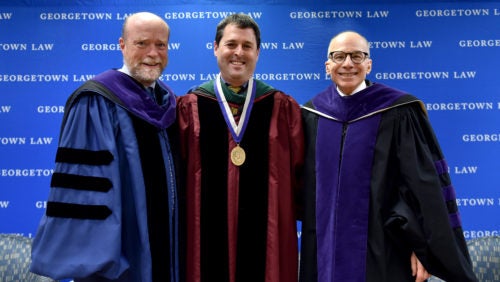 Georgetown Law Professor David A. Hyman, an expert on the regulation and financing of health care, was installed as the Scott K. Ginsburg Professor of Health Law & Policy on November 13.
"David is a great scholar who has defined health care policies," said Georgetown Law Dean William M. Treanor, who noted that Hyman writes an average of six articles a year (more than 160 articles to date) and six books. His writings include Medicare Meets Mephistopheles, selected by the U.S. Chamber of Commerce/National Chamber Foundation as one of the top ten books of 2007, and his 2018 book, Overcharged: Why Americans Pay Too Much for Health Care (2018).
"He defies convention, he grapples with the most important issues, he's innovative and creative, and he's had a profound influence."
University Professor Lawrence O. Gostin, one of the world's leading experts in global health law, had high praise for the colleague he admired as a person and as a scholar. Hyman, Gostin noted, has undergraduate, law and medical degrees from the University of Chicago.
"He's an impact person," Gostin said, noting that Hyman's work has "fundamentally impacted policy on the state and national level, and he has influence in the broader public — he changes and shapes the public conversation, a true public intellectual."
Health Law in the Acme Warehouse of Reality
When Hyman came to Georgetown Law in 2017, Treanor noted, people knew that he was a great scholar and a terrific teacher. "What I didn't know was that he was funny."
Indeed, it's not often that a law professor cites Wile E. Coyote and the Road Runner. But Hyman did, in a lecture entitled "Health Law in the Acme Warehouse of Reality."
"The Acme Warehouse of Reality is where Wile E. Coyote shops for the tools with which to try to catch the Road Runner," Hyman said. "When you take an inventory of the Acme Warehouse of Reality, you basically find three Is: Incentives, Institutions, and Individuals."
Hyman noted that in health care as in life, incentives are very important. In one of his articles, he examines the lessons for health care of transportation of convicts from England to Australia in the eighteenth century. The likelihood a convict would survive the voyage depended greatly on how the shippers were paid. As Hyman noted, "mortality plummets when you change the incentives."
Hyman observed that "it's really important to get the incentives right. If you do, lots of things take care of themselves — and you're left with a smaller and much more tractable set of problems to address. But if you set up the incentives wrong, really bad things happen."
Hyman then turned to institutions, and noted that they often do wonderful things, but they can also behave in shady ways or worse — such as the hospital that kept a patient in a vegetative state on life support for purposes of survival statistics, and the hospital that "up-coded" obese hospitalized patients as "malnourished" so that Medicare would pay them more.
Individuals, similarly, range from the notorious Martin Shkreli, who upped the price of Daraprim from $13 to $750 per pill, to the good Samaritans who rush to save lives in a disaster, such as the crash of Air Florida Flight 90 in Washington D.C., in 1982.
Get Incentives Right
On the implications of his findings for health law and policy, Hyman said, "first, we should be modest, and second, we should get the incentives right." Hyman argued that combination is more likely to work out well than the grand sweeping efforts made by both political parties. "The third thing to do is build in monitoring and redundancy for whatever it is that you are doing…unless you take steps to engineer against them, bad things will happen and you won't be prepared."
Hyman then quoted Nobel Laureate Richard Thaler, who [said that] "we should devise laws, rules, and procedures on the assumption that the person that is going to be running things at some point in the future is a nitwit." Hyman then added – "or a coyote — specifically, Wile E. Coyote."
Hyman ended on an optimistic note, highlighting the many successes that have been accomplished (which people routinely take for granted) — and quoted Professor James Q. Wilson that we can turn on a tap and "get drinkable water instantly, put through a telephone call in seconds, deliver a letter in a day, and obtain a passport in a week. Our Social Security checks arrive on time. . .There are not many places where all this happens. It is astonishing that it can be made to happen at all."
Both Hyman and Treanor thanked Scott Ginsburg (L'78), whose generosity made these professorships possible. Professors Rosa Brooks, Carlos Vazquez and Sheila Foster were honored earlier this year.
Ginsburg's generosity has also given Georgetown Law its Sport and Fitness Center, clock tower, and the newly purchased building at 500 First Street.