Entertainment Lawyers — and GEMALaw's Symposium — Adjust to a New World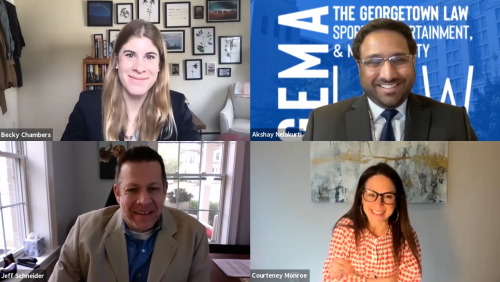 Learn your craft, build your network, be passionate about what you do -- and never stop learning.
So advised the newest member of the Georgetown Law faculty, Distinguished Visitor from Practice Douglas Emhoff, in his opening remarks at the Georgetown Law Sports, Entertainment and Media Society's 14th annual GEMALaw Symposium.
"Even as an established practitioner, you must, and you can always learn more," said Emhoff, who practiced entertainment law for almost 30 years before coming to Georgetown. "It's incredible to realize how much things have evolved in the entertainment space."
Despite going virtual this year, the Feb. 26 symposium offered numerous opportunities for students and alumni to take advantage of Emhoff's advice. They heard leading industry attorneys and executives at companies such as Hulu, National Geographic, and the Washington Nationals discuss adjustments to both rapid technological shifts and the global pandemic. And dozens of attendees even got to mingle in three rounds of Zoom breakout room gatherings.
"Since networking is such an important part of the GEMALaw Symposium, it was very important to us to try and make it work in this virtual world," said GEMALaw Co-president Becky Chambers (L'21).
"An Act of God"?
At the "Future of Sports Through Covid" panel discussion moderated by Professor of Law Brad Snyder, panelists reflected on the weight that defining "an act of god" took on in 2020.
That's because the sometimes overlooked force majeure clauses in contracts can lead agreements to be terminated in the event of natural disasters or other "acts of god." When the Covid-19 pandemic shut down virtually every sports league in the world the force majeure questions started rolling in.
"We got smarter on that than I ever thought I would need to be in my entire life plus some," said Peter Zern (L'98), a partner at Covington & Burling who advised his clients on navigating delicate negotiations during the early stages of the pandemic.
"The thing that I found gratifying was, folks on both sides wanted to understand their legal rights but wanted to work together and figure out how to be practical, and figure out the right outcome" he said.
GEMALaw presented the Alumni Achievement Award in Entertainment to Joe Anderson (L'09) now a senior attorney at Manatt, Phelps & Phillips, and an afternoon panel focused on the television industry's shifting economic paradigm.
"It was interesting to see how, due to the lack of traditional syndication in the streaming model, the share of revenues among all of the shows being produced in the industry is now relatively spread out as compared to the years of Friends and The Office," said GEMALaw Co-president Akshay Nelakurti (L'21).
Not the Department of 'No!'
After Emhoff's introduction, Adjunct Professor of Law and National Geographic Partners Executive VP Jeffrey Schneider conducted a virtual "fireside chat" with his boss, National Geographic Global Television Networks President Courteney Monroe.
A former HBO executive and major player in the content world, Monroe praised Schneider for being the kind of strategy-oriented attorney that executives favor over those who only seek to minimize risk.
"I much prefer a partner who isn't just a lawyer but a business partner first," she said.
"Absolutely," Schneider responded, recalling a former colleague's quip he often repeats to his team of lawyers. "We're not the department of 'No!' We're the department of 'How?'"
Watch a video of the conversation between Schneider and Monroe below.