Erin Sielaff (F'16, L'20) receives Summa Cum Laude Honors and Francis E. Lucey, S.J. Award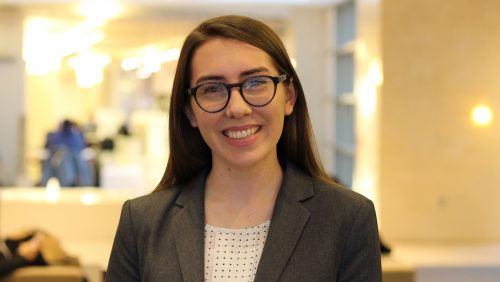 At Georgetown Law, a Summa Cum Laude, or "with highest praise" honor is granted at the sole discretion of the faculty. In the J.D. class of 2020, only one student, Erin Sielaff, received a Summa Cum Laude degree.
Sielaff is only the third J.D. student at Georgetown Law to earn a 4.0 grade point average since 1998, when the school started using the current grading scale. This is noteworthy in itself, but perhaps even more impressively, she did so while earning a concurrent Master of Public Policy degree from Harvard University's Kennedy School of Government.
Sielaff also was given the Francis E. Lucey, S.J. Award, presented annually to the graduate with the highest grade point average. This award is named for Father Francis E. Lucey, S.J. (Ph.D'32, L'41, H'49), a longtime professor who served as regent of Georgetown Law from 1931 to 1961.
In a recent interview, Sielaff downplayed her achievements, explaining them as a natural evolution from a favorite extracurricular activity.
"In high school I did policy debate, and that created an interest in international relations and foreign policy, and so I [went] to Georgetown for the School of Foreign Service," she said. "While I was an undergrad, I took a course in international law, which I absolutely loved, and that piqued my interest in pursuing law school."
Sielaff chose Georgetown Law, she says, for its Global Law Scholars program, a selective track within the J.D. program that includes specialized seminars and other activities for students seeking careers in international law and policy. She also chose the school because of its relationship with Harvard that would allow her to pursue her MPP concurrently at the Kennedy School, completing both degrees in four years.
"It's been an interesting experience to develop the legal lens and the policy lens at the same time, and see how they interact and sometimes conflict with each other," she said. "I've been moving back and forth [between Washington and Cambridge], so it's a little logistically challenging, but definitely worth it."
Emily Wack, Executive Director of J.D. Programs in Georgetown University Law Center's Office of Academic Affairs, recalled meeting Sielaff when she was still an undergraduate and applying to law school.
"We spoke about her plans and goals for pursuing a dual degree, and I was absolutely struck by her intelligence, focus, professionalism and humility," said Wack. "I remember turning to [my colleague] and saying, 'She's going to do incredible things.'"
Sielaff said that being part of the close-knit Global Law Scholars program, and getting to know classmates and teachers with a wide range of backgrounds and perspectives, was an important part of her Georgetown Law experience.
"You're with a cohort of people who are all interested in international law… Every week we would have speakers come in who work in various capacities in international law in the U.S. government, international organizations and the private sector. Just seeing the huge diversity of careers and experiences was really exciting," she said
Professor from Practice Mary B. DeRosa, co-director of the Global Law Scholars program, said, "This accomplishment is truly impressive, but not at all surprising. Erin is a great talent and a lovely, humble person." DeRosa added, "At their graduation party, the GLS class of 2019 – the group that Erin started with – made predictions about the future for everyone in the group. Erin's was 'most likely to change the world.' It was just a party game, but I remember it because it showed the admiration and affection her fellow students have for her."
Professor from Practice David P. Stewart, the other co-director of the Global Law Scholars program, said, "We congratulate Erin for her truly extraordinary achievement and for being a delightful, engaged contributor to the Global Law Scholars Program."
Sielaff is currently preparing for the bar exam, and then in August will begin a yearlong clerkship with Judge Patrick J. Schiltz of the U.S. District Court for the District of Minnesota (her home state). Following that, she expects to work for the law firm Cleary Gottlieb Steen & Hamilton, where she was a summer associate last year. She's confident her expertise in international law and policy will be put to good use at the firm.
"When I was working there, we had a case related to international comity, which was super interesting. They also represent some sovereign clients… and they have offices all over the world, so I'm hoping to unite my interest in international law with my interest in litigation," she said.
As she prepares to launch her career, Sielaff is thankful for all the opportunities Georgetown provided her over the last eight years.
"I felt like there was a great support system, with my classmates, with teachers and professors and with administrators, [which] was a huge component of making my experience so wonderful," she said. "I felt like Georgetown was home for me."