Georgetown Center for the Constitution Launches Interactive Constitution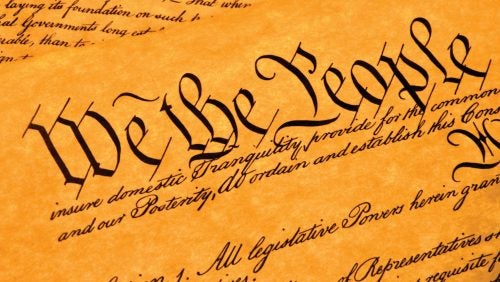 The Georgetown Center for the Constitution is celebrating its tenth anniversary with a gift to the scholarly community: a new online guide to originalist scholarship on the United States Constitution.
The "Interactive Constitution" project, three years in the making, lists more than 1500 law review articles, essays and other items, all written with an originalist perspective on our nation's founding legal document. Visitors to the website are able to read through the entire Constitution or use the menu to click directly to any of 186 different provisions – a specific section or clause – where they will find summaries of articles and scholarship on that topic.
"The Interactive Constitution is an important step in taking originalism from the abstract of academia and into practice," said Alexa Gervasi (L'16), the Center's Executive Director. "This novel resource, which would not have been possible without our program manager, Elana Quint, will provide practitioners and judges with a much-needed starting point for understanding and applying the original public meaning of our Constitution."
Gervasi announced the Interactive Constitution's launch at a recent gala event celebrating the Center for the Constitution's tenth anniversary. Held at the National Archives, under the same roof as the U.S. Constitution itself, the event also honored the 2022 recipient of the Center's Thomas M. Cooley Book Prize, Professor Michael McConnell of Stanford Law School, author of "The President Who Would Not Be King: Executive Power under the Constitution." The Honorable Don R. Willett of the U.S. Court of Appeals for the Fifth Circuit presented a lecture on the constitutional philosophy of Thomas M. Cooley, a 19th century legal scholar and jurist.
The Center for the Constitution will continue to add scholarship to the archive as it is published, with student researchers working to identify articles and post information about them to the site.
Kate Hardiman Rhodes (L'22) contributed to the project while a student at Georgetown Law and said the work helped her develop research and writing skills she now uses in her role as a judicial clerk for the U.S. District Court for the District of Columbia.
"I know that the Interactive Constitution will be of great value to academics, practitioners, law clerks and judges," said Rhodes.
"Working on the Interactive Constitution was one of the most enriching experiences of my law school journey," said Kassie Dulin (L'21), another former student research assistant. "I gained a greater appreciation for the genius of our founding document."
"I welcome this valuable new collection of originalist scholarship," said William M. Treanor, Dean of Georgetown Law and a constitutional historian. "I congratulate the Center for the Constitution on its tenth anniversary and on the launch of the Interactive Constitution."