Georgetown Climate Center Joins the Global Climate Change Conversation at COP27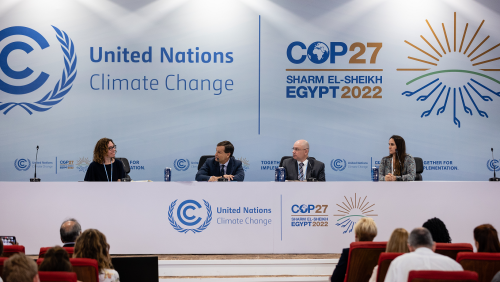 Members of the Georgetown Climate Center (GCC) traveled to Egypt last month to gather and speak with some of the world's most influential climate leaders at the 2022 United Nations Climate Change Conference (COP27).
GCC Executive Director Kate Zyla and Adaptation Program Director Mark Rupp participated in a United States NGO roundtable with the U.S. Congressional delegation and hosted a side event highlighting the crucial role state and local leaders can play in advocating for better climate solutions and clean energy.
"We are always looking for opportunities to showcase state and local climate leadership and to bring subnational leaders from the U.S. into the global conversation," said Zyla, who co-moderated the discussion.
GCC hosted the event in partnership with The Climate Registry and the U.S. Green Building Council. After keynote remarks from Governor Eric Holcomb of Indiana, a panel of state officials discussed ways they are addressing climate change, such as offering incentives for electrifying the transportation system and strengthening cross-agency coordination on building climate resilience. A second panel of county and city officials then zeroed in even more closely on how local climate policies can take root to make communities healthier and more resilient.
Zyla later shared input with U.S. House Speaker Nancy Pelosi and the rest of the COP27 U.S. Congressional delegation about the importance of partnering with state and local governments to achieve the goals of U.S. climate policy.
"It was inspiring to take part in a truly global conversation about visionary action," said Zyla. "Experiences like these help us prepare the next generation of climate policy leaders."