Georgetown Law's 2022 Graduates Face Bright Futures After Enduring Challenges
"Persevere" was a word that came up again and again during Georgetown Law's 2022 commencement celebrations.
Not only had the graduating students met the demands of a law school curriculum, they'd done so against the backdrop of a global pandemic and an increasingly polarized political climate.
Speaker after speaker, from Dean William M. Treanor, to honorary degree recipient Sherrilyn Ifill (H'22) to the students who congratulated their classmates from the podium, had high praise for how the graduates had persevered through all the challenges they'd faced. Truly, the Class of 2022 had reason to celebrate.
CELEBRATION DAYS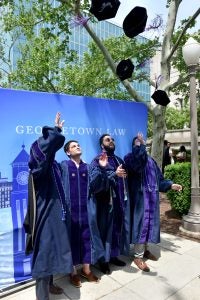 Commencement weekend began with two "Celebration Days" held on the Law Center campus near Capitol Hill. With such a large graduating class – 671 J.D.s, 700 masters of laws and four doctorates – this series of smaller gatherings offered students the opportunity to walk across the stage, surrounded by the buildings they'd come to know so well.
Dean William M. Treanor greeted each of the nine ceremonies with great enthusiasm, applauding the graduates, their assembled guests and the faculty members who'd guided them along the way.
"As we mark the conclusion of your time at Georgetown Law, I just know you're going to take the education you've received and the resilience and the courage that you've demonstrated and do extraordinary things in the years ahead," he said.
The two morning ceremonies on Friday, May 20 were for students in Georgetown Law's graduate programs. Many of them had come to Washington from abroad, an especially complicated endeavor in this time of COVID-19 – in fact, several had planned to enroll in 2020 but had delayed their plans, making the celebration all the sweeter.
One student speaker, Ngenarr Yassin Jeng (LL.M'22), a Gambian native who'd served as a research assistant at the Human Rights Institute and a delegate to the Student Bar Association (SBA) during her year as a master's student in International Law and Legal Studies, congratulated her fellow graduates on their accomplishments and dedication both in and out of the classroom.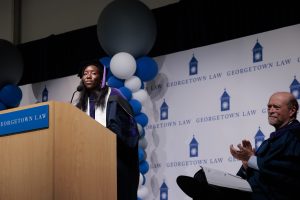 "This is the best law school… not only because we have such amazing faculty, [but] because of us, the amazing students that come here. It's students from Ethiopia thriving despite a civil war happening at home, students organizing for Ukraine, demanding climate action, brainstorming health policy," she said. "This gives me hope for the future."
At the Friday afternoon and Saturday gatherings for J.D. graduates, speakers reflected on how far they'd come since their first days on campus and on how dearly they valued the relationships they'd formed.
"Almost three years ago, we were a group of 1Ls trying to adjust to life as law students," said Cheyenne Freely (L'22). "Today… I stand among organization presidents, directors, executive board members, SBA representatives, journal editors and overall leaders on and off this campus."
James "JD" Darlson (L'22), an airline pilot and Air Force veteran who was part of Georgetown Law's storied evening program, praised his fellow evening students for taking on law school and full-time jobs simultaneously.
"We learned we are capable of shouldering and enduring more than we might think… and we do so – usually – with tremendous grit and grace," he said.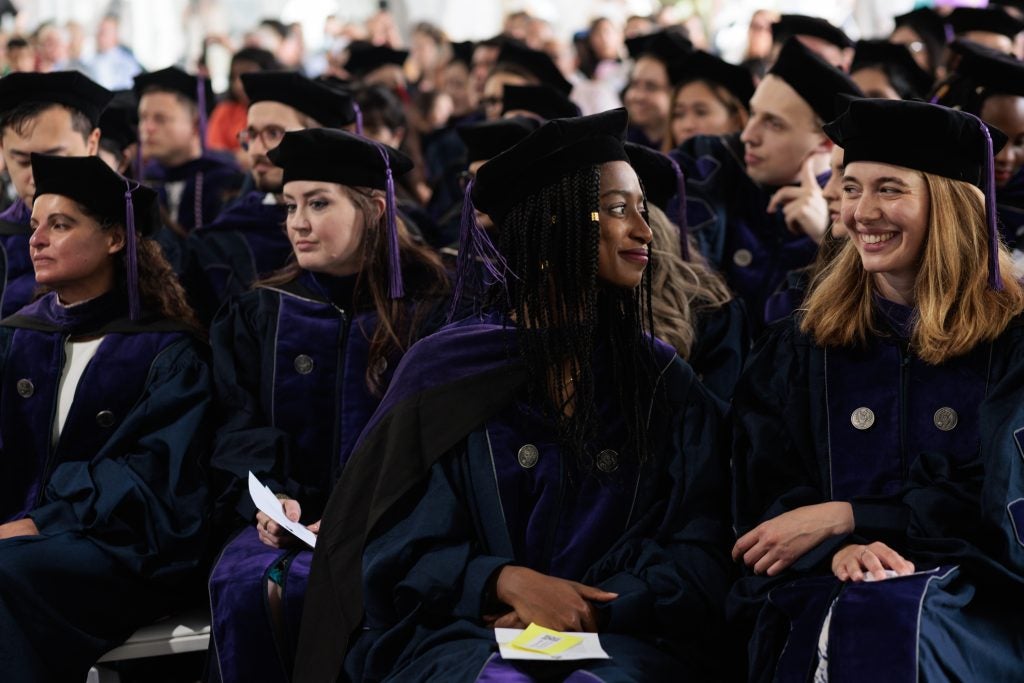 Deborah Pabon Cifuentes (L'22), who came to Georgetown Law as a second-year student, revealed in her remarks that while she was at her previous law school she'd faced one of the toughest challenges of all: being diagnosed with a tumor that required brain surgery. The experience, she said, spurred her to transfer to Georgetown.
"I promised myself, if I live through this, I'm going to go bigger. I am going to transfer to one of the best schools in the nation," she said, adding, "I am happy to announce that I am tumor free today. I have you, my fellow classmates, to thank for my strength. You were my inspiration to keep going and to keep pushing forward. I realize now that this is what will make you all incredible attorneys."
ON THE HILLTOP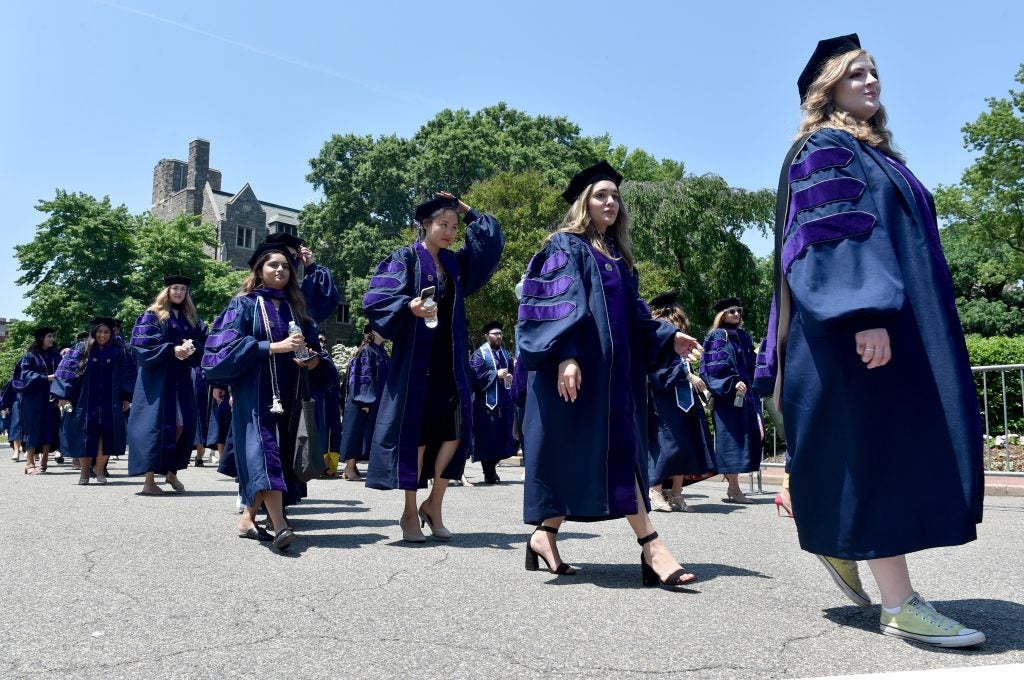 On Sunday, May 22, the entire Class of 2022 came together as one in front of historic Healy Hall on the Georgetown University Hilltop campus. It had been three years since "Pomp and Circumstance" played on that lawn. Despite the 90°F heat, smiles were broad as the graduates and faculty processed in, wearing full academic regalia.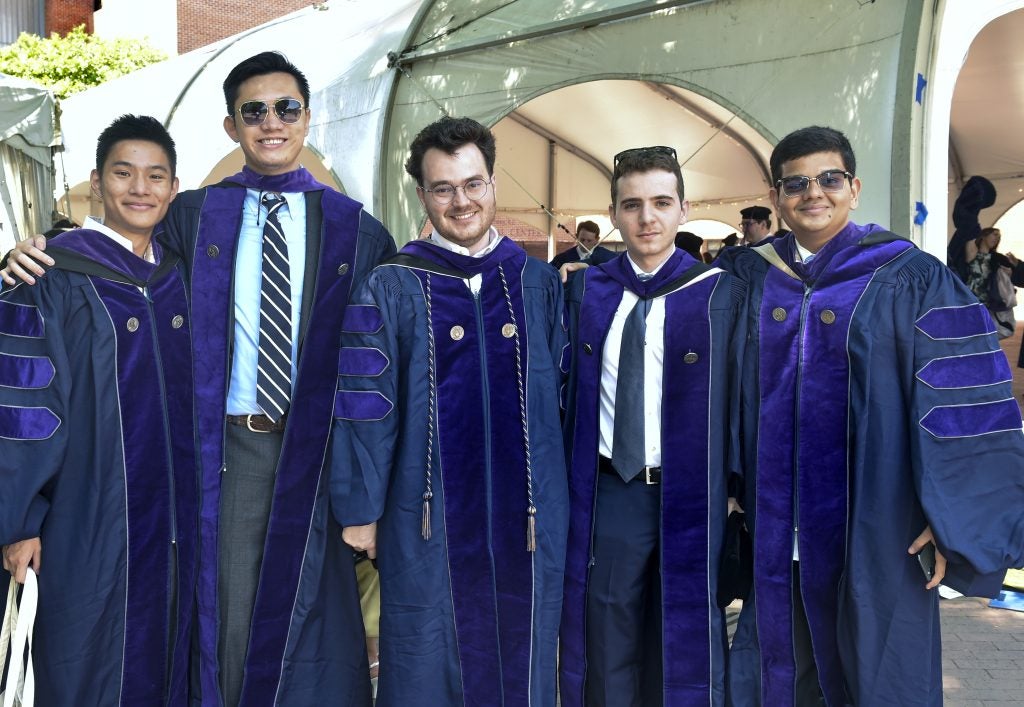 The theme of perseverance continued from the afternoon's speakers. Civil rights lawyer Sherrilyn Ifill, president emerita of the NAACP Legal Defense Fund, after being presented with an honorary doctorate, urged the newly minted lawyers sitting before her to uphold the rule of law and work for a fairer justice system.
"[Lawyers] need to be determined and imaginative and dedicated and relentless. And that, Graduating Class of 2022, I know you are, because you've persevered these past three years. I know you are trained to keep pushing, overcome setbacks, to move forward no matter what," she said.
SBA President Jade Baker (L'22) also recalled the challenges she and her classmates had endured during their student days – notably, spending more than a year taking classes "from our bedrooms, our couches, or our parents' kitchen tables."
Baker was impressed, she said, by how the class had managed to stay connected and to help each other out, in the spirit of the original meaning of the word "advocate." She called on her fellow graduates to continue in that spirit as they now headed their separate ways.
"We were trained to be good lawyers. But is that really what it means to be a Georgetown lawyer? To know all the laws, and write motions quickly and remember your opening addresses super early? That can't be what it means," said Baker. "I challenge us all today to be good people first."