Georgetown Law Chapter Hosts Federalist Society's 2018 National Student Symposium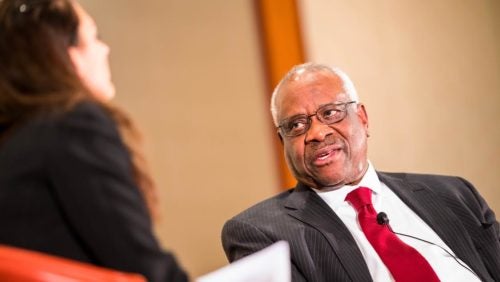 Justice Clarence Thomas may disagree with some of his colleagues on points of law now and then, but the atmosphere at the Supreme Court is a civil one, he told law students from across the country, gathered for the 2018 Federalist Society National Student Symposium hosted by Georgetown Law on March 10.
"We can't take ourselves seriously; we have to take the work seriously…" he said at a dinner at the nearby Hyatt Regency. "It is a civil environment. It seems around us in society, where if you disagree…you attack the character of the opponent, the intentions, the motives; you don't look at the argument… I'm finishing a book on the Tudors, and the net result of that approach on our society is that we go back to the Tower of London [mentality]. It might not physically be that way…but the executioner executes them with words."
Thomas — who chooses to speak only rarely at oral arguments — engaged in a 45-minute conversation with Professor Jennifer Mascott of George Mason University's Scalia School of Law. They discussed topics such as growing up in the South, school days at Yale, cross-country travel, religious faith and constitutional interpretation.
"I was [once] asked whether or not I was a textualist, and I said, I think all of us are textualists — because if you are riding down the street, and you see a sign that says 'stop,' you stop…" Thomas said, to great applause. "You don't…[say], I was looking at it more in a normative way."
Regarding the late Justice Antonin Scalia, Thomas recalled his late friend's way with words in a favorite dissent that called Thomas's majority opinion a '[freedom-destroying] cocktail.'"
"That was a good one…" Thomas said. "We went out for lunch at the end of the term, and he's sitting there figuring out what he should drink, and I said, 'Nino, [have a freedom-destroying] cocktail.' I miss him a lot."
Regarding diversity of law clerks, Thomas says he likes to see intellectual diversity and modest backgrounds. "You can get [law clerks] in a lot of different places, at different points in their lives. "You can get them out of NYU, you can get them out of Berkeley, you can get them out of [George Washington], you can get them out of Georgetown."
Thomas, who has served as a professorial lecturer at George Washington law, says he likes being around students. "I think we owe them more than a handshake…" he says. "It's absolutely fascinating when you see eyes open…those are the things that really excite me, to see kids invested in learning."
Rule of Law
The day started with an address by Attorney General Jeff Sessions on ending what he called "government by litigation"— nationwide injunctions such as those used to halt the travel ban and the end of the DACA program. "We believe that our actions are lawful and within the powers of the chief executive," he said. "We feel like in many instances a lot of [the courts' actions] are outside proper law."
The Department of Justice, Sessions said, has been fighting the "unprecedented number of limitless injunctions" in the courts — which has been a problem for the administrations of both political parties, he asserted.
"The increasing frequency of limitless injunctions is simply unsustainable…" he said, adding that the Supreme Court has not yet issued a definitive ruling on the merits of nationwide injunctions. "We are hopeful that the Supreme Court will soon send a clear message to the lower courts that injunctions ought to be limited to the parties in the case."
Georgetown Law Professor Randy Barnett, who introduced the attorney general, said that while he didn't agree with all policy positions Sessions took as a senator, Sessions is "deeply committed to the rule of law."
As Georgetown Law Dean William M. Treanor noted at the close of the conference, each panel of the day offered a diversity of opinions and included many distinguished Georgetown Law faculty and alumni, as well as a powerhouse lineup of academics and state and federal judges. "Serious discussion, open debate is crucial to the rule of law," Treanor said.
Transformative
Barnett, Associate Dean John Mikhail and Judge Thomas Hardiman (L'90) of the U.S. Court of Appeals for the Third Circuit led off the first panel looking at the relationship between the Declaration of Independence and the Constitution. Professor David Hyman appeared as part of a luncheon discussion on academia.
Meanwhile, Erin Murphy (L'06) of Kirkland & Ellis, Alan Gura (L'95) of Gura PLLC participated in a lawyers' discussion. Judge Diane Sykes of the U.S. Court of Appeals for the Seventh Circuit led a panel on the Fourteenth Amendment and the Constitution that included Professor Nicholas Quinn Rosenkranz and Elizabeth Wydra (L'09) of the Constitutional Accountability Center. And Judge Amy Coney Barrett of the U.S. Court of Appeals for the Seventh Circuit led a panel on constitutional amendments that included Georgetown Law Professor Laura Donohue.
"It's been very much a Georgetown day," Treanor said on Saturday night, as he introduced Justice Thomas.
The conference opened on Thursday evening with a debate on the proper role of the judiciary — between Arizona Supreme Court Justice Clint Bolick and Ed Whelan, president of the Ethics & Public Policy Center. The debate was moderated by Judge Kevin C. Newsom of the U.S. Court of Appeals for the Eleventh Circuit.
Treanor thanked Georgetown chapter President Ethan Womble (L'18) and Symposium Chair Darina Merriam (L'19) for organizing the successful conference.
"I went to school with many of your founders…I had an opportunity to witness the creation and then the extraordinary growth of the Federalist Society, which has profoundly shaped the law more than I think any other organization, and now has 70,000 [members]," Treanor said. "This organization was launched by a small group of students. So when you, the students who are here, think about what you can do, this is it…how transformative your vision and your commitment is."