Georgetown Law Dedicates "Tower Green" to Congresswoman Eleanor Holmes Norton (D-D.C.)(Professor Emerita, H'18)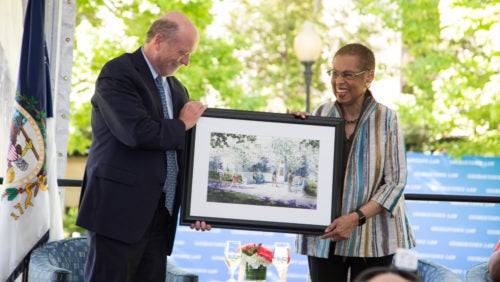 On April 23, Georgetown Law dedicated its "Tower Green" to Congresswoman and Professor Emerita Eleanor Holmes Norton (D-DC).
The afternoon ceremony honored Norton, a trailblazing civil rights activist and champion for women's equality who is a longtime member of the Georgetown Law faculty and who has represented the District of Columbia in the House of Representatives since 1991. Georgetown Law Dean William M. Treanor, Georgetown University President John J. DeGioia, D.C. Mayor Muriel Bowser, and members of Norton's family were among the attendees.
"This is the part of the campus that is closest to the Capitol, so it is very fitting that this will be named after the Congresswoman," Treanor said. He noted that Norton was a Georgetown Law faculty member for 36 years before her retirement last year. "She's a giant in the law, a giant in the fight for justice, a giant in the history of Washington, D.C., and a giant in the history of Georgetown Law."
DeGioia praised Norton's leadership at the university, in the community, in the city and the nation.
"As our students walk this lawn, as they gather in conversation, as they pause for a moment of respite between classes, as they travel between places of work, our law clinics, our neighborhoods…they will be reminded of an extraordinary lawyer, teacher, and public servant," DeGioia said.
Norton, who delivered the Commencement address to law graduates and received an honorary degree from Georgetown Law in 2018, was appreciative of this latest honor.
"In Congress, I spend a fair amount of my time honoring and recognizing and saluting my constituents, institutions, and organizations of every kind…" Norton said. "I think about what I know about them or have learned about them."
Georgetown Law, she said, allowed her to continue teaching while serving in Congress, offering "incomparable intellectual stimulation…with some of the best students of the country…continuing exercising the brain — which is not always guaranteed by service at the House of Representatives," she said, to great applause. "I am grateful for the creative way you have chosen to recognize me."
Strong Voice
Norton attended Washington, D.C.'s Dunbar High School while the school was still segregated; she went on to attend Antioch College, Yale University (Master's Degree in American Studies) and Yale Law School.
In her long career, she has used her strong voice in the District of Columbia at both the local and national levels, most notably in a national conversation surrounding equality in the workplace. In 1970, she represented 60 female employees of Newsweek in front of the Equal Employment Opportunity Commission, successfully overturning a policy of allowing only men to be reporters. Seven years later, serving as the first woman to chair the Commission, she released the first official declaration that sexual harassment was a form of sexual discrimination that violated federal civil rights law. In recent years, she has advocated for a national commission to combat sexual harassment.
Now in her 15th term in Congress, Representative Norton has never lost sight of her ultimate goal: to make D.C. the 51st state. For nearly 700,000 constituents, she continues to be a determined advocate, working for neighborhood improvement, home ownership, and economic development.
"She spends each and every day making our city better by reclaiming land from the federal government, and making that land places where Washingtonians [can] live and work, and for people to contribute to our bottom line," Mayor Bowser said at the ceremony. "Just think of what D.C. would be without a new waterfront at the wharf, or without new jobs and housing opportunities…or without upcoming partnerships to focus on children's health…those are the things that Eleanor has been able to do for us."
During 36 years of service on the Georgetown Law faculty, Norton taught generations of students about dispute resolution, lawmaking, labor law and statutory interpretation. She has inspired countless lawyers to follow her example in public service, advancing causes through effective advocacy. Bowser noted that she teaches her colleagues in Congress about the law and how the laws that they make affect the District of Columbia.
"I'm sure that you are fantastic teachers of debate," Bowser told the audience. "If you ever come up against Eleanor Holmes Norton in a debate, just sit down — or at least be right."
After formal remarks, the speakers celebrated with a brief groundbreaking ceremony next to McDonough Hall in anticipation of a bench and monument that will be placed at the site.
More Georgetown Law "Green Spaces" To Be Dedicated
In the next academic year, while celebrating its 150th anniversary, Georgetown Law will be dedicating its "Library Quad" to the late Paul R. Dean, who served on the faculty for more than 40 years. During his deanship from 1954 to 1969, he planned the construction of McDonough Hall and also established the E. Barrett Prettyman Fellowship Program – providing quality representation to adults and adolescents accused of crimes while also giving law school graduates practical experience in trial advocacy, litigation and clinical teaching. At the time of his death in 2008, Dean was remembered as the leader who built the foundation for the modern Law Center, building structures as well as innovations.