Georgetown Law Delegation Travels To India, Meets with Judicial and Legal Leaders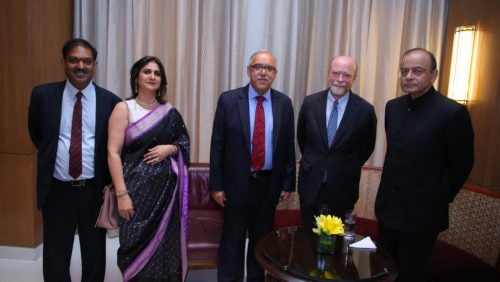 In the summer of 2016, Dean William M. Treanor met with Vibha Datta Makhija (LL.M.'92) — the youngest and the third woman to be designated as a Senior Advocate by the Supreme Court of India — in Washington, D.C. Treanor invited Makhija to join Georgetown Law's Asian Law Alumni Advisory Board (AALAB). And since then, she's only looked ahead.
A  Georgetown Law delegation led by Treanor, Assistant Dean of Development and Alumni Affairs Eugene Finn and Director of Graduate Admissions Justin Swinsick visited India December 2 to 9 to connect with Indian law schools, law firms, Georgetown alumni, and senior members of the Indian judicial and legal community in Delhi and Mumbai. Makhija was instrumental in organizing the visit.
Treanor met personally with Justice Arjan Kumar Sikri, Justice Uday Umesh Lalit, and Justice D.Y. Chandrachud. The week-long trip concluded with a dinner in New Delhi (the capital) on December 8, 2018, that included members of the Delhi High Court as well as India's Supreme Court.
"Dean Treanor's visit to New Delhi was fabulously productive," said Makhija, who listed such illustrious attendees as Arun Jaitley, Minister of Finance and Corporate Affairs; Ravi Shanker Prasad, Minister of Law & Justice; Kapil Sibal, a politician, and lawyer; and Maninder Singh, former Additional Solicitor General. "Dean Treanor connected with the top legal brains of the country … he emphasized Georgetown's unique strengths, which will result in enduring future relationships."
Treanor said he is proud of Georgetown's deep ties with India's legal community, and that he welcomes these opportunities to strengthen future relationships with international alumni and members of the judicial and legal communities worldwide.
Professional Progress
Georgetown Law has an unrivaled global community with 40,000 graduates worldwide — the largest alumni network of any U.S. law school. Students hail from more than 70 countries and it is one of the few U.S. law schools to be recognized by the Bar Council of India.
Alumni include Hargur Jaggi (LL.M.'06), an Additional District & Session Judge, in New Delhi.
 Makhija, the Senior Advocate, was designated by India's Supreme Court in 2013 at the age of 45. Less than one percent of lawyers in India reportedly have this honor.
She credits "a silent but strong aspect of my professional progress" to her LL.M. experience at Georgetown Law. "It gave me an impetus to compete and achieve," she says. "My interaction with illustrious faculty, men and women of greatest competence, provided me with a standard global scale against which to compare the quality of my own work."
"Each day of my experience at Georgetown, and also at my undergraduate school, Lady Sri Ram College, New Delhi, inspires me to excel," Makhija says. "Georgetown's greatest strength has been its true global nature…this visit was a reflection of it, like the magnificent Taj Mahal reflecting in the water bodies surrounding it."