Georgetown Law Faculty Honored at 2017 Teaching and Scholarship Luncheon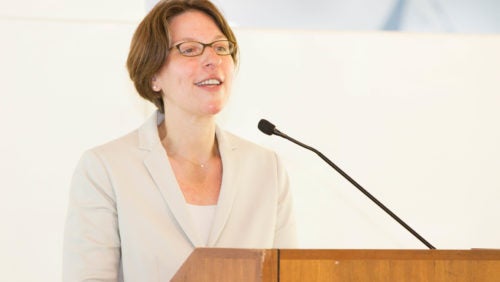 Dedicated. Generous. Supportive. Committed. Inviting. Inclusive. Innovative. Engaging. Enthusiastic.
Those words describe many on the Georgetown Law faculty, but they apply especially to Professor Eloise Pasachoff, who received the Frank F. Flegal Excellence in Teaching Award at the Faculty Teaching and Scholarship Luncheon on April 27.
Pasachoff, who joined the Georgetown Law faculty in 2011 after clerking for Justice Sonia Sotomayor, teaches a course on The Regulatory State and a seminar on the Federal Role in Education.
"Students talk about her engagement in the classroom, her ability to make legal concepts accessible, her ability to help students see how law and theory is applied in the real world," said Professor Kristin Henning, who presented the award. "But more than anything, students talk about how much mentoring and support Eloise provides outside of the classroom…to put it mildly, Eloise is an absolute rock star."
Pasachoff described the instructors, students and family members who inspired her teaching and writing — including her dad, an astronomy professor, and her mom, a textbook author and lecturer. "That example of dedication to students is something I try to emulate in my own teaching practice…" she said. "I am very proud to be a part of this institution and I thank you for this recognition."
Hidden Endowment
Adjunct Professors Peregrine D. Russell-Hunter and John M. Facciola (L'69) received the Charles Fahy Distinguished Adjunct Professor Awards in the J.D. and LL.M. Programs.
"Each year, hundreds of the best Washington, D.C., lawyers give a lot of time and energy to teaching a course here at Georgetown, and it is their presence and their talents that enable us to have most one of the most wide-ranging and richest curricula in the country," said Associate Dean Naomi Mezey. "They are…our hidden endowment."
Russell-Hunter, who serves as the director of the Defense Office of Hearings and Appeals at the U.S. Department of Defense, has taught a Civil Litigation Practice seminar with Adjunct Professor C. Coleman Bird since 1996. He also contributes his talents to Georgetown's Gilbert & Sullivan Society and the Home Court charity basketball game.
According to one student, Russell-Hunter's class is "'hands down the best class I have taken or even ever heard about at Georgetown,'" Mezey said, to appreciative laughter. "Sorry to the rest of us."
Facciola, who has become a leading voice in Georgetown Law's Continuing Legal Education programs for eDiscovery, recently retired as a U.S. Magistrate Judge in the District of Columbia. He has taught at the Law Center since 1985 and now instructs a staggering 240 Georgetown Law LL.M. students enrolled in five classes including Constitutional Law, Contracts, Evidence and Information Technology.
"Judge Facciola — affectionately known to his students as Facch — is very much the life of the LL.M. program…" said Associate Dean Rosa Brooks, who added that Facciola consistently helps international students struggling with language and cultural issues. "[He has been called] 'Fabulous.' 'Magical.' 'He is my favorite teacher.' One student simply wrote, 'Love. Love. Love.'"
Scholarship
The event concluded with presentations by Professor Aderson François, Professor Erica Hashimoto and Professor David Hyman, who are the three newest members of the Law Center's tenured faculty. François, Hashimoto and Hyman spoke of their leading-edge work on voting rights, right to counsel scholarship and the future of health law.
Associate Dean for Research Joshua Teitelbaum noted that Georgetown Law's full-time faculty members have been especially productive during 2016-2017, churning out more than 40 books and 50 book chapters, more than 150 articles, 30 Supreme Court briefs, 15 congressional testimonies and more.
"The books span absolutely the gamut of subject matter: constitutional law, national security, social movements, health law…just to name a few," Teitelbaum said. "It's an incredible range that is awe inspiring."