Georgetown Law Hits $56 Million Fundraising Milestone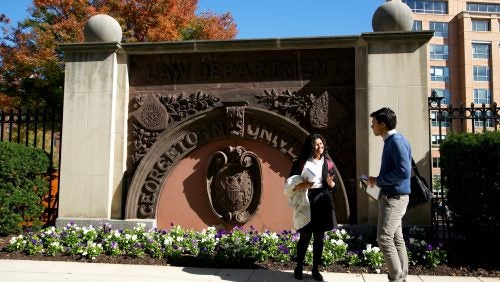 During the last fiscal year, Georgetown Law's alumni community, foundations, and friends contributed a record-breaking $56 million in gifts and pledges to the school, shattering the previous record of $40 million set in 2019.
"I am grateful that, because of our alumni's commitment to our students, we are in a period of unprecedented support for Georgetown Law. Remarkably, each of the past six years has been one of the six most successful fundraising years in our 150-year history," said Georgetown Law Dean William M. Treanor. "The generous support that we have received from our community is a testament to Georgetown Law's academic excellence, our outstanding faculty, the importance of our Centers and Institutes, and the invaluable work we do in educating lawyers who will make a profound difference in the world."
This year's total includes the largest single gift in the Law Center's history, a $24.5 million gift from the late Agnes Williams (L'54). It will be used to endow the Agnes Williams Sesquicentennial Professorships, the first of which have been presented to Professors Hillary Sale and Julie O'Sullivan. "Agnes Williams was such a generous supporter of Georgetown Law, and whenever we spoke she was always so interested in our faculty's scholarship and achievements. It is a fitting tribute that these professorships bear her name," said Treanor.
These professorships are the latest examples of the Law Center's commitment to investing in faculty scholarship. "We now have 81 chairs and professorships, compared with just 25 in 2010," Treanor said. "This is a clear recognition of the high esteem in which our alumni hold our faculty."
Longtime Georgetown Law supporters Tim (L'77) and Linda (N'77) O'Neill made an additional gift of $10 million to establish the Center for Transformational Health Law at the O'Neill Institute for National and Global Health Law at Georgetown University, whose founding in 2007 they previously sponsored. The new initiative focuses on supporting more equitable systems for improved health around the world, based on lessons learned during the COVID-19 pandemic.
"Tim and Linda O'Neill's generosity is ensuring Georgetown Law's continued leadership on one of the most important issues of our time," said Treanor. "We are thankful for all they have given to this community."
This historic fundraising year occurred during the Law Center's 150th Anniversary commemoration. During the year-long celebration, a special fundraising effort to raise 150 gifts of $150,000 or more was launched. The effort exceeded the goal, securing 155 gifts.
The Law Center's commitment to providing access to all students, regardless of their ability to afford tuition, remains a top focus for fundraising efforts. Over the course of the last six years, the Law Center has raised more than $22 million for the Opportunity Scholarship Program to provide support for high-merit, high-need students.
In addition, the annual fund raised a remarkable $8.2 million in cash gifts and pledges this past year, almost all dedicated to financial aid. To put that figure in context, in fiscal year 2011, the annual fund accounted for just over $2 million in current-use gifts.
In the last six years, the Law Center has raised over $210 million.
"Despite a global pandemic, our alumni responded powerfully to help our students," Treanor said. "Our entire community should take pride in what we've accomplished. I look forward to what we will achieve in the years ahead."