Georgetown Law Hosts 2019 Legal Services Corporation Forum on Increasing Access to Justice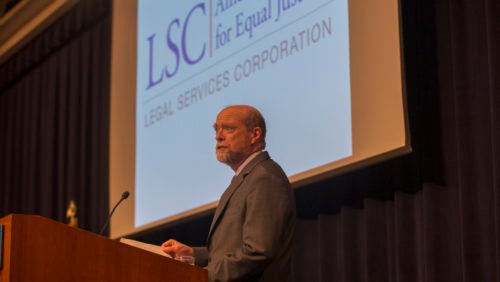 By the spring of 2017, funding for the Legal Services Corporation (LSC) had come under attack. The independent nonprofit was established by Congress in 1974 to provide financial support for civil legal aid to low income Americans.

The organization needed a new forum in which to hold a meeting, so the lawyers came to Georgetown Law. They returned in 2018. And on April 9, 2019, Dean William M. Treanor welcomed LSC to Hart Auditorium for the third year in a row.
"For anybody who is committed to access to justice, to…see so many people who have made such extraordinary contributions is a privilege…" Treanor said. "LSC is an organization that really resonates with our mission… Our motto is, 'Law is but the means, justice is the end.' It really could be the motto of LSC."
Treanor told attendees how the Georgetown Law community is furthering access to justice, through 17 clinics; the Health Justice Initiative, pairing medical and law students to work on law-related health issues; dozens of practicum courses where students may work on social justice issues and draft policy papers; 35,000 hours of pro bono work completed by 3Ls last year; the Blume Public Interest Scholars Program; the D.C. Affordable Law Firm, launched by Georgetown Law, DLA Piper and Arent Fox to provide low bono services; and more. Georgetown Law is also focusing on technology, a focus of the LSC conference.
"At a time in which technology is transforming our society, how do we harness it to improve access to justice?" Treanor asked. The dean described a Georgetown Law practicum course co-taught by Professor Tanina Rostain: The 2019 Iron Tech Lawyer Competition, in which Georgetown Law students present apps designed to increase opportunities for access to justice, will be held at the Law Center on April 24. The class is being replicated at other law schools and will be expanded next year into an Iron Tech Lawyer Invitational, with students from across the country. Georgetown Law's Institute for Technology Law and Policy is also analyzing tools being used in court to help pro se litigants. "The idea that informs all of these initiatives…," Treanor said, "is the core idea that we as members of the legal community have a moral obligation to make the world a more just place."
Increasing Access to Justice
Alumnus and U.S. Senator Daniel S. Sullivan (R-Alaska)(L'93, MSFS'93) appeared on a panel on Legal Aid Collaborations to Help Survivors of Domestic Violence. The 2018 POWER Act, signed in September, promotes the use of pro bono legal services to empower victims of domestic violence; Sullivan, a former attorney general of Alaska, first introduced the legislation in 2015.
"This is a topic that is really important, and should be very bipartisan…," Sullivan said, noting that domestic violence is a significant problem in Alaska and rape is five times the national average. When he was attorney general, he and the governor launched an initiative to change the culture with an ad campaign declaring that "Real Alaska Men Choose Respect."
"We have this gigantic problem…and there's no easy answer to fix it," Sullivan said. "One of the best ways to stop the cycle of violence…is to get a lawyer."
Other panels addressed the Needs of Low Income Individuals in Housing Court; Ensuring Access to Justice for Self-Represented Litigants; and technology.
U.S. Representative Susan W. Brooks (R-Ind.), a lawyer who is dedicated to addressing the opioid crisis; U.S. Representative Joseph P. Kennedy (D-Mass); and American Bar Association President Robert Carlson were among the speakers in Hart Auditorium during the afternoon.
"You are still, with your clients and their families, dealing on a regular basis with the [opioid] crisis…," Brooks said to the lawyers. "I've been seeing that devastation. The criminal justice system has often been the front lines…the courts and our jails have often become the largest mental institutions in our states. And yet those issues often translate to the civil courts…whether it is custody issues, eviction issues, credit issues…we know that people with serious addictions and mental health issues struggle with many of the things that you help them through in the civil legal aid system. So I want to thank you for staying focused on that problem."
The afternoon portion at Georgetown Law followed an off-campus luncheon featuring luncheon remarks by LSC Board Chairman John G. Levi, Judge David S. Tatel of the U.S. Court of Appeals for the District of Columbia Circuit; Chief Justice Nathan L. Hecht of the Supreme Court of Texas; Chief Justice Loretta H. Rush of the Indiana Supreme Court; LSC President James J. Sandman and more. An evening reception at the Supreme Court featured remarks by Justice Elena Kagan and Judge Amul Thapar of the U.S. Court of Appeals for the Sixth Circuit.