Georgetown Law Hosts Meeting of Legal Services Corporation Furthering Access to Justice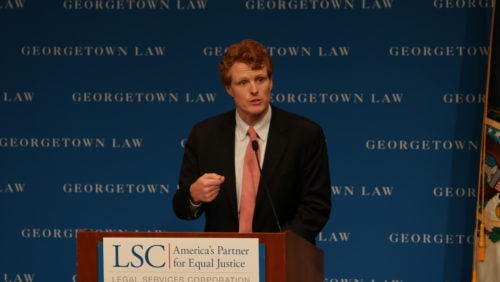 At a time when funding for the Legal Services Corporation (LSC) has come under attack, the organization needed a new forum in which to hold a meeting.
So they came to Georgetown Law — whose dean, William M. Treanor, not only signed the March 23 letter to Congress (along with 165 other law deans) urging congressional leaders to maintain funding for LSC but also delivered it to the right people in Washington.
On April 25, Treanor and the Georgetown Law community were proud to welcome LSC to Hart Auditorium. The independent nonprofit was established by Congress in 1974 to provide financial support for civil legal aid to low income Americans.
"LSC resonates with what the Law Center is all about," Treanor said. He cited a number of recent initiatives by Georgetown Law to further access to justice, including the Health Justice Initiative pairing medical and law students to assist with law-related health issues. And the D.C. Affordable Law Firm, which Georgetown Law launched in 2015 along with DLA Piper and Arent Fox, is providing low bono services to those who cannot afford a lawyer but do not qualify for free legal services.
"We all have a moral obligation to protect those in our society who are the most poor and vulnerable and marginalized, and that's what legal services are about," the dean added. "I am sorry to see you here, but I am delighted to see you here."
Access to Justice
LSC Chairman John G. Levi said that "merely surviving elimination" would not be a victory. "Robust funding must continue, and increased funding is what we seek."
Rep. Tom Emmer (R-Minn.), who is a lawyer, noted that some do not understand the important work of LSC, which helps to fund more than 130 nonprofit legal aid programs. "This is not a partisan issue, this is an American issue…" he said. "We are already on the same side."
In furthering access to justice, Georgetown Law is also focusing on technology, with courses like Professor Tanina Rostain's app-building class in which students work with nonprofits and legal services to assist persons in need. And tech was very much on the table as LSC President Jim Sandman, Microsoft's Brad Smith and Adjunct Professor Mark O'Brien of Pro Bono Net (who co-teaches Rostain's class) spoke of the Microsoft Portal Project, which aims to provide online assistance to those who need legal help.
"What we are seeing is the potential that new technology tools can bring to these issues…" said Smith, who later appeared on a panel with other general counsel looking at access from a business community perspective.
"We try to set a tone at the top of our department that pro bono work is important to us," said Christa D'Alimonte, general counsel of Viacom, who noted that partnering with law firms and other organizations helps in-house lawyers wanting to provide pro bono services.
Serving Justice
Subsequent panels looked at the importance of access to justice to the judiciary — with Harvard Law Dean Martha Minow — and the legal needs of low-income veterans.
Judge Beverly B. Martin of the U.S. Court of Appeals for the Eleventh Circuit noted that a staggering 61 percent of cases filed in her circuit last year were filed without the help of lawyers. "I have started a cottage industry of contacting lawyers and asking them if they would take on some of these cases," she said.
The day concluded with Rep. Joseph P. Kennedy III (D-Mass.) and American Bar Association President Linda Klein providing their thoughts on access to justice.
"For those of us who carry the letters 'J.' and 'D.' after our name, this must be our fight," Kennedy said. "Because we are pledged to serve justice built not just on law, but on a promise that we made to each other: that we will be treated fairly whether we are strong or weak, good or bad, rich or poor, wrong or right. That our sacred scales cannot be tipped by birth or luck or fate or fortune… Inspired by all of you here today, I promise to echo your calls throughout the halls of Congress until we reach a day where increasing federal funding for LSC is not just defending its very existence."