Georgetown Law Hosts Preview of HBO Documentary "Baltimore Rising"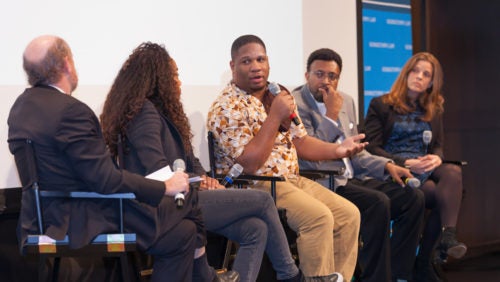 Sonja Sohn, who played a Baltimore police detective in the HBO series "The Wire," spent a lot of time filming in that city. After Freddie Gray died from the injuries he received in police custody in 2015, Sohn wanted to do something to help the community. In "Baltimore Rising," a new HBO documentary airing November 20, Sohn went behind the camera as a director, recording what she witnessed in the aftermath of Gray's death.
On November 14, the powerful film was previewed in Georgetown Law's Hart Auditorium, with those portrayed in it welcomed to the Law Center community: A young activist named Kwame, shown being arrested for nonviolent protesting outside the police officers' trials, as the officers were acquitted. A former high school student activist named Makayla, who learned how to be a leader and chart her future at the same time. A Baltimore homicide detective, who was an investigator in the Freddie Gray case. A former gang member, who is now a community leader. Grassroots activist Davyon Love, director of Leaders for a Beautiful Struggle. And many more.
"I see myself as a reflection of those in the film…" Sohn said to the crowd of students, faculty, alumni and hundreds of others who showed up for the screening; the event was sponsored by the Office of Alumni Affairs. "I just showed up and answered the call when I came back to the city after Freddie Gray's death. I wanted to reframe the narrative."
Reframing the narrative
Before HBO would entrust the film to a first-time filmmaker, Sohn needed a champion, and that person was writer and producer George Pelecanos — according to Kary Antholis (L'88), the president of HBO Mini-series and Cinemax Programming who was instrumental in bringing the screening to Georgetown Law.
"Unlike most of the actors and execs of ['The Wire'], Sonja stayed in Baltimore and made a life there for herself…" Pelecanos said. "We were all affected by what we saw every day on our filming locations, but she actually decided to do something about it."
Covering more than violence and protests, the film explores the relationship between the community and the Baltimore police — at one point showing a friendly football game between frustrated citizens and cops — while highlighting serious issues of education, unemployment, guns, crime, drugs and more.
In a panel discussion that followed the film, Dean William M. Treanor, acting as moderator, explored the issues with Sohn, Georgetown Law Professor Anthony Cook and Distinguished Visitor from Practice Christy Lopez — who as a former deputy chief in the Special Litigation Section of the Civil Rights Division at the U.S. Department of Justice, led the team who investigated the Ferguson police department after the death of Michael Brown. Activist Love, who appeared in the film, also served on the panel.
"The problems of racial injustice in the criminal justice system and dealing with all its permutations…are so complex and interrelated — if you are dealing with some issue of criminal injustice, the housing discrimination pops up, the jobs problem pops up, the education problem pops up…" Cook said. "This is something we are going to have to deal with, generation after generation after generation…what do you do with that reality, after you pick yourself up off the floor?…I think that we have to get to work."