Georgetown Law Hosts "The War on Regulation: Good for Corporations, Bad for the Public"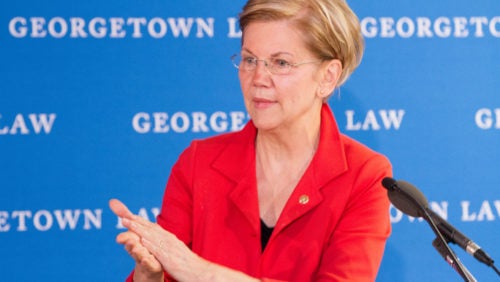 As Senator Elizabeth Warren (D-Mass.) observed — due to regulations enacted in the United States since the 1970s — a toaster with a one in five chance of burning down a house could hardly be sold on the market by the 2000s. Yet one in five mortgages had a chance of causing a family to lose a home.
"The United States government was the difference; regulations were the difference," Warren said — speaking at "The War on Regulation: Good for Corporations, Bad for the Public" at Georgetown Law on June 5. The event was co-hosted by the Law Center and the Coalition for Sensible Safeguards.
"Government regulations ensured the basic safety of every product offered for sale — no lead paint in children's toys, no medicines laced with rat poison, no cars without functioning brakes, and no exploding toasters," Warren said.
But in 2007, there was no agency that would stop the sale of exploding mortgages — until Warren proposed the Consumer Financial Protection Bureau to promote fairness and transparency. "We fought and we won…[CFPB] has forced the big financial institutions to return $12 billion directly to people who were cheated."
That agency and others, however, are currently under attack.
"In agency after agency, across the federal government, powerful corporations and their [political] allies are working overtime to roll back basic rules that protect the rest of us…" she said. "They go on and on about how big government restricts freedom and makes it harder for businesses to succeed…how free would you be if companies were allowed to lie to you about their businesses…? How free would you be if no one had to wash their hands before they handled your hamburger? How free would you be if companies could pass off little white pills as antibiotics even if they weren't?"
Good rules, she said, empower people to live, work, and do business freely and safely.
Soon, Warren said, she will introduce "sweeping anticorruption legislation" that will empower federal agencies, among other things. "Strong government rules matter," she said. "We cannot — we must not — accept a government that works only for a privileged few."
Deregulation frenzy
Warren was introduced by Georgetown Law Dean William M. Treanor and Robert Weissman, chair of the Coalition for Sensible Safeguards. The coalition is launching a report that explores issues discussed at the conference.
Weissman noted three important themes: a "deregulatory" frenzy that ignores evidence, suppresses science and denies facts; a corporate-driven agenda carried out by a corrupt process (ignoring the formal system of agency rulemaking); and a regulatory policy that ignores how people are affected.
"When we fail to enforce the rules on the books, people pay," Weissman said.
Rachel Weintraub of Consumer Federation of America moderated a panel examining federal agency deregulation — including at the Environmental Protection Agency and the Department of Labor. University of Maryland Law Professor Rena Steinzor led a discussion with consumer activists tragically affected by poor regulation in terms of health, safety and education.
Georgetown Law Professor Lisa Heinzerling, who has worked at the EPA, noted that the current deregulatory impulse "comes from the top down," as Executive Orders attack regulations on topics ranging from the environment to airline safety.
"There is an unremitting focus on the cost to industry of keeping these rules in place — with zero attention, zero, to the effect on the public of removing these protections," Heinzerling said.
Heinzerling, and later Georgetown Law Professor William W. Buzbee, criticized Executive Order 13771, instructing agencies to cut two regulations for every new one they issue. The professors and the panelists noted that cost is not the only factor in regulation; communities, for example, will be exposed to higher levels of pollutants. The Office of Management and Budget's own research has concluded that the benefits of regulation exceed costs. If jobs are lost in the lead paint industry, for example, opportunities are created with respect to lead paint alternatives.
Federal Register notices respecting proposed regulations are now careless with respect to basic administrative practices, Heinzerling says; and the government is violating the Administrative Procedure Act at every stage. "These are some of the new ways in which government is operating in this city."
Statutes rule
Georgetown Law's Professor Buzbee emphasized the importance of regulation and the regulatory rule of law.
"You hear so many attacks on regulation…but the basic attack is that regulation is wasteful and inefficient," Buzbee said. "Yet [regulation] plays critical roles in protecting all of us, as you've just heard… Regulation, the rule of law, is about law as a guide and as a constraint. Whether it comes to health, the environment, savings, finances, and our nation's integrity, people have to respect the law's requirements. The rule of law means that law has to provide a few basic elements — you need legal clarity; people need to know what the law requires. You need procedural regularity; that means that everyone including agencies and the president abide by the procedural requirements set forth in the law."
Procedural regularity, he said, includes transparency and the need for those affected to participate and provide data for the government to respond.
"The government needs to act based on science and data," Buzbee said. "I'm not saying perfect science and data…[but] agencies cannot cherry pick their evidence, they cannot rely on bogus fringe views, but they need to use the best evidence at hand… Most critically, perhaps, is that statutes rule."
There is an important role for litigation, Buzbee noted; an important role for professors to monitor participants; and a critical role for states, which can sue the federal government.
Maryland Attorney General Brian Frosh, the last speaker of the day, discussed how Maryland and other states are suing the federal government over matters including the travel ban; the Affordable Care Act; EPA rules; the census; and the Emoluments Clause.
"I think we're looking at not just a war on regulations," Frosh said, "but a war on science, a war on facts, and a war on the rule of law."
="'https://www.youtube.com/watch?v=RJULyRZQdPc&feature=youtu.be="'