Georgetown Law Journal Banquet Welcomes Judge Thomas Hardiman (L'90)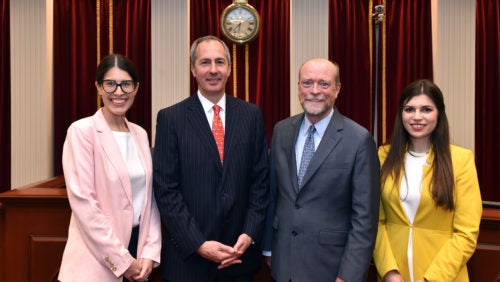 When students, alumni, and guests gathered for the 2019 Georgetown Law Journal banquet honoring Judge Thomas Hardiman (L'90) of the U.S. Court of Appeals for the 3rd Circuit, they may not have been expecting a judge to be so up close and personal.
But the self-effacing former litigator and judge spoke candidly about his family and his moment in the spotlight as a Supreme Court nominee, in a conversation with Georgetown Law Journal 2018-2019 Editor in Chief MJ Kirsch.
Kirsch began the March 31 event by sharing some good news: The Georgetown Law Journal is now ranked fourth in the nation under a Washington and Lee law school methodology weighing impact and citations — quite an accomplishment among Georgetown Law's peer schools. In her opening remarks, Kirsch provided a look at the Journal's many other accomplishments in recent years.
"The main takeaway is [that] the editors of Volume 107 have worked tirelessly, not on six issues as in past years, but on seven full issues — the remaining three issues in 106, and four issues of our own 107…" Kirsch said. "All said and done, we will have published, over six issues, nearly thirty articles by thirty-six different authors — some of whom were able to join us tonight."
The leadership of Volume 108, Kirsch noted, is gamely keeping this pace alive.
Attention to Detail
Judge Hardiman, for his part, credited his time working on the Journal for his meticulousness and attention to detail, even though, he admitted, "I didn't fully appreciate it at the time."
Today, he is a stickler for good writing, sending opinions back to his clerks for rewrite after rewrite (the current record is 47 drafts, he said). He brings the same rigor to how he examines and thinks about his cases, drawing on his experience as a trial lawyer.
"Former trial lawyers and trial judges really get into the details of the record; we're not as concerned about theory," he said, compared with judges who came from academic backgrounds. "If you just get every case right on the facts and the law, you're doing justice — and if you're doing justice, everything else will take care of itself."
One questioner in the audience asked how he felt when his name appeared on the shortlist of Supreme Court nominees, which he called a "surreal, strange, stressful process." He likened the process to the TV show "Survivor," thinking he'd be voted off the island sooner rather than later. But he admitted that two aspects of the outcome were "painful": He wanted to show the people of his town of Waltham, Massachusetts, that a first-generation college graduate from Waltham could make it to the Supreme Court. And secondly, he wanted it for Georgetown Law.
Becoming an appellate court judge in 2007, he said, gave him more autonomy over his schedule, compared with his time as a district court judge, when he felt like "Lucille Ball on the chocolate line," scrambling to keep up with the rush of cases.
Asked how he and Lori Zappala Hardiman (L'89, MBA'89), an attorney, balanced their work lives with raising three children, he said the two of them "work as a team." Raising a family, he said, is "an all-hands-on-deck proposition."
"I have not missed a lot of my kids' sporting events in the last 11 years," Judge Hardiman said. His greatest opportunities, he said, have involved his family.
"I love being a judge and this is an amazing opportunity to serve the United States as a judge — it's a dream come true," he said. "But if I had to choose between my wife and my kids and this, you know, I'd go back to cab driving."
Vision
Grace Paras (L'20), the GLJ's 2019-2020 Editor in Chief, described the strides Volume 108 has made over the past two months and discussed her vision and goals for the coming year.
"We are thrilled to have authors that are early in their careers, not yet tenured; women authors; authors of color; openly LGBTQ authors," Paras said. This year, the top 16 law schools all elected or appointed women Editors-in-Chief. "This is a historic moment — the historical homogeny of legal scholarship is changing," Paras said. "This is a time to celebrate all The Georgetown Law Journal has accomplished over the past year, and its prominent place in the field of legal scholarship."