Georgetown Law Journal Hosts Sixth Annual Banquet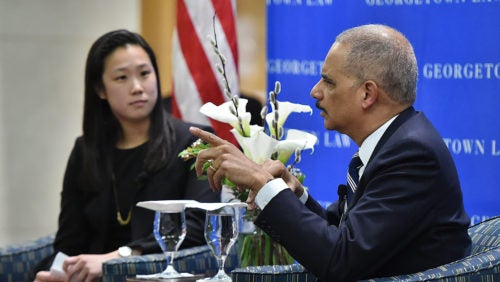 What is former Attorney General Eric Holder most proud of? The time he spent (more than 30 years) in government service.
His biggest regret? Not going to Georgetown Law — at least, that's what Holder, a dual Columbia University alum, joked to outgoing Georgetown Law Journal Editor-in-Chief Jennifer Ong (L'18), at the GLJ's Sixth Annual Banquet on March 23.
Ong led Holder, the 82nd attorney general of the United States from 2009 to 2015 and a current partner at Covington & Burling, in a discussion on topics ranging from the need for Department of Justice independence, important decisions as attorney general, lifetime tenure for judges, gerrymandering, role models, plans for the future and challenges facing the DOJ today.
"The perception of independence and actual independence…an attorney general, every now and again, has got to say to the president, 'no,'" Holder said, when asked about the biggest challenge — noting that he counts former AG Eliot Richardson, who stood up to President Richard Nixon, among his favorite predecessors.
M.J. Kirsch (F'13, L'19), the incoming editor-in-chief, shared her vision for the GLJ's Volume 107 — maintaining the Journal's strong tradition while "keeping the ship moving forward" in maintaining diversity in scholarship and membership. For the first time, the top three leadership positions at the GLJ are held by women.
"The Law Journal is such a source of pride for the entire community…" said Georgetown Law Dean William M. Treanor at the start of the evening, noting the extraordinary speakers who have appeared at the banquet — justices and judges, solicitors general and more. "This is a great occasion."