Georgetown Law Professor Randy Barnett, South Texas Law Professor Josh Blackman Launch "100 Supreme Court Cases Everyone Should Know"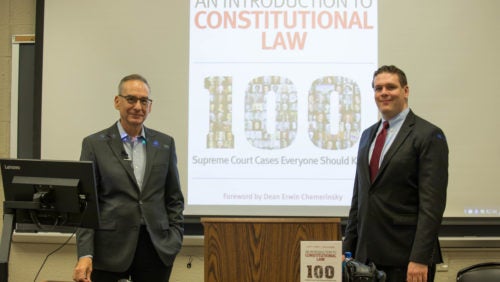 Want to brush up on the most significant cases in Supreme Court history? Georgetown Law Professor Randy Barnett and Professor Josh Blackman of the South Texas College of Law have published a book and video series that just might change the way students study constitutional law.
An Introduction to Constitutional Law: 100 Supreme Court Cases Everyone Should Know (Wolters Kluwer, September 2019) teaches the narrative of constitutional law as it has developed over the past two centuries. An online library of 63 videos (access codes provided with book) brings the Supreme Court's 100 most important decisions to life. The videos are enriched by photographs, maps, and audio from the Court.
"You get to understand exactly when these cases were decided, why they were decided the way they were, the composition of the courts that led to these decisions, and that is a narrative that develops over time," Barnett told an audience of students, faculty and staff who gathered over pizza on Constitution Day, September 17. "What we are presenting to you are 100 individual stories, which is each one of the cases, and how they fit into a larger story of the Supreme Court and of the growth of constitutional law."
Blackman said that he came up with the idea three years ago when he and Barnett decided to make short videos to accompany their casebook, Constitutional Law: Cases in Context. From that project came the idea for 100 Supreme Court Cases Everyone Should Know — with videos that can be watched before classroom discussion.
"Students benefit if the video is done right," Barnett said.
So what's on the list? Every case that law students can remember — Marbury v. Madison (1803), the Slaughterhouse Cases (1873), Schecter Poultry v. United States (1935), Brown v. Board of Education (1954), Loving v. Virginia (1967), to Obergefell v. Hodges (2015) and many more. The book includes cases that students might have forgotten, such as Chisholm v. Georgia (sovereign immunity, 1793), as well as the Court's most notorious and shameful decisions — Dred Scott v. Sandford (1857), Plessy v. Ferguson (1896), Korematsu v. United States (1944).
In one video, Barnett discusses the 2005 case of Gonzales v. Raich, which held that Congress' Commerce Clause authority includes the power to prohibit the local cultivation and use of marijuana in compliance with California law. Georgetown Law Lecturer Paul D. Clement (F'88) argued at the Court for the petitioners; Barnett argued for the respondents.
"The book and videos are accessible for all levels: law school, college, high school, home school, and independent study. Students can read and watch these materials before class to prepare for lectures or study after class to fill in any gaps in their notes," the publisher's materials state. The best part? "[C]ome exam time, students can watch the entire canon of constitutional law in about twelve hours."