Georgetown Law Professors, Alumni Offer Perspectives on SCOTUS Hearings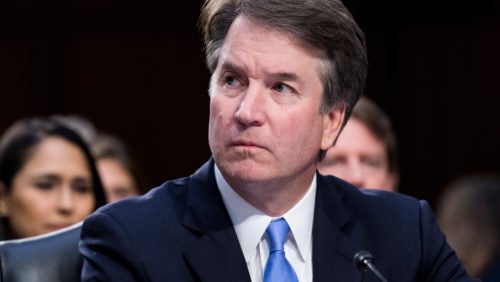 As Georgetown Law alumni including Senators Richard Durbin (D-Ill.), Mazie Hirono (D-Hawaii) and Patrick Leahy (D-Vt.) were making their voices heard on Capitol Hill regarding Supreme Court nominee Brett Kavanaugh on Day Three of the confirmation hearings, Georgetown Law professors across town were offering their insights on what a future Justice Kavanaugh could mean for the Court.
Professor Lisa Heinzerling — Georgetown Law's Justice William J. Brennan Jr. Professor of Law — and Professor Victoria Nourse appeared at the National Press Club on Thursday, September 6, in a panel hosted by the American Constitution Society.
The panel had no dispute regarding the qualifications of Kavanaugh, who currently serves on the U.S. Court of Appeals for the District of Columbia Circuit. But the panelists expressed surprise and concern for how the hearings had unfolded by Wednesday afternoon.
"Having been in Washington in various hearings [including] Iran Contra, I've never seen anything like this…" said Nourse, who directs Georgetown Law's Center for Congressional Studies. "I've never seen people stand up in the concerted way that they are, because of the real world effect of this. The American people and the protesters understand, this is the fifth vote [replacing Justice Kennedy, the deciding vote on many 5-4 decisions]. This is different."
Nourse, an expert on executive power, discussed a 1988 Supreme Court case called Morrison v. Olson — holding that Congress has the power to limit presidential power to remove a special counsel — and how the nominee might consider the matter. (A Scalia dissent in the case asserted that all executive power is vested in the president.)
"Morrison says, Congress can say, there's a good cause removal requirement, and that it applies even within the Executive Branch," Nourse said. "What's happened in these hearings…we don't know anything about what [Judge Kavanaugh] would say [if a special counsel was fired without good cause], from what he's testified to."
Heinzerling, an expert in administrative and environmental law who has worked at the Environmental Protection Agency, discussed the independence of agencies, "Chevron Deference" to the agencies and how that could change.
"You don't need to speculate about Judge Kavanaugh's views on the separation of powers; this is one area where his views are crystal clear…" Heinzerling said. "In any opinion where he begins with the separation of powers and individual liberty, you know the agency is about to lose."
A Domain Called Law
Deepak Gupta (L'02), the founding principal of Gupta Wessler, did not take a position before or against the nominee. But he expressed "sadness" and concern that the Supreme Court could be "considered just an extension of partisan politics."
"As a practicing lawyer, the work that we do only has value if there is a domain called law that is in some way distinct from raw partisan politics," he said. "Are we surprised by what we are seeing? The experience of living in the United States in the year 2018, living in this city…is a constant conversation with yourself about whether you are surprised and alarmed.
"I was still surprised of the level of just vitriol and pure warfare that we've seen over the past few days in the Senate — it's a collegial body even when there have been hard-fought fights…," Gupta continued. "As with so many other institutions, the wheels are falling off, and now it's coming to the one institution that really I think has a lot of respect among the American people as distinct from partisan politics…the courts. If people feel like there is someone in the middle like Justice Kennedy…and one side has at least a chance of prevailing…that is a very stabilizing thing for the legal system and the country."
Heinzerling, John W. Dean (L'65) former President Nixon's White House Counsel) and Lecturer Paul Clement (F'88) were slated to testify on Friday.
"We are in a different world…in the end, the rule of law depends on people supporting the rule of law…," Nourse said.