Georgetown Law Students Win National Moot Court Competition (and Other Victories)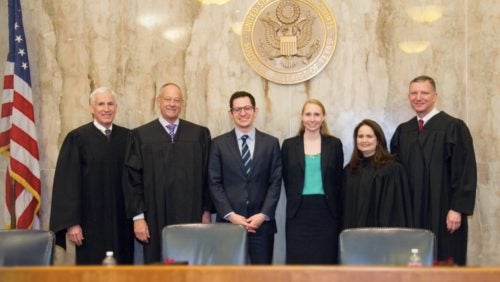 Georgetown Law students Kyle Crawford (L'17) and Anna Deffebach (L'17) finished ahead of teams from 15 other law schools at the annual Andrews Kurth Kenyon Moot Court National Championship, hosted by the University of Houston Law Center earlier this year. Georgetown Law is the first three-time winner of the National Championship, having won the trophy in 2013 and 2015 as well.
The Georgetown Law team — which entered this year's competition ranked 4th nationally — tackled what the University of Houston called the ultimate "what if" question: how would the competitors have argued the NFL's "Deflategate" case for and against New England Patriots' quarterback Tom Brady's four-game suspension if the case went all the way to the U.S. Supreme Court?
Crawford and Deffebach competed in 4 preliminary rounds and 3 elimination rounds. The final round in January between Georgetown and Chicago-Kent College of Law was decided by current and former Texas Supreme Court justices as well as federal appellate court judges.
The team was coached by Peter Baumann (L'17). With their win, Georgetown receives an automatic invite to next year's championship. The competition is co-sponsored by the University of Houston Law Center's Blakely Advocacy Institute and the law firm of Andrews Kurth Kenyon.
The case was mooted at Georgetown Law prior to the competition before members of Barristers' Council's Appellate Advocacy Division and volunteer judges that included Professors Erica Hashimoto, James Oldham and Brian Wolfman.
Barristers' Council Highlights
Raisa D'Oyley (L'17) and Nicholas Hall (L'17) won the ELSA Maynooth Competition, an international negotiation competition run by Maynooth University in Ireland in March. Sixteen teams competed from seven different countries. Nadia Bryan (L'17) and Erin Rider (MBA 16, L'17) also competed for Georgetown Law.
Carlton Tarpley (L'18) and Shanaye Williams (L'18) won the Irving R. Kaufman Memorial Securities Law Moot Court Competition at Fordham University in New York City in April. Williams also won second for Best Oral Advocate.
Amarto Bhattacharyya (L'17) was named Best Oral Advocate in the 2017 American College of Trial Lawyers' National Trial Competition — one of the most prestigious trial competitions in the country—in March. The Georgetown Law team was named runner up.
Georgetown Law was ranked fifth in the nation for moot court by National Jurist.
Global Highlights
Both J.D. and LL.M. students participated in the 24th Willem C. Vis International Commercial Arbitration Moot in April, with one team travelling to Hong Kong and one to Vienna. The teams worked together to produce a Claimant's brief that received an Honorable Mention.
Shir Davidovicz (L'17), Nour El-Kebbi (L'17), Siyi Gu (LL.M.'17) and Bianca McDonnell (LL.M.'17) went to Vienna, while Deena Dulgerian (L'17), Raphaelle Johnston (LL.M.'17), Max Sanders (L'17) and Margaux Vandewalle (LL.M.'17) went to Hong Kong.
"The Vis experience has been unlike any other I have had in law school. We learned so much from our coaches and fellow competitors, and were all able to improve our written and oral advocacy," said Shir Davidovicz (L'17). "If I could advise fellow and incoming students to pursue any competitions, it would most definitely be Vis!"
Highlights from LL.M.s
Georgetown Law LL.M.s were semifinalists in the Sixth LL.M. International Commercial Arbitration Moot Competition held at American University in March. Georg D. Birbaumer (LL.M.'17), Zeus P. Dhanbhoora (LL.M.'17), Shefali Tanna (LL.M.'17), Joe Elias Valentine (LL.M.'17) and Wang Jia Li (LL.M.'17) placed third in the competition by reaching the semifinals, and Tanna was awarded an Honorable Mention for her oral pleadings in the competition. A second team with Isabel Fressynet (LL.M.'17), Hady Gouda (LL.M.'17), Julia Vilela Pinheiro (LL.M.'17) and Xi (Dustin) Tao (LL.M.'17) also competed.
"Both team's efforts are highly commendable and their performance show a consistency of the caliber of Georgetown's LL.M. international arbitration students," said Navpreet Moonga, who coached both teams, together with Maria Choi (L'16) and Darci Stanger (L'16). "Having the opportunity to coach these students, with the ongoing support from Professor Anne Marie Whitesell, is an incredible experience."