Georgetown Law Welcomes Douglas Emhoff to its Faculty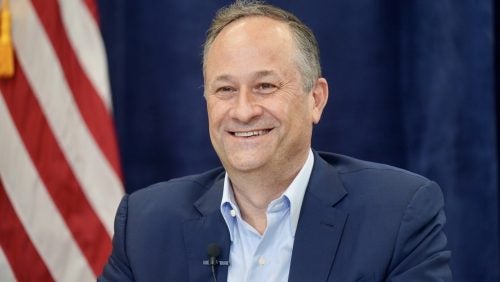 WASHINGTON – Georgetown Law is pleased to announce that Douglas Emhoff will become a member of the faculty in January.
"I am delighted that Douglas Emhoff will be joining our faculty," said Georgetown Law Dean William M. Treanor. "Doug is one of the nation's leading intellectual property and business litigators, and he has a strong commitment to social justice. I know our students will greatly benefit from his experience and insight, and I am eagerly looking forward to his arrival."
Emhoff will serve as a Distinguished Visitor from Practice, drawing in part on his deep expertise in media and entertainment matters to teach related coursework, starting with "Entertainment Law Disputes" in the upcoming spring semester. Additionally, Emhoff will serve as a Distinguished Fellow of Georgetown Law's Institute for Technology Law and Policy, as part of a new entertainment and media law initiative that will include a speaker series and other projects.
Georgetown Law, the nation's largest law school, has robust academic and extra-curricular offerings at the crossroads of intellectual property, entertainment, and technology law, and is frequently recognized as a leader in educating future entertainment lawyers.
In his almost 30-year career, Emhoff was known for tackling and resolving the toughest problems and litigating high stakes disputes with an emphasis on media, entertainment, and intellectual property matters.
"I've long wanted to teach and serve the next generation of young lawyers," Emhoff said. "I couldn't be more excited to join the Georgetown community."
---
Georgetown University Law Center is a global leader in legal education based in the heart of the U.S. capital. As the nation's largest law school, Georgetown Law offers students an unmatched breadth and depth of academic opportunities taught by a world-class faculty of celebrated theorists and leading legal practitioners. Second to none in experiential education, the Law Center's numerous clinics are deeply woven into the Washington, D.C. landscape. More than 20 centers and institutes forge cutting-edge research and policy resources across fields including health, the environment, human rights, technology, national security, and international economics. Georgetown Law equips students to succeed in a rapidly evolving legal environment and to make a profound difference in the world, guided by the school's motto, "Law is but the means, justice is the end."