Georgetown Law's Civil Rights Clinic Files FTC Complaint Against Facebook Claiming Consumer Deception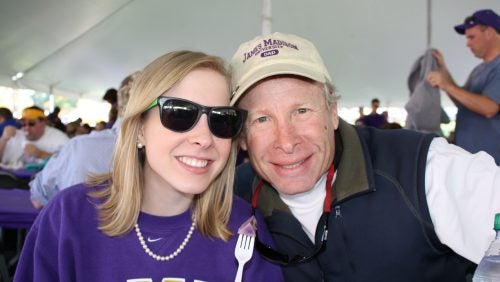 In 2015, Andy Parker suffered an unspeakable tragedy when his daughter, Alison — a local television reporter — was shot and killed during a live broadcast.
Despite Parker's relentless efforts, the footage of Alison's murder can still be easily accessed on social media. It has been viewed hundreds of thousands of times.
On Oct. 12, Georgetown Law's Civil Rights Clinic, which has represented Parker since 2017, filed a complaint with the Federal Trade Commission (FTC), alleging that Facebook and its subsidiary Instagram unlawfully deceive consumers by allowing violent murder videos to persist on their platforms in clear violation of their terms of service. The FTC has the power to issue substantial fines if it determines the allegations are valid.
The complaint, which follows up on the clinic's similar filing against Google and YouTube in February 2020, was prepared by students Courtney Neufeld (L'23) and Abigail Rickeman (L'22) under the supervision of the clinic's director, Aderson Francois.
"For years now, Andy has asked, urged, even begged executives at these companies to remove the videos. He has appealed to their conscience. It has come to naught," said Francois at a National Press Club event announcing the complaint. "The time has long passed for the FTC to take action."
Although not planned, the timing of the filing was fortuitous, coming just days after Facebook whistleblower Frances Haugen's testimony before Congress.
"It's one thing for me to keep saying it, but when someone with insider knowledge like Frances Haugen confirms, as she did in her Senate testimony, that this is what they do, it validates what I've maintained for all these years," Parker said.
"Posting violent content and murder on social media is not free speech, it's savagery."
'Like a Landmine'
Parker, who has never viewed the footage of Alison's murder, discovered by accident that anonymous posters were using the video to discredit his work as a gun control advocate. "I didn't realize how prolific it was on these platforms. It's like a landmine out there," he said.
He quickly learned that social media companies, including Facebook, put the onus on consumers to track each instance of an unwanted video's posting.
"Imagine yourself in Mr. Parker's shoes," said clinic student Courtney Neufeld (L'23), who researched Facebook's terms of service in preparing the current FTC complaint. "Facebook requires him to log on, click on the video, provide a description of why the 'time of death' footage of his daughter shouldn't be on Facebook, and then follow up to ensure that the footage is taken off — which is something that Mr. Parker and anybody else shouldn't have to do."
Parker enlisted the help of other advocates to flag the videos for reporting, including Sandy Hook parent Lenny Pozner of the HONR Network and Eric Feinberg, vice president of the Coalition for a Safer Web — founded by Marc Weinberg (B'74, L'78). "Even with people intervening, the videos are still out there," Neufeld said. "These are not safe platforms."
Tired of "playing whack-a-mole," Parker wanted to take stronger action. Through a contact, he found out about Georgetown Law's Civil Rights Clinic.
"When Andy came to us, what struck me most was the reason he wanted to take these videos down," Francois said. "It wasn't just because the idea of other people using his daughter's death for profit and entertainment was unbearable. He wanted to make sure that no one else in the future would have to go through what he's gone through."
'Not a Typical Case'
A major roadblock for Parker and others calling for action is the inability to bring suit directly. Under Section 230 of the Communications Decency Act, enacted in 1996, social media companies like Facebook and Google enjoy broad immunity from liability for third-party content posted on their sites.
With a limited toolkit, Francois and clinic staff and students have been creative in their approach. In addition to the two complaints filed with the FTC, the first prepared by Rachel Guy (L'21) and Spencer Myers (L'20), the clinic has joined Parker in a series of conversations with social media executives.
The clinic has also assisted Parker in an attempt to obtain a co-copyright of the video footage of Alison's murder, originally broadcast on TV station WDBJ in Roanoke, Va. With co-ownership, Parker could potentially sue the social media companies for copyright infringement under Section 230. However, the Roanoke station's owner, Gray Television, has refused the request. Parker recently posted a change.org petition in response.
More broadly, clinic students have helped Parker with his public advocacy, which has included op-eds in national publications, Congressional testimony and television appearances such as his January 2021 interview on "60 Minutes."
"I'm so grateful for their help — they're all so dedicated and conscientious and clever," Parker said.
"It's an interesting experience for these cohorts of students, because this is not a typical case of litigation in court," added Francois. "You're dealing with the sometimes mysterious procedures of an administrative agency. So it's a new perspective." More importantly, he noted, students come to understand that advocacy on behalf of a client takes many forms, including that of shaping public opinion.
Abigail Rickeman (L'22), who drafted the current complaint, came to Georgetown Law specifically because of the clinic opportunities. "I've definitely learned more than I ever expected to, and we're only a month in," she said.
"The biggest lesson for me has been the importance of understanding your client's goals and what justice looks like to your client," Rickeman said. "Mr. Parker is doing a really noble thing in trying to raise awareness. People may not want to continue using these platforms if they understood that Facebook and Instagram say they have all these flagging and reporting processes, but they are not really following them."
Rickeman expressed particular gratitude to Francois. "He's really hands-off. I get to learn by doing, which is something that you don't often get the chance to do in law school. I'm really grateful that he trusts us with so much responsibility."
An End to Liability Protection?
Although the FTC has not responded to the Civil Rights Clinic's first complaint, Francois noted that the silence is not unusual. "The FTC's internal processes and deliberations are fairly opaque, and they don't usually inform the complainer of when and how and whether they've actually set in motion the investigation."
With a new FTC chair, Lina Khan, calling for reform of big tech companies, Parker is more optimistic about the newly filed complaint — especially if it sends a message to Congress. "I hope the FTC complaint gets traction, but ultimately Congress is going to have to act," he said.
"If you do away with liability protection and Facebook and YouTube find themselves in a court, I guarantee you they'll stop the action that makes this complaint necessary."