Georgetown Law's Institute for Tech Law & Policy Explores Implications of Sinclair-Tribune Merger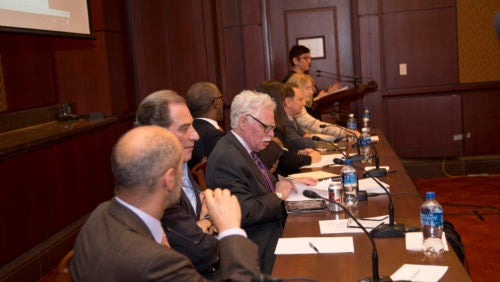 One day before the Federal Communications Commission voted to loosen rules on local broadcast ownership — in the midst of the proposed Sinclair-Tribune merger that would create a broadcasting behemoth — Georgetown Law's Institute for Technology Law & Policy held a discussion on Capitol Hill (covered by C-SPAN) to explore the potential implications.
Moderated by Gigi Sohn, a Distinguished Fellow at the Institute for Technology Law & Policy, and featuring Andrew Schwartzman of Georgetown's Institute for Public Representation's Technology and Communications Practice Group, the event included a debate and panel discussion on the FCC vote as well as the merger.
David Goodfriend of the Goodfriend Group argued against a loosening of the rules and opposed the merger. If the merger is approved, Sinclair will own 233 stations covering 72 percent of American viewers.
"We are going to hear a lot…about how the world has changed since the ownership rules were first promulgated by the FCC …there is Internet, there is cable TV…the different social media platforms we have today…and [that] these antiquated old-fashioned broadcast rules have got to go, because [some people say] that's the only way we can still have free over-the-air broadcast TV," Goodfriend began.
But the American people, he asserted, gives a legal monopoly to the broadcasters by giving free spectrum licenses worth billions of dollars — and the people are entitled to content including local sports, news and a diversity of perspectives from its stations. "If past is prologue, [this] doesn't work out very well for the American people," Goodfriend said, predicting increased costs to the public as well as the firing of reporters in local markets.
Carmen Scurato of the National Hispanic Media Coalition and Jim Winston of the National Association of Black Owned Broadcasters, in fact, expressed concerns relating to the diversity of broadcasting.
But Jerald Fritz, who serves as executive vice president for Strategy and Legal Affairs at ONE Media — affiliated with Sinclair — argued that there is no need to have FCC rules limiting broadcast ownership. "If you want the marketplace to find a way to bring you local news, NFL games, high-cost scripted programming to everyone for free, you have to let broadcasters figure out how to do it," he said.
Rebecca Hanson of Sinclair and Eddie Lazarus of Tribune provided their views, asserting that media companies need to be competitive and profitable in an era of decreased local advertising, increased costs of sports coverage and the competition posed by sources of entertainment such as Netflix and Facebook.
Preview
Senator Richard Blumenthal (D-Conn.), who opposes the merger, visited briefly to express his concerns and to thank the Georgetown institute for hosting the event.
"This merger very simply threatens to create a concentration of unprecedented scope and scale in the media industry in America, and will unquestionably affect the public interest, whether you are for or against it…" he said. "I really welcome this conversation today, because it provides what I hope will be a preview of coming attractions — at the very least, a prelude to what should be close and searching congressional scrutiny."