Georgetown Professors Discuss Racial Justice after the Election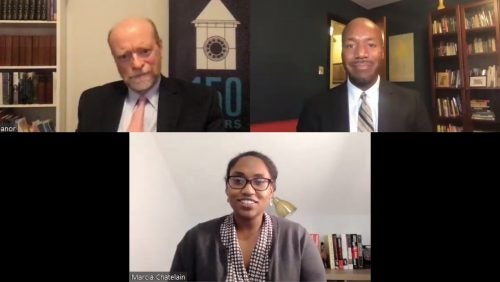 Shortly after Election Day, two leading scholars on race, history and justice came together for a panel discussion, "Now What? Racial Justice After the 2020 Election."
Georgetown Law's Professor Paul Butler — a contributing opinion columnist for the Washington Post, former federal prosecutor and author of the book Chokehold: Policing Black Men — and Georgetown Professor of History and African American Studies Dr. Marcia Chatelain — author of the new book Franchise: The Golden Arches in Black America — reflected on the Trump presidency and how the United States could move forward in addressing the persistent scourges of racism and inequality.
Georgetown Law Dean William M. Treanor moderated their wide-ranging conversation, which was organized by the Georgetown Law Office of Equity and Inclusion and Georgetown University Office of Mission and Ministry.
Confronting white supremacy
Early in the discussion, the panelists took on the challenge of racism directly, both saying that above all it is crucial to acknowledge its existence.
"Unfortunately now there's this idea — promoted by President Trump, but I think a lot of other people subscribed to it — that talking about white privilege, that describing white supremacy is itself racist," Butler said. "That the people who talk about the history of white domination are the people who have the race problem."
Chatelain said that she worried that the "backlash culture" that emerged following Barack Obama's election would be amplified in this political climate.
"Any kind of relief that I may have that Donald Trump will no longer be president is met with a deep feeling of concern," she said. "We are, again, reminded that democracy in our country is sometimes 51-49. And what do we do when 49 percent of the population has been galvanized and has been moved by white supremacist thinking?"
Priorities for the Biden administration
Treanor asked Chatelain what Joe Biden could do in the first hundred days of his presidency to advance the cause of racial justice. Chatelain responded that the most important thing he could do would be to ask the Black community what it wanted — and then to listen to those answers. As a historian, she said, she knows of many examples of white policymakers acting on what they believe inclusion and equality should look like, instead of engaging with people of color to build solutions.
"If anyone is really serious about racial justice, they will create an infrastructure so people can live, and then we can decide if there's enough diversity on the student board. Or we can decide if we need more Black-owned businesses," she said. "But if people have no means of health care, educating their children, feeding themselves, then everything we're doing becomes a farce."
Areas of opportunity
Butler said that in his opinion, unlike during Justice Thurgood Marshall's tenure, the current Supreme Court is not the place to seek advancement of racial justice and civil rights. Rather, he said, states and cities have far more interesting opportunities for lawyers wanting to have an impact on issues like criminal justice reform.
"One of my former students just was a Democratic nominee for Congress in Ohio. She didn't make it all the way, but it's her first time, and she's the future," said Butler. "I'm thrilled that we have students who… are thinking about ways to be activists. And we've got other students who will go into traditional public interest careers, and we'll have some students who work for law firms — and that's fine — but at the same time, we need those folks to take those keys to the kingdom and unlock them for all of us who've been shut out for so long."
Education and the future
Dean Treanor, noting that both Butler and Chatelain, as graduates of Chicago's Saint Ignatius College Prep, are themselves both products of Jesuit education, asked about the role universities — and especially Jesuit schools — should play in advancing the cause of racial justice.
Chatelain lauded the important work Georgetown and other educational institutions have done to grapple with their histories of slavery and racism, and challenged them to continue addressing present-day issues like urban gentrification and fair treatment of employees.
Still, she said, she finds Jesuit ideals and the enthusiasm of Georgetown students inspiring.
"Jesuit institutions… are able to draw students who believe that their education is in the service of the greater good," she said. "My students at Georgetown want to do good in the world… And I take that very seriously."
Butler added that he is encouraged by Georgetown Law's commitment to diversity in its student body.
"Under the leadership of Dean Treanor and our amazing director of admissions, Andy Cornblatt, Georgetown Law School is now educating more African-American lawyers than any other institution in the country, with the possible exception of Howard Law School," he said, noting his pride that Georgetown Law has now surpassed Harvard.
"We are educating African-American lawyers — who I know, from the students I am privileged to teach every day — will have a profound influence on our society, on our culture, on our law."
Watch the entire discussion: