Georgetown Women Address Current Challenges at 2021 Women's Forum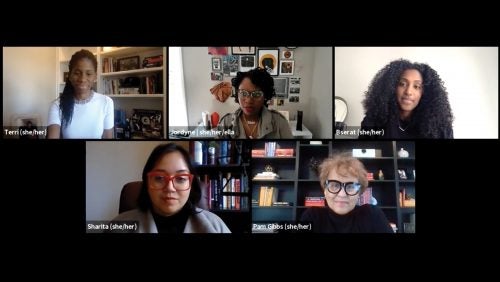 Each year, women and men alike gather in Washington, DC, to hear from inspiring Georgetown alumnae and professors on a variety of subjects. But this year was different.
More than 2,300 registrants signed up to attend the virtual 2021 Women's Forum from 65 different countries spanning six continents.
And with a woman now serving as vice president for the first time, the nation's first Second Gentleman, Georgetown Law faculty member Douglas Emhoff, gave opening remarks at a panel on the state of women's rights and opportunities in the United States.
From February 22-26, a diverse array of distinguished panelists tackled the pressing issues of the day, touching on the coronavirus pandemic, the social movements of 2020 and the deep political divide facing the United States.
Care Work Makes Other Work Possible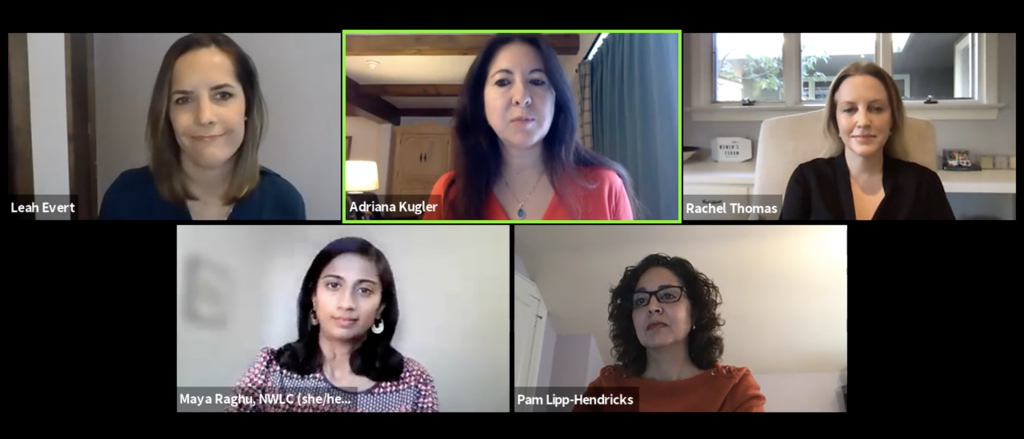 The Forum's opening panel, "The Great 'She-cession:' COVID-19, The Future of Work, and Women" set the tone for the week by directly addressing the pandemic's impact on women. According to the Bureau of Labor Statistics between August and September of 2020 alone, nearly 1.1 million people dropped out of the labor force — and a startling 80% of them were women.
The pandemic only exacerbated workplace challenges women have been facing for decades, said Maya Raghu (L'98), director of workplace equality and senior counsel at the National Women's Law Center.
"The structure and demands of our workplaces are not set up to accommodate people that do breadwinning and caregiving," said Raghu. "Our workplaces are based on outdated structures that imagined a man who was free to work whenever and wherever because he had a wife at home taking care of everything else. And that is just not the reality anymore. Care work makes other work possible so we need to fund it and make it accessible to everyone."
But families are mostly on their own to coordinate care for their loved ones. Too often, that responsibility falls to women. Some companies have recognized this problem and are taking initiative to retain their female employees.
"During the pandemic, we saw women dropping out of the workforce so quickly, especially in our factories," said Leah Evert (MBA'19), global wellbeing lead at McCormick & Company.
McCormick quickly identified caregiving obligations as the culprit, and Evert's team developed a subsidy program for caregiving that was made available to employees across the county.
"Women are just so essential to every aspect of our business," said Evert.
The Women Who Run Diversity, Equity and Inclusion
To successfully run diversity, equity and inclusion (DEI) initiatives, you must first understand the effects of discrimination on employees, said Sharita Gruberg (L'12), during another session: "Hoyas in Action: Fighting for Diversity, Equity, and Inclusion."
"The effects of discrimination are real and the fear is real," said Gruberg, vice president of the LGBTQ research and communications project at the Center for American Progress. "Over a third of LGBTQ people consider discrimination and how to avoid discrimination when they are making the decision about where to work. It is our job to establish what is going on and to come up with solutions."
Those solutions range from internal practices, such as prioritizing diversity in hiring and retention, to external consumer-facing practices. Bserat Ghebremicael (B'17), global events lead at Google, shared that the company recently added a Black-owned business category to Google Maps, so that consumers can more easily patronize them. Jordyne Blaise (C'06, L'10) head of DEI for biotech company bluebird bio, said that her organization has started a clinical trial diversity taskforce to ensure that their research includes everyone.
As the director of the Securities and Exchange Commission's Office of Minority and Women Inclusion, Pamela Gibbs (L'91) noted a shift in perspective as 2020 protests made way for new conversations about racism.
"I don't think that I've ever had as much outpouring and embracing of DEI and seeking to understand what DEI really means since last year," said Gibbs.
Blaise agreed, but cautioned DEI advocates to be more intentional in their support. She has encouraged corporate board members and other leaders at bluebird bio to read "Medical Apartheid" by Harriet A. Washington to understand the historical context of unethical experimentation on Black Americans.
"Black Lives Matter did not emerge in the last 12 months," said Blaise. "If that wasn't something you would have been posting on your social media five years ago, then you have to work on your company culture. Your work is not to post on social media."
Women Get Things Done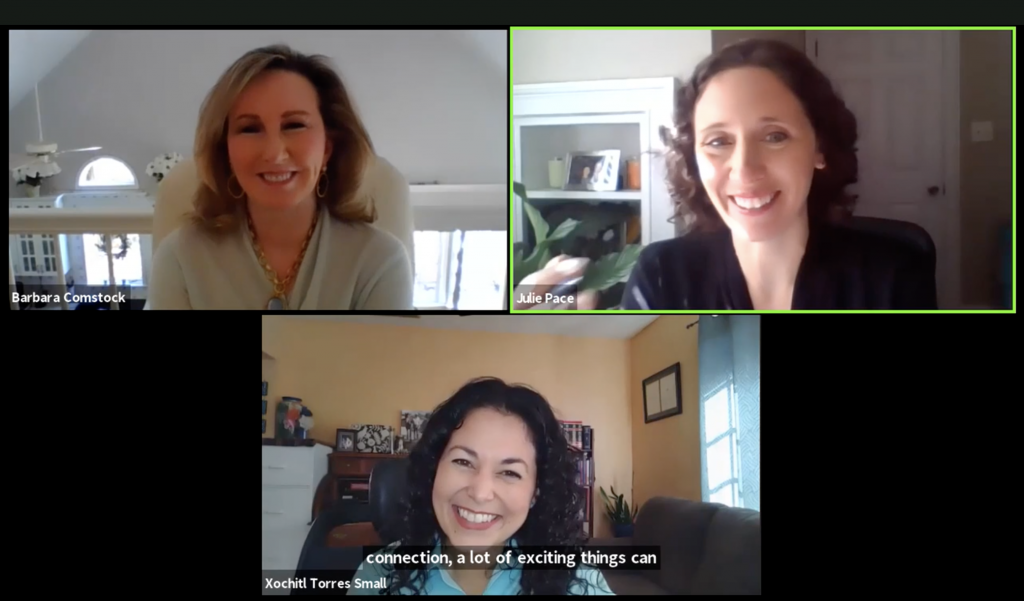 Despite hailing from opposite sides of the aisle and representing very different districts, former Congresswoman Barbara Comstock (L'86) and former Congresswoman Xochitl Torres Small (F'07) found they have a lot in common during a session on "Hoya Women in Government: An Inside Look at Public Service."
Both were the first women to represent their districts.
"If I ever thought about somehow running for office, it would have been at the end of my career when I had learned everything I needed to know to do the job," said Torres Small, a New Mexico Democrat sworn into Congress at 34 years old. "But it turns out you don't get to choose your time. It's about being the best that you can at any given moment and being ready."
Comstock, a Republican, referred to herself as an "accidental candidate" who began her career in the Virginia House of Delegates after Congressman Frank Wolf (L'65) of Virginia asked her to run.
But five years later when Comstock's congressional seat opened up, she was ready. "I didn't wait for anyone to call me. I said I am going to run for that."
Comstock and Torres Small both consider themselves moderates, and agreed that women can play a unique role in bridging the political divide.
"I think being a moderate is more about an interest in getting things done," said Comstock. "If you want to pass legislation that helps your community you have got to be able to count to 218. Women are often good at putting coalitions together because we are always thinking about how to get things done."
Both women credited Georgetown with preparing them for careers in public service.
"Getting that degree and being exposed to everything that Georgetown provides you," Comstock said, "it taught me how to tackle and be interested in all the different things that were going on in the government."