Georgetown's Health Justice Alliance, O'Neill Institute Welcome World Bank President Jim Kim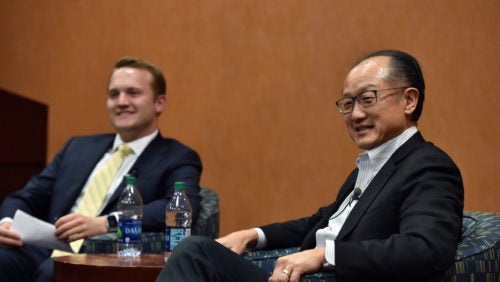 When 2L student Brian Fiske (L'19) was growing up, he was aware that his grandfather, Tom White, was a generous man who wanted to give back to those less fortunate.
He remembers reading a 2001 article in Time about White's extraordinary philanthropy. And at his grandfather's house in Massachusetts, Fiske got to know several Harvard-trained doctors White was helping. One of the doctors was Jim Yong Kim, now president of the World Bank.
A 2017 documentary, "Bending the Arc," tells the amazing story of how, with White's financial support, Kim, Dr. Paul Farmer and activist Ophelia Dahl founded the NGO Partners in Health in the 1980s — and ended up changing health care treatment models in poor countries around the world.
"For my family, this is a very moving and important film," Fiske said. "I thought it could have an impact on some of the law students."
So Fiske arranged to bring the film to Georgetown Law on March 7 for a screening, hosted by Georgetown's Health Justice Alliance and the O'Neill Institute for National and Global Health Law. Even better, Fiske also invited Kim, for a remarkable discussion.
"There's a lot of young people who have big ideas, and Paul and I and Ophelia of course had really big ideas," Kim said. "But nothing would have happened without Tom [White]."
Vision
In the 1980s, White quietly began funding the work of Kim, Dahl and Farmer, who were doing extraordinary work saving multidrug-resistant tuberculosis (MDR-TB) patients in Haiti. A wealthy man, White didn't want to hoard money that could be used to help others.
At the time, the established medical community believed that the challenges and the costs of saving MDR-TB patients in resource-poor countries were insurmountable.
But Kim, Dahl and Farmer believed otherwise, creating a community treatment model that was later used to fight MDR-TB in Peru, Ebola in Rwanda and AIDS around the world. The three would change policies at the World Health Organization. And White was there, giving them the funds they needed to do their work. He is reported to have given away more than $75 million before his death in 2011.
In a Q&A with White's grandson, Fiske, after the screening, Kim told young people not to misunderstand the lessons of the film.
"It's not that we were so enlightened and [others] were not," he said. "There were very established ways of thinking about issues… If you go around and talk to the HIV doctors who worked back then, every one of them has revised history and will tell you they were for HIV treatment. It's an absolute lie; they were not."
Back then, doctors said that treatment was not cost effective, Kim continued.
"[Cost effective] compared to what? There seems to be a ton of money to do silly things," he said. "How can you look at 25 million people and say, I'm sorry — you're all dead? We just think it's too complicated?"
Doing the Impossible
Georgetown Law Professor Vicki Girard, who co-directs Georgetown's Health Justice Alliance, welcomed guests along with co-directors Yael Cannon, visiting associate professor at the Law Center, and Dr. Eileen Moore, associate professor at the School of Medicine.
The Health Justice Alliance, a medical legal partnership between the Georgetown University Medical Center and Law Center, is striving to improve health by addressing determinants of health, such as decent housing, education and employment.
"We are like Jim Kim, doing the impossible," Girard said. "We're getting doctors and lawyers to work together on behalf of the same people, and all moving in the same direction."
Moore said: "When you take the law students and medical students and put them together, [there is a kind of] magic."
Oscar Cabrera, executive director of the O'Neill Institute, introduced the event along with University Professor Lawrence O. Gostin. Gostin, the O'Neill Institute's faculty director, called the film "inspirational" and Jim Kim a "hero."
Opportunities
Kim — who once criticized development policies at the World Bank — today works to end poverty as its president, using the lessons he learned from Partners in Health. But that lofty goal probably will not be reached through the generosity of private donors. So Kim is looking to the same sorts of capital, tools and safety nets that rich people use for themselves — to use on behalf of poor people.
"HIV is just one problem," he said. "The real problem, in addition to all the health problems, are terrible educational outcomes. No jobs…it looks like there is no chance for almost any African country to truly industrialize. Those are such big problems, that you can't solve them by being an advocate for your own thing… It can't be a preferential option for 'your' poor; it has to be a preferential option for 'the' poor."
One piece of advice for philanthropists? "You have to decide why you are doing this. If it's because you want 'style points,' go out and do that…that's much better than ignoring it. But if you really want to embrace the problem as it is, that's really hard… [We need to] get the capital sitting on the sidelines moving in a way that people truly have an opportunity."