Health Justice Alliance: Supporting D.C.'s Vulnerable Populations through Health and the Law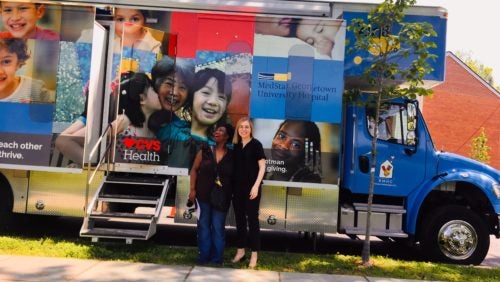 For rising Georgetown Law 3L Rachel North, meeting Ella Barnes-Williams marked a turning point, an eye-opener ― and undoubtedly what North will one day recall as the start of a successful career in civil legal advocacy.
North's advocacy as a student in Georgetown Law's Health Justice Alliance (HJA) Law Clinic, a partnership with Georgetown University Medical Center to provide holistic medical and legal care to low-income families, has enabled her to gain valuable experience while making a difference in the lives of children living in poverty.
This summer, North, who is from Kansas City, interned at Legal Aid of Western Missouri, focusing on civil legal work.
"It's similar to what I did in Washington," she said. "I want to learn how to effectively advocate for low-income individuals facing civil legal matters. My goal is to continue empowering clients to navigate the systems they encounter."
Effective Advocate
When North began her Law Clinic semester, she was assigned to represent Barnes-Williams, a grandmother of three who is raising the children of her late daughter. Barnes-Williams's family had seen a Georgetown pediatrician and also received a "legal check-up," resulting in a referral to the Health Justice Alliance Law Clinic.
One child, a five-year-old boy, has multiple learning disabilities. Barnes-Williams was concerned about her grandson's education, in particular his progress with writing, language, mathematics and behavioral issues.
"He had delays in various academic areas across the board," North said, "and she was afraid the local school wasn't addressing his needs."
He was not enrolled in special education and badly needed a variety of evaluations.
"HJA started working on this case during prior semesters, and I stepped in when I started clinic in January," said North. "When it became clear that [his] school wasn't properly addressing his academic and social needs, I was able to help Ms. Barnes-Williams advocate for further evaluation of his speech and language development, as well as his motor skills and sensory processing.
"Once we received the evaluations, we were able to consult with a psychologist [who] helped us analyze the results of his evaluations and determine what kind of Individualized Education Program (or IEP) he needed," she said, adding that the psychologist also suggested services and supports he needed in his classes each month. "This allowed the clinic to advocate for the comprehensive services that he needs."
The Law Clinic also helped Barnes-Williams advocate for school bus transportation, "which is not easy to get in Washington," North said. "By the end of the IEP process, the team came up with a much more robust plan for him to start kindergarten."
'New, Intensive'
Such experiences are part of the HJA Law Clinic, which was founded to establish a medical-legal partnership and form a connection between law and medical conditions, "especially for people facing health disparities and injustices linked to poverty and race," said Professor Yael Zakai Cannon, who is the clinic's founding director and co-director of the university's broader Health Justice Alliance initiative, along with Professor Vicki Girard. Dr. Eileen Moore serves as the HJA's medical director.
The Health Justice Alliance Law Clinic is "new, intensive and almost a full-time experience for law students who take a leadership role in representing clients for the first time," said Cannon, who explained that Georgetown University "launched this initiative due to health disparities in Washington, where people in wealthier areas can live up to 20 years longer than those in low-income neighborhoods."
The alliance between the law school and the medical center leverages "Georgetown's reputation as a premiere research institution," she said, noting that HJA is engaged in research to understand the impact of providing legal and medical care holistically to low-income families, as well as the impact on law and medical students of learning to collaborate inter-professionally.
The HJA Law Clinic partners with the Georgetown School of Medicine's HOYA Clinic, MedStar Georgetown Community Pediatrics, which operates the Kids Mobile Medical Van in low-income areas, as well as at Anacostia and Roosevelt high schools, to provide easy access for kids and teenagers who lack care.
"There is a direct link between an individual's socio-economic situation and their health, and it is most evident in the underserved communities we serve here in the District," explains Moore. "If our medical students identify a problem, we now know we have the potential for a legal remedy because of this special alliance with the Law Center."
"The idea is to make health care as low-barrier as possible," said Cannon. "What is amazing now is that, via the HJA, [patients] also get a legal checkup when they go to the doctor's office. Through our partnership, doctors and nurses ask families about social determinants of health for which there may be legal remedies, such as housing conditions, food insecurity, and educational needs, and refer families to our Law Clinic for legal help."
 Parents are asked about an array of needs. "We've helped families through different forms of legal advocacy. For example, we've helped families get access to health insurance by appealing their Medicaid terminations and address food and income insecurity making sure they're getting the food stamps [SNAP] they're entitled to, plus proper utilities, water and heat."
The HJA model also addresses housing issues: a child with asthma might be suffering due to mold in a rental property, a legal issue as well as a health issue.
"There are many avenues for lawyers to address these issues," said Cannon, adding that Georgetown medical students can also apply to the HJA to do a rotation for a month, develop advocacy skills and work inter-professionally, "as well as to get them thinking about how to collaborate to address these issues and work as an advocate."
Invaluable
North calls her experience at the HJA "invaluable, and it has prepared me well for my future career as a public interest lawyer," she said. "Not only did I build skills in a number of areas, including legal research, fact investigation, inter-professional collaboration, and written and oral advocacy, but I was also able to gain significant hands-on experience representing and interacting with a client even before graduating…I'm grateful I was able to work with Ms. Barnes Williams."
Obtaining legal representation can be an uphill battle for low-income families, she noted. "I look forward to continuing my journey of helping families address the civil legal matters that they are facing."