In 'Week One' Experiential Classes, Students Get to Ask the Questions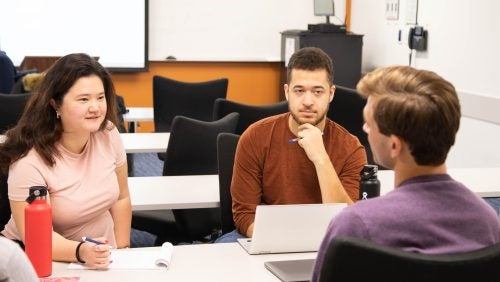 The first year of law school is famously dedicated to mastering legal doctrine and distinguishing fact patterns in casebooks – from contracts to torts to civil procedure. While the work is foundational, it's still a few degrees of separation from real-world law. But at Georgetown Law, every January, 1L students have the chance to spend a few days getting a sneak peek at law as it's actually practiced.
Week One, which takes place during the last week of winter break, is dedicated to experiential opportunities, including a special set of classes that give first-year students a head start earning experiential learning credits. This year, more than 200 enrolled in 10 different offerings, which included simulations based on corporate corruption investigations and international agreement negotiation and classes with titles like "Public Speaking for Lawyers," "Social Intelligence in the Practice of Law" and "Questioning Witnesses In and Out of Court."
LITIGATION 101
"Questioning Witnesses" has been a popular Week One option since adjunct professor Michael Williams, SFS'98, L'01, a litigation partner at Kirkland & Ellis LLP, first developed it in 2017. This year there were two sections of the course: one co-led by Williams and Jonathan Brightbill, L'02, a partner at Williams & Strawn, LLP, and the other an evening session taught by Jonathan Rusch, an expert in corporate risk and compliance.
Williams says the inspiration for the class came from his own experience. After graduating from Georgetown, he went on to two clerkships, including one with Supreme Court Justice Anthony Kennedy. While those experiences were valuable, when Williams began as an associate at his firm, he realized he hadn't learned many of the skills required of a litigator.
"That presented a very steep learning curve," he recalls. "I had to get smart really fast."
Marsha DuCille, L'25, says she was appreciative of the chance to learn practical skills after a first 1L semester full of theory.
"We're taking more doctrinal courses this year," she says. "So after the first semester, I very much wanted to be reminded why I came to law school."
LEARNING BY DOING
In their course outline, Williams and Brightbill wrote, "Students will learn to ask questions by asking questions." During Week One, they honored that promise. Each day in the classroom focused on a different type of questioning: interviewing witnesses, taking and defending depositions, direct examinations and cross examinations. The instructors kept lectures to a minimum, dividing the class into small groups so that each student could practice the day's questioning skills.
During these questioning periods, another set of players in this class got to shine: seven second- and third-year students who served as teaching fellows. The fellows role-played witnesses in each scenario, getting to be as cooperative or cagey as they liked as the first-years took their first tries at establishing the facts of an event or raising an objection to a classmate's questions. At the close of each day, the class would reconvene for a feedback session.
Sean Jettner, L'23, just completed his third go-round in Williams' class, which he took as a first-year student, then was a fellow for both last year and this year. "It's great being able to see the 1Ls – and I was that 1L – go from very nervous and not sure they have a question, to four days later confident and objecting and pushing back against disruptive witnesses," he says.
Jettner says he's already used some of the techniques he learned in the class. In a summer job with the Manhattan District Attorney's office and an internship last semester with the United States Attorney's Office for the District of Columbia, he felt empowered to make suggestions about lines of questioning, even in real time.
"I was a second seat for a misdemeanor bench trial during my internship. I would point to my scratch pad to say, for example, 'I think we have an objection for speculation,'" says Jettner, an aspiring prosecutor who hopes to join the Department of Justice's criminal division one day. "Then the assigned attorney actually stood up and would make the objection."
LEARNING FROM EACH OTHER
Despite his responsibilities as a law firm partner and father of 11 children, Williams feels it's absolutely worth making time to return to his alma mater to teach.
"I learn a lot from the students," says Williams. "Trial litigation is more an art than a science. So I always enjoy seeing students approach witnesses in ways that I might not have anticipated." What's more, he adds, some of his former students have been hired as summer associates at his firm, and many more continue to engage with him for advice, making the experience professionally as well as personally rewarding.
Now, with a bit of deposition practice under her belt, DuCille says she's looking forward to taking as many experiential credits as she can before she graduates. She's counting on joining a clinic in her third year, and next year doing a practicum or externship – or maybe even both.
"It's an embarrassment of riches," she says.