Incoming Georgetown Law Student Named Tillman Scholar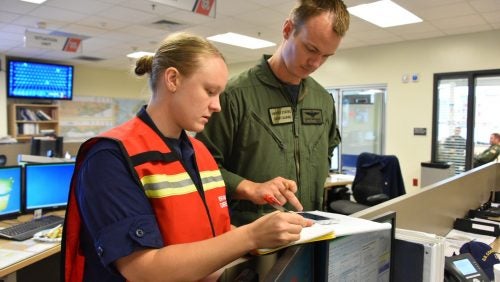 Melissa McCafferty (Law/SSP '23), a Coast Guard veteran who begins a dual-degree program in law and security studies at Georgetown this fall, has been selected as a 2020 Tillman Scholar by the Pat Tillman Foundation.
The Tillman Scholar program is a prestigious academic fellowship for military service members, veterans and spouses who are dedicated to public service. It was named in honor of Pat Tillman, a professional football player who left the NFL to join the Army after the 9/11 terrorist attacks and was killed in 2004 while serving in Afghanistan.
McCafferty, who experienced both achievement and personal challenge during her time in the Coast Guard, hopes to apply the lessons she learned there in a career in law and policy.
Early Examples of Service
McCafferty grew up seeing Coast Guard vessels breaking ice on the Great Lakes in her small Michigan home town. A Girl Scout whose mother was a local public health officer, she loved doing community service projects, and at age 12 decided she wanted to be a lawyer. The Coast Guard exercises she watched as a child became a pathway to that goal when she was admitted to the Coast Guard Academy in 2007.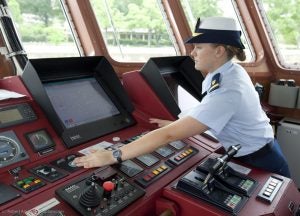 "I decided to join the Coast Guard because it was more humanitarian in nature, and I wanted to serve the public in a way that I thought reflected my values," she says.
While still at the Academy, McCafferty was awarded a Truman Scholarship, another highly selective program for students interested in public service careers. She has been active in the Truman network ever since, helping plan events including their biannual conference, and after graduating from college in 2011, had the opportunity to spend the summer as a Truman Fellow in the State Department's Office of the Coordinator for Counterterrorism.
She then moved to Miami to begin her active duty service with the Coast Guard, where she became the first female officer assigned to a fast response cutter, a type of patrol boat. The experience further developed her interest in eventually becoming a federal prosecutor.
"I saw a lot of illicit narcotics, and the more devastating human side of human trafficking," she says of her two years based in Miami.
Crisis Response
Her work then turned to emergency response, as a strategic advisor to the Coast Guard commandant, the service's top official. She served as director of operations and deputy director of operations in the Coast Guard's response to Hurricanes Irma, Maria and Harvey in 2017. The extent of Hurricane Maria's destruction in Puerto Rico, and especially the loss of lives there, affected McCafferty deeply.
"I had a hard time dealing with the consequences of Hurricane Maria, and ultimately developed PTSD [post-traumatic stress disorder] from that and other cases that I had led," she says. "My PTSD got so bad that eventually, I couldn't take it anymore. I tried to kill myself."
She says the Coast Guard responded well to her crisis, offering support in managing her PTSD. She says her boss, then-Commandant of the U.S. Coast Guard Admiral Paul Zukunft, "sat me down and said, 'This in no way, shape or form changes my outlook on you… If anything, it's a signal of strength that you're willing to get help.'" In the end, McCafferty decided to take a medical retirement from the service last summer, and says the experience has encouraged her to be an outspoken advocate for mental health in the military.
"A lot of people have reached out to me for advice, how to get help, how to seek treatment, what are the stigmas," she says. "Far too often, it's a 'sit down, shut up and swallow it' mentality. I tried doing that and it didn't end very well, so I try to support everybody in the military who seeks mental health."
Since leaving the Coast Guard, McCafferty has gotten another angle on emergency response and public policy, working as a federal contractor through the consulting firm Booz Allen Hamilton. She has also been working on earning a Masters in Applied Economics from Johns Hopkins, which she says she chose to do because she thought it would help inform her future work in law and policy.
"A lot of the cartels gain their power from money and money laundering, so I wanted to… understand the economic impact of that," she says. "And then eventually when I run for office, I want to have an understanding of economic policy."
Elected office is indeed another future goal for McCafferty, perhaps after she has the opportunity to work in the Department of Justice. She believes veterans have a lot to offer politics through their leadership training and exposure to a wide diversity of people.
"You learn how to overcome differences and reach across divides," she says.
A New Beginning at Georgetown
But for now, she is glad to be staying in Washington and to be starting her graduate studies at Georgetown.
"It's a city that I absolutely love, and I like how we're close to all the political institutions, legal institutions and social institutions, and Georgetown is right in the heart of that. It really puts you in a spot where you can be involved with the day to day of running government… and that's something that I don't think any other school can offer," she says.
McCafferty is one of three Georgetown students in the 2020 class of Tillman Scholars; the others are Navy veteran Cassie Bronson Albano (NHS '22), a candidate for a Doctorate in Nursing, and Navy reservist Safi Rauf (NHS '21), a candidate for a Bachelors in Human Science.
"I am excited to see Safi, Cassie and Melissa recognized as a part of the 2020 Tillman Scholars class," said LeNaya Hezel, director of Georgetown's Veterans Office. "All three students embody Pat Tillman's legacy with their commitment to service, leadership and making a lasting community impact. These are all traits that align with the Jesuit values and seeing these students recognized for living out Georgetown University's mission deserves highlighted praise."
The last time three Georgetown students were named Tillman Scholars–the maximum number for any partner university — was 2012.
Says McCafferty, "I'm very grateful and blessed for the opportunity to be a Tillman Scholar, and I owe it all to the community that surrounds me. I'm very passionate about giving back to the people who have influenced me, and I feel like I need to somehow pay it back."