Institute of International Economic Law Co-Hosts Annual G2 Conference on WTO Law in Geneva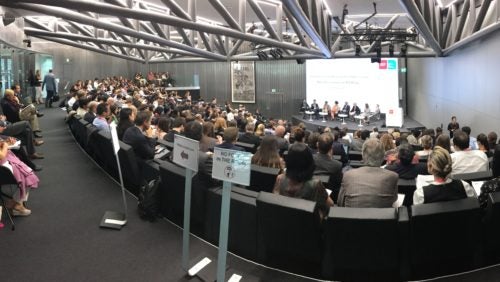 Geneva has long drawn diplomats, corporate titans and those interested in the intersection of international economic law and policy. On June 9 and 10, Georgetown Law's Institute of International Economic Law (IIEL) and the Graduate Institute, Geneva co-hosted the 2017 Annual G2 Conference on WTO Law.
World Trade Organization (WTO) diplomats, Secretariat officials, private practitioners, corporate and government officials, academics and students gathered for the event, held at both the Graduate Institute and the WTO. With a focus on reforming trade law, sessions addressed globalization and the backlash to international trade, U.S. trade policy under President Trump and more.
A roundtable on Brexit and the Legal Consequences for Global Trade Relations took place just a day after the most recent UK elections ― all making for insightful and incisive discussions.
"John Jackson would be proud," commented IIEL Faculty Director Chris Brummer, referring to the late Georgetown Law professor and IIEL founding director who was known internationally as the "father" of the WTO.
"We had an extraordinarily successful WTO conference. Over the last year, we've changed the format, the name (to include both Georgetown Law and the Graduate Institute) and the location ― moving the event from London to Geneva," Brummer said. "The attendance has grown tenfold as compared to just a couple of years ago ― it was standing room only. We look forward to welcoming as many folks as possible next year ― all those who are interested in sharing their insights, interdisciplinary or otherwise, with the WTO and international trade bars."
Gary Horlick, an authority on the legal ramifications of Brexit and an adjunct faculty member at Georgetown Law, spoke at the Brexit panel. Horlick remarked that the conference as a whole addressed "[u]p-to-the-second international trade issues and [brought together] experts from around the world."
The full conference program is available. Sponsors included Akin Gump, King & Spalding, Mayer Brown, Steptoe & Johnson, Van Bael & Bellis, and White & Case. The conference also benefited from academic input and guidance from the Society of International Economic Law, whose President, Gabrielle Marceau, graciously provided invaluable advice and assistance.
The Annual G2 Conference on WTO Law has a longstanding affiliation with the Journal of International Economic Law (JIEL), published by the Oxford University Press. Brummer, who serves as a professor at Georgetown Law, and Visiting Professor Joost Pauwelyn, co-chairs of the WTO Conference, are also Co-Editors-in-Chief of the JIEL.