International LL.M. Students Experience "Foundations of American Law"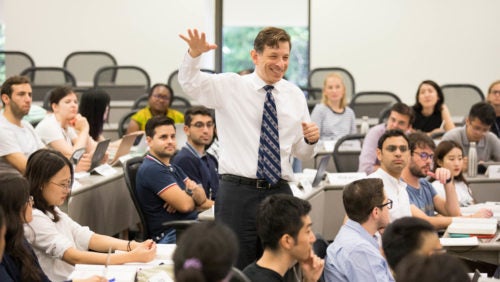 "Some of us have lived with a king, and we didn't like kings," Professor Charles Abernathy told the 83 international LL.M. students from 30 countries gathered in Room 205. "Some of us have lived with Parliaments, where Parliaments held all the power, and we didn't like the Parliaments."
Standing in front of the words "Constitution/Separation of Powers" written on a blackboard, Abernathy explains that the problem with government, whether with a king or a Parliament, is the concentration of power. If we were forming a government, what should we do to solve this problem? How should we write a constitution?
A student from India suggests decentralizing — dividing and distributing — the power. Abernathy writes the words "legislative, executive, judicial." Another student mentions "checks and balances," but Abernathy wants students to think about what the powers are, first. He directs the students to the U.S. Constitution, open on their laptops. How much power is vested in the legislature? "All legislative power." Yet, as he explains, no part of government is completely independent.
"Foundations of American Law" — a three-week, two-credit summer course taught by Professor Charles Abernathy, Professor Michael Cedrone, Professor James Feinerman and Adjunct Professor Markus Puder — introduces international LL.M. students to U.S. law and how law is taught in the United States. Students learn about the U.S. legal system, common law, statutory construction and contemporary legal issues in the United States — as well as other skills to set them up for success in their upcoming year and beyond.
The Foundations students will be joined by nearly 500 more international and U.S. graduate students when the "official" LL.M. Orientation begins next month.
"I did not do my undergraduate work in the United States, so I wanted to 'adopt' the Foundations of American Law before I go full fledged into the main LL.M. program," the student from India, a tax lawyer, explains afterwards. "I didn't want to spend my time in the LL.M. program learning the basics…I'm looking at sitting for the New York bar, so the summer program gives a certain leverage."
Next step
International students who have taken the Foundations course usually remember the friendships that they made during those intense three weeks. In addition to classroom work — with a final exam — they visit museums and the Supreme Court, and enjoy a summer barbecue.
At least two of the 2019 Foundations students, Mariella Pirozzi (LL.M.'20) and Juan Pablo Obaid (LL.M.'20), knew each other beforehand: they met as law classmates at the Pontificia Universidad Católica de Chile, and later married. She's a criminal lawyer; he's a tax lawyer.
Pirozzi will pursue the general LL.M., with the certificate in international human rights. She would like to help women prisoners in Chile.
"We were working for about five years [practicing law], always thinking about this next step," Pirozzi says. "Always we were planning to do [this] together, as a couple. But it's also good to [meet] different classmates from different countries, different professors, have different experiences."
The summer Foundations course was an "obvious" choice, she said. "In Chile, our system works in a completely different way. [Here, we see] how the classrooms in America work and also understand the judicial process…how common law works."
Obaid noted the difference in teaching style from law schools back home, which traditionally teach by lecture, as opposed to reading the material beforehand and interacting in class. "A lot of teachers who have studied here in the U.S. have tried to bring this type of teaching back to Chile…" he said. "The professor [here] teaches the subject assuming that you already know the context and the cases. In South America, it's totally different…this system gets you prepared step by step, class by class."
Obaid said the couple applied to many LL.M. programs together, deciding "which ones were in the best interest of both of us, in the context of the city, the program, the fields of study…the importance of the university we were heading to."
Different Path
Already, the couple is friends with Rohit Doad — a dual U.S. and UK citizen who is completing the LL.B. program at Kings College, London.
"I grew up here in the U.S., in Alabama and Georgia, and I decided to take a different route for law school," he says. Since his parents are British, he headed to England straight out of high school.
When he finishes his general LL.M. year at Georgetown, he'll return to finish a fourth year of the LL.B. in London, under a dual degree program with both schools.
"It's quite a new concept — I liked the idea of taking it on as a challenge, being the youngest person in the class," Doad says. "I said, why not? My final aim was always to be dual qualified in the U.S. and back home in England, so I saw it as the perfect way to take the bar and progress in both fields."
Doad is interested in investment arbitration and wants to take international law courses within the general LL.M. (Georgetown Law also offers an LL.M. in International Legal Studies and in International Business and Economic Law, among other things). "I wanted to come to Georgetown to get exposure to a whole different array of courses and fields."
Law schools in England have some classes as a lecture, some as a discussion, so the teaching style is not unfamiliar, he notes. But although he has lived in the United States before, he has only been to Washington, D.C., once.
Doad and Obaid have organized a weekly soccer (football) game. But Obaid summed up Foundations with a baseball metaphor.
"Everyone comes from a really good university in each country, so being here is like playing in the major leagues, with all of the best students from each country and each university," he said. "That's one of the best things the program has to offer — you really get in touch with the best professors, best universities — Georgetown Law is one of the most prestigious ones — and at the same time, you get a good environment and a challenging environment from your peers."
Challenging Environment
The challenge continued during Week Two. "Eight days in, they've done a lot of reading," said Cedrone, who several years ago took over the lead role in teaching Foundations from Abernathy. "They have all kinds of interesting ideas…they look at what we're doing and they find similarities and differences in their home legal systems, and we have those conversations. That's amazing."
Cedrone enjoys teaching separation of powers, something he teaches every year. "Separation of powers is one of the key building blocks [of] our constitutional system, whether we are having a crisis about it or not," he says. "It's something that they see in varying degrees in their own countries in many places around the world. The present moment is seeing an unfortunate global rise in dictators and nationalist leaders, alongside attacks on independent judiciaries and the free press. Education about our system and its origins is one way to provide an antidote to some of these destructive tendencies."
Though Foundations requires a lot of time and effort for professors every summer, it is a joy to teach, Cedrone says. "It's a little bit like being an ambassador. I learn as much as I teach."