John Podesta (L'76) Delivers 2017 Graduating Class Lecture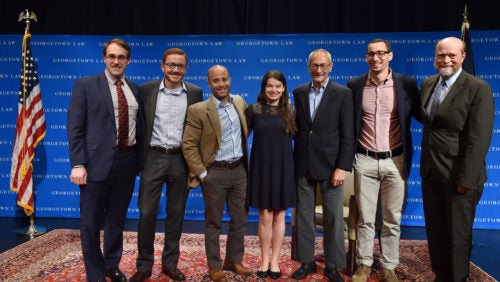 When John Podesta (L'76) graduated from Georgetown Law with an interest in politics and environmental issues, he had no idea that his passion would lead him to serve one future president (Bill Clinton) as chief of staff, advise another future president (Barack Obama) on climate and chair the campaign of a 2016 presidential candidate (Hillary Clinton).
Podesta's first job, in fact, was working as a land condemnation trial lawyer in the Honors Program of the Department of Justice's Land and Natural Resources Division.
"It [made me] appreciate what I now regard as my number one rule of job satisfaction: how do you feel when you tell your friends what you are doing?" Podesta said to students at the 2017 Graduating Class Lecture on April 17. The lecture was hosted by Georgetown Law Dean William M. Treanor, who appeared with Podesta onstage.
Trying cases was fun, Podesta told the students — until the day an appraiser dropped dead on the stand in the middle of his cross-examination. "I don't know about you, but none of my professors went over this scenario…" he said. "I moved that the witness's testimony be struck, because I hadn't finished my cross-examination. To this day, I remember the look in the judge's eye… He pulled his glasses down and said, 'What do you say we just call this a mistrial?' I replied, 'Whatever you think, your Honor — I'm kind of new at this.'"
It would be Podesta's last trial. "The truth is for me, regular lawyering was kind of lonely…I kind of craved the excitement and camaraderie of politics and policy."
Politics and policy
That craving would see Podesta through a stint as chief of staff to one president and counselor to another, working as staff counsel to the Senate Judiciary Committee and Sen. Patrick Leahy (L'64)(D-Vt.), founding the Center for American Progress think tank, teaching Congressional Investigations at Georgetown Law and more.
During the hour-long event, Podesta provided a sometimes irreverent look at his own career, thoughts on Obama's environmental policies, an honest appraisal of the campaign and thoughts on the political world in which we now live.
"After more than 40 years of being an active member of the bar, after teaching here for more than 20 years, after working on eight presidential campaigns and in the White House for two presidents, I concede that I do have one piece of practical advice to impart to you today: Don't let the Russians hack your e-mails," he said, to great applause.
Hillary Clinton, he said, was "the most qualified person ever to run for president…she ran that race with the grit and the grace that has characterized her public career." Notwithstanding, "it was our job to win, and we failed to do that," he said candidly.
What can lawyers do now? "You have chosen a calling and a profession that recognizes that everyone has rights, and that works for outcomes that honor our founders' vision of forming a more perfect union, by always striving to expand the circle of opportunity and deepen the meaning of freedom…" he told the students, adding that lawyers are on the front lines to uphold American values.
"From airports, to courthouses, to the Pentagon, lawyers have been saying no to discrimination, no to special interest giveaways, no to the reversal of the torture ban, no to shredding the Constitution…," Podesta said. "I invite you to join these early advocates, and use your training and skills to make a difference."