Justice Ruth Bader Ginsburg Discusses Gender Equality, in Life and in Law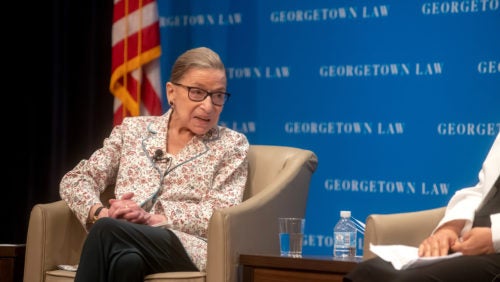 U.S. Supreme Court Justice Ruth Bader Ginsburg spoke to a packed auditorium at Georgetown Law on Tuesday, July 2, discussing gender equality in her personal life and in the law with two of her former law clerks: Ruthanne Deutsch (L'04, LL.M.'16) of Deutsch Hunt PLLC, and Dori Bernstein (LL.M.'89), who served as director of Georgetown Law's Supreme Court Institute for the past nine years. Deutsch and Bernstein are also former fellows in the Law Center's Appellate Litigation Clinic.
During the hour-long conversation, Justice Ginsburg shared stories about her late husband Martin Ginsburg, a beloved Georgetown Law tax professor who died in 2010. As she has said many times, Justice Ginsburg noted that "Marty" was the first boy she'd met who cared that she had a brain.
When they met as undergraduates at Cornell, he had a girlfriend at Smith College, and she had a boyfriend at Columbia Law School. "Our friends thought, 'Well, it's a long cold winter [in Ithaca],'" she said, setting off laughter in the audience. For two years, the pair became close friends. She said he was so confident, he never saw her intellect as a threat.
Extraordinary
Justice Ginsburg said her in-laws were even more extraordinary. On Ruth and Martin's wedding day, Marty's mother took the bride aside and shared her secret to a happy marriage: "Sometimes it helps to be a little deaf."
In the Ginsburg home, the Justice said she and Marty didn't negotiate chores; rather, they each did what was needed at different times.
"When the women's movement came alive at the end of the '60s, and Marty realized [that] what I was doing [in my career] was very important, he took on more of the homework," she said.
Justice Ginsburg saw a change in gender roles even when her children were young. When her daughter Jane was born in 1955, Ginsburg was one of very few working moms. By the end of the following decade, when son James went to school, it was no longer unusual to have two-earner families.
Roads not taken
Bernstein asked the Justice what would have happened if she'd had no problem getting hired as a lawyer straight out of law school. The Justice said that she and retired Justice Sandra Day O'Connor (who graduated at the top of her class at Stanford Law but couldn't get a job right away) were fortunate in the end. "[Justice O'Connor] said to me, 'Think about what our lives would have been if there'd been no discrimination,'" Justice Ginsburg said. "We'd be retired partners from some law firm. But because we didn't have that route, we had to find another way."
Deutsch asked the Justice whether she'd ever considered writing fiction, since she studied with Vladimir Nabokov at Cornell.
"Never," the Justice said, "because I don't have the talent to do that. But Nabokov was a major influence on the way I read and the way I write. He was a magnificent teacher."
Unconscious bias
Bernstein noted that in 2019, the centennial of the 19th Amendment which enabled women to vote, we have a record 117 women in Congress. Still, "women have not come close to political parity in this country," holding just a quarter of the seats in Congress and one-third in the Supreme Court. The Justice agreed that the numbers are impressive but not impressive enough. She noted that this term saw a new first in the Court: with Justice Brett Kavanaugh's staff of all-female clerks, there were more women than men clerking at the Supreme Court for the first time in the nation's history.
Ginsburg said that while most of the explicit gender-based classifications and barriers are gone today, "what remains is unconscious bias." She noted the dramatic change in the gender of musicians at symphonies, once the musicians began auditioning behind a curtain. The Justice lamented that we can't replicate that curtain in other areas.
All-star analysis
After the conversation, CNN legal analyst and Supreme Court biographer Joan Biskupic (L'93, H'14) moderated a panel that included Judge Cornelia ("Nina") Pillard of the U.S. Court of Appeals for the District of Columbia Circuit (also a former Georgetown Law professor); Katie Gibson, professor of Rhetorical Studies at Colorado State University and author of Ruth Bader Ginsburg's Legacy of Dissent: Feminist Rhetoric and the Law; Fatima Goss Graves, president and CEO of the National Women's Law Center; and Elizabeth Wydra (LL.M.'09), president of the Constitutional Accountability Center.
They discussed the Justice's history of championing equal rights for men as well as women, her powerful use of precedent and history in her opinions and her fierce attention to language, using it to challenge rhetorical conventions and persuade the Court to see the law from a broader vantage point.
Wydra noted that July 2 was Thurgood Marshall's birthday. "In so many ways, Justice Ginsburg is an inspiration in the way that Thurgood Marshall was an inspiration," she said. "Both were brilliant jurists and brilliant litigation strategists."
'Notorious RBG'
The audience of more than 300 students, alumni, faculty and others were enthusiastic throughout the event and gave Justice Ginsburg two standing ovations.
As he introduced the Justice, a frequent speaker at the Law Center, Dean William M. Treanor said that some of his favorite moments as dean include walking into a packed room where Justice Ginsburg is about to address a first-year law class (many wearing "Notorious RBG" t-shirts) and seeing the excitement and admiration on students' faces.
"Every time it happens," Treanor said, "I always think, 'What more inspiring way to start a legal career?'"
Watch the full event below.