Justice Ruth Bader Ginsburg Inspires New Georgetown Law Students at the 2017 Lecture to the Incoming Class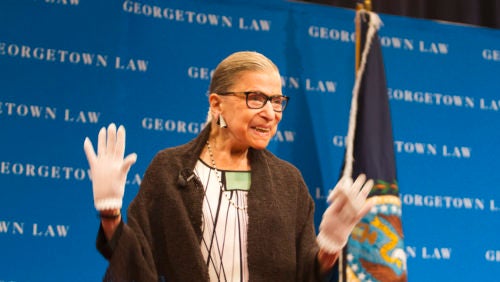 "You are mostly first-year students…a very exciting time," U.S. Supreme Court Justice Ruth Bader Ginsburg told an audience of 1L and LL.M. students gathered in Hart Auditorium on September 20. "I remember how I felt my first year of law school. It was a new kind of learning…the law school classes, I hope, are engaging you, so that you are thinking all the time, throughout the class."
Georgetown Law's new students were certainly attentive to Ginsburg, the 2017 Distinguished Lecturer to the Incoming Class. In an onstage conversation with Dean William M. Treanor, the justice described a time when she was one of only nine women in a class of more than 500 at Harvard Law — quite different from today, since Georgetown Law's entering J.D. class contains women than men.
In the 1950s, as Ginsburg recalled, there were no antidiscrimination laws to assist the employment of women. Even in law school, sign-up sheets for job interviews would be marked "men only."
"I don't know how many times I heard from potential employers, oh, we [hired] a woman once at this job and she was dreadful," Ginsburg said. "The obvious question was, how many men have you [hired]?"
While many overt barriers are gone, what remains is unconscious bias, which is harder to address, Ginsburg said.
When Treanor asked how she decided she wanted to litigate cases focusing on the equality of women, the justice did not hesitate. "You mean, how did I decide to become a flaming feminist litigator?" she joked, to great applause.
In the 1960s and 1970s, Ginsburg explained, she was the beneficiary of "a sea change in the times" — more women in the workforce, more two-parent wage earners. "Once people's lives had changed, it was time for the law to catch up."
Inspiring
Ginsburg also gave students an inside glimpse of life at the Court — from Justice Neil Gorsuch's service on the Supreme Court's cafeteria committee; to Justice Stephen Breyer's cell phone ringing in the middle of oral arguments; to workout sessions with her own personal trainer.
But there was plenty to talk about with respect to the law. Ginsburg described some of the cases that occupied her attention last term as well as those already on the docket for October Term 2017: Masterpiece Cakeshop, Carpenter v. U.S., Gill v. Whitford, the travel ban cases. "There is only one prediction that is entirely safe about the upcoming term," she said. "And that is — it will be momentous."
Dean William M. Treanor, who is also a historian, noted that Ginsburg and the late Justice Thurgood Marshall became historic figures before they even reached the Supreme Court. "You are in every way an inspiration," he told her.
Jennifer Esparza (L'20), who served in the Marine Corps for 11 years before coming to Georgetown Law, found Ginsburg's work for women "empowering."
"She's just paved a big way for women, and at the same time, I know that there are groups like the military that still experience a lot of the struggles that she had to work through," she said. "I think that was really powerful for me. Although she's done a lot of fighting…we still have a lot of work to do."