Manhattan DA Cy Vance (L'82) Meets Public Interest Students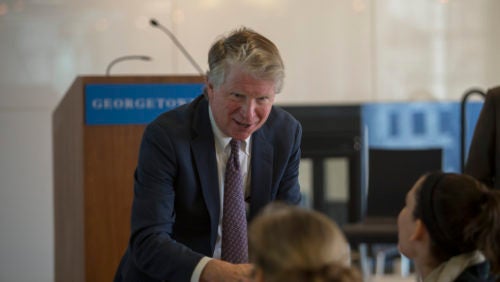 When Cyrus R. Vance (L'82) became the Manhattan District Attorney in 2009, he noticed that the numbers of men and women of color being prosecuted for crime was the same as the number being prosecuted 30 years ago, when he was an assistant DA. Vance asked himself, Why is this picture the same? Does this system of justice keep us safer? Is it fair? What can we do to change it?
To that end, this Georgetown Law alumnus launched initiatives to uncover implicit bias in the system and in the department, which has more than 600 lawyers practicing in an urban environment.
With 1.6 million people who sleep in Manhattan and 3.9 million people who work there, the area is a magnet for financial crime as well as terrorism and cybercrime threats. But ancient theories surrounding marijuana possession, offenders leaping turnstiles in the subway, and "broken windows" — the notion that first-time punishment for vandalism should be harsh — did not seem to be making the community any safer. "We don't need to use the same tactics, the same decision-making metrics that we used in the 1980s," he said.
Vance spoke to approximately 50 students interested in careers in criminal justice at a lunchtime event sponsored by Georgetown Law's Office of Public Interest and Community Service (OPICS).
"My Georgetown experience was very important in directing me with what I did with the rest of my legal career," he said, before inviting the students to visit his office in New York City.
Whether students wanted to be a prosecutor or a public defender did not matter; Vance, who was a defense lawyer for 22 years, called defense work "some of the most rewarding work I've wanted to do as a lawyer."
Being a prosecutor, he cautioned, involves an enormous amount of power. "Two or three years out of [law] school, [lawyers] are making decisions that affect the lives of people who have been charged, and the victims of those crimes and their families," he said. "It's a lot of responsibility."
Appropriate investment
Vance — who was awarded Georgetown Law's Robert F. Drinan, S.J., Public Service Award at Reunion 2017 — is now focusing on preventing crime as well as investing in families, youth and victims. "If you can prevent a 16-year-old from getting a gun, or wanting to get the gun, that's a far better outcome than prosecuting a 16-year-old for using the gun," he said.
College prison programs, he noted, are an essential and appropriate investment when it comes to preventing repeat offenders.
The office no longer prosecutes prostitution; instead, victims who are arrested work with anti-trafficking experts. Violent crime has gone down. Terrorism and cybercrime are indeed on the rise. But with better awareness of what is safe and fair, criminal justice is going through a change, he said. "We are investing heavily in our communities and in our kids."
Georgetown Law Dean William M. Treanor, who once worked in the Manhattan DA's office — as do many Georgetown Law alumni — called it "an office with great traditions," "prosecution at the highest level." He also praised Vance as a leader who is "rethinking community policing."
"We're very proud of his career," Treanor said. "I'm delighted that he's taking time from his very busy schedule to come down to D.C. to talk about his work."
As the District Attorney for Manhattan, Vance is at the forefront of public safety, crime prevention, and criminal justice reform, said Nicole Vikan, associate director at OPICS.
"Georgetown Law students who become prosecutors, public defenders, and policy makers will tackle these issues daily," she said. "Today's discussion provided an opportunity for students to hear from and ask questions of one of our most influential local-level prosecutors, and students' questions reflected their interest in the challenges and opportunities of criminal justice reform."
Gabriella Ferrara (L'19), president of the Georgetown Defenders student group for aspiring public defenders, questioned the Manhattan DA about open and early discovery policies.
"The District Attorney's policy on discovery (video footage, police reports, witness statements, et cetera) is important to me as a future public defender, because clients cannot make informed decisions about whether to accept a plea or proceed to trial when they are more or less in the dark about the critical evidence against them," she said after the event. Ferrara will be working with The Legal Aid Society's Criminal Defense Practice in New York City after graduation.
"Mr. Vance's defense that his office already does more that the current law allows does not mean that his office couldn't be doing more to actively support policies that would level the playing field between the prosecution and the defense in this particular area," she said.