Meet Our New RISE Director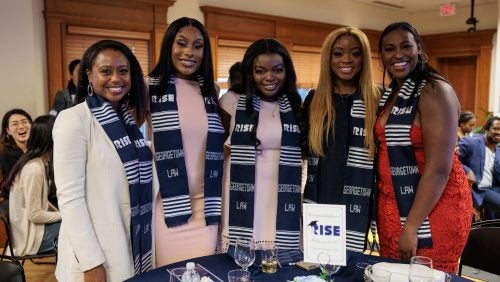 RISE, a program that helps incoming students from backgrounds underrepresented in law schools and the legal profession thrive at Georgetown Law and later succeed in their legal careers, has a new leader.
Itunu Sofidiya, who until this spring was a reference librarian and adjunct professor of legal research, takes over this fall as RISE's first-ever full-time director. A graduate of the Thurgood Marshall School of Law, Sofidiya, who also holds a Masters of Library Science from Texas Woman's University, has practiced law in a variety of settings, including working on immigration, capital punishment and domestic violence cases. She will continue to teach at the Charles Hamilton Houston Pre-Law Institute.
Founded in 2018, RISE has quickly become one of the Law Center's flagship programs, and is preparing to welcome its fifth cohort next week. At 120 first-year J.D. students, the 2022 entering RISE class is the largest group of fellows yet. The RISE fellows will begin their law school experience with a pre-orientation week that includes a healthy mix of academic skills and community building. Over the next three years, RISE events and programming will help the fellows support each other and nurture the bonds they first made at their pre-orientation.
We talked with Sofidiya about how she found her own path through law school and into her career, and the advice she hopes to share with the RISE fellows she's about to meet.
What made you want to go into law in the first place?
I was about four years old, and my dad was watching a PBS special on Thurgood Marshall, and I just remember thinking what he did was very important. He was the catalyst for changing the world as they knew it, and I thought, I want to help people in that way. I want to help a lot of people at once.
Thinking back, what are some things you wish you'd known when you were starting law school?
I knew nothing. I always knew I wanted to be a lawyer, but I don't have any other attorneys in my family. I kind of stumbled into it. That's why whenever I meet someone who says they are even remotely interested in being a lawyer, I tell them everything that I should have known.
Not forgetting who you are as a person is probably the biggest part, because we can lose ourselves trying to become what we think a lawyer should look like or be like. Stay grounded and remember who you are throughout the process. And ask questions! Don't be shy and don't be afraid. There are no dumb questions.
Was there a moment in law school that helped you learn these lessons?
Yes. I had a professor who, if you didn't do well on your first exam, you had to come in and speak to him. So we had a midterm and my grade wasn't good, and I remember thinking, "Oh my gosh, he's Nigerian and I'm Nigerian, I'm so embarrassed." But the fact that he made me come to meet with him changed my life completely.
He asked me, "You're staying up late to do your reading, but at midnight, are you learning anything?'' And I realized, I'm not a night person! I can't stay up all night studying.
I was so grateful, because once he said it, it changed everything. My grades went from the bottom to the top of the class. It wasn't that it was easy, but it became easier. Because now I understood that you have to work your program.
You're already familiar with the Georgetown Law community. What do you think makes this place special, or different from other places you've studied or worked?
At Georgetown, the opportunities are endless. That's why RISE is so important to me. We get to let people know about all the resources here that other places don't have. You have everything at your fingertips – it's just a matter of someone telling you, just touch it! We've had students interviewing Supreme Court justices. You have access now. If you can think it or dream it, you can actually achieve it.